Duke Nukem: Manhattan Project and more games added to Xbox One backwards compatibility list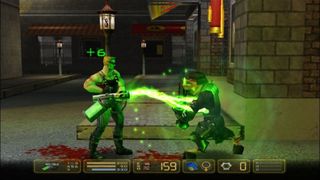 Xbox One owners can now play three more older Xbox 360 games on Microsoft's current console, thanks to its backwards compatibility feature. The new additions include Duke Nukem: Manhattan Project, Sonic: The Fighters and Garou: Mark of the Wolves.
The three new games were first announced on the Major Nelson Twitter page Duke Nukem: Manhattan Project, first released in 2010, is a side-scroller addition to the shooter franchise starring everyone's favorite muscle-bound alien fighter. Sonic The Fighters, released in 2012, is an Xbox 360 port of the classic arcade game from Sega starring Sonic and many of his supporting characters. Finally, SNK first released Garou: Mark of the Wolve in 2009 and is an installment of its Fatal Fury series.
Wasn't duke nukem manhattan project released in 2001? I remember playing that back then

It was for the PC. The article must be referring to the 360 version

Anyone knows what happened with turok? Posted from my Lumia 640 Xl dual sim 10586.164

No but i love all of the Turoks i wish they would bc that and port the others if they could

Me too.Everyone loves the halo but the turok is my childhood.Before 3-4 weeks I found from a pirate site the turok for pc but has many problems so I uninstall it.If anyone has any link for turok pc ofc I will be very happy...

Keep bringing them gaming companies and microsoft...contra? Super contra? Tmnts? The other castlevania games? Blue dragon? Simpsons arcade game? Xmen arcade game etc etc

More games.. that I dont own. If its a cheap sale I might pick them up. Posted via the Windows Central App for Android

I really like that these releases seem to be speeding up. Hardly any of them are games I wanted (Dead Space was), but it gives me hope for the future! I want Call of Duty and Capcom fighters. RE titles were high on my list but it looks like I will have to pay again for those (which is fine if they are updates enough).

Duke Nukem? Now we are scraping the barrel.

Still waiting on capcom fighters mvc2, ultra sf4, umvs3...

Always good to hear more coming.

I owned both sonic fighters and Mark of the wolves...for other systems. Guess I'm buying at least Mark of the wolves back, that game was awesome. Posted via the Windows Central App for Android

Where the **** is skate 3?
Windows Central Newsletter
Get the best of Windows Central in in your inbox, every day!
Thank you for signing up to Windows Central. You will receive a verification email shortly.
There was a problem. Please refresh the page and try again.