Dungeon Hunter 5 slashes its way onto Windows and Windows Phone on March 12
Gameloft has announced today that its popular hack and slash series, Dungeon Hunter, is about to get a sequel. Dungeon Hunter 5 will be bringing its dungeon crawling goodness to Windows and Windows Phone on March 12.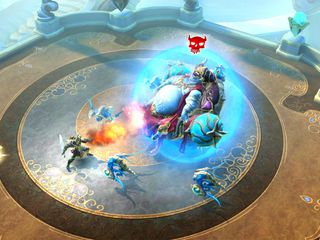 Dungeon Hunter 5 continues the legacy of the previous games by improving on its impressive graphics and introducing a new multiplayer mode and evolution system for gear. Here's just some of what you can expect when the game launches on March 12:
Embark on an epic single player campaign through 5 realms and countless dungeons
A new asynchronous multiplayer mode called Strongholds.
Customize your Stronghold, manage and defend it, and raid opponents' Strongholds to ravage their loot
Next generation AAA graphics with full support for Metal on iOS at launch
All new evolution system: loot gear and evolve it to level up your power
Hire your friends or other players as Allies to help you on your journey
Daily and Weekly Events: tackle daily dungeons and weekly Wanted Challenges for more rewards
Overall, Dungeon Hunter 5 looks like a worthy follow-up to Dungeon Hunter 4, which many players enjoyed for its deep RPG and multi-player elements. If you want to check out more than the trailer above, Gameloft also recently showed off a couple of Gameplay videos on its YouTube channel, which you can check out at the source links below. Additionally, our own Paul Acevedo recently got to check the game out at PAX South, so be sure to check out his impressions of the game for more as well.
Are you excited to give Dungeon Hunter 5 a shot on March 12? Let us know in the comments below.
Source: Gameloft (YouTube)
Windows Central Newsletter
Get the best of Windows Central in your inbox, every day!
Dan Thorp-Lancaster is the former Editor-in-Chief of Windows Central. He began working with Windows Central, Android Central, and iMore as a news writer in 2014 and is obsessed with tech of all sorts. You can follow Dan on Twitter @DthorpL and Instagram @heyitsdtl.
Woww... My L930 is ready.. ;)

Same, I hope the pay walls aren't as frequent... Scratch that... Please no pay walls at all...

No pay wall would require people to pay up front for the game, and most people don't like doing that.

This game is ruined by IAP.. The fact they wont make it buy and play makes no sense because it would dominate the WP market since no one else has a game like Diablo that is buy once and play.

I wanna be excited, but I need to hear those magical two words: "Xbox Live"

I wanna be excited, but I need to hear those magical two words: "cloud saves". Never playing a game like this again if I can't back up my progress.

Yeah this is very important!

Lets hope ms makes a big push on its integration and implementation in win10.

I don't think it will be there for 512mb family, will it be?

One of those free but pay to play games -o- .

I love how Gameloft is a great supporter of WP! Now this is what I call a company.

have you not heard of the whole ultimate spiderman debacle? where they just dropped WP support. I wouldn't call them a great supporter...

Ikr, most of their games are buggy/have bad performance and are lagging behind in updates...

Better than snap chat, they were offered the whole codes and everything, and still refused for some reason

Really enjoy their World at Arms game.

Gameloft is great supporter of WP because Microsoft is paying them to make the games. I look forward to the day when subsidies will not be needed to get games on our platform.

At least they accepted the help.

I only wish for two things: - It's 512mb RAM supported.
- I hope it's a paid game, Gameloft is known to mess up with IAPs.

I wish it was a paid game, but I don't think it will be..

I miss the Gameloft that released paid games, without DRM, with Xbox..

Microsoft Make Them Love Us

I have played Dungeon Hunter 3 and 4 on my iPad. While, version 3 was enjoyable, version 4 is ridiculously difficult and impossible to survive unless you buy the iAPs. I hope that's not the case with this new one. Also... Metal support on iOS... I hope the similar case for Windows that it will get updated for DX12 for Windows when is available.

I completed DH4 without a single IAP purchase.

In app purchase purchase? :P

Got to level 40 without IAP, then had to reset the phone. Lost all progress. Gonna grab it again

I would love to see trials mobile on WP.

Cant waittttt haha... Recently played DH4 surprise us pleaseee...

I'm only commenting because the game is coming out on my birthday! YAY! =D

Happy birthday then ! Haha actually gameloft already gifted you a big present

Doubt my 630 will play it

Lets hope it will be Xbox branded!

Is fable coming to phones too? That would be pretty awesome to be able to just move screen to screen.

Would the game support 512 RAM phones?

Pls support 512 ram devices... My 630 is ready

1GB ram devices are ready

I hope for Xbox Live an rather a pay once than IAPs. Not to fond of IAPs cause that usually means unless you pay, you won't have a snowballs chance in hellto finish the game without insane skill and luck.

I have a friend who finished without any IAP

I hope so, like on the get-go rather than wait for weeks to months after release

Yay will give this a spin to see if it's worth it

A little off topic: What is with that full support for Metal on iOs at launch?

I think its an game engine of some sort in iOS.
Or...an anti aliasing technology in iOS

Will it have 512mb support?

Oh crap my BOARD exams are going on and just like every gamerhirsty's fate "A good game will always launch during your final exams" shit stuff and all. :'(

I have completed Dungeon Hunter 4 entirely with super hard difficulty which gets unlocked after completing game twice and WITHOUT USING HEALTH POTION OR REVIVE EVEN ONCE

I call hacks. Posted via Windows Phone Central App

Sorry but I could bot purchase at that time as it requires debit card and I am having none and I was playing on windows phone where there is no hack. I realm hat hacking except GTA Vice City and San Andrea. Actually there is something you must observe in the game which will lead you to be invincible. Hint: Choose the characters wisely and at you comfort control and enemy has one obvious thing that makes it naive enough to kill in an instant.

Alright my 1520 n SP3 are ready. I can't wait

"Deep rpg elements"... Lol!!!

Great to see titles rolling out at the very same time for all mobile platforms. Proof WP ecosystem is catching up with iOS and Android...

I played the previous Dungeon Hunter, luv'd it.. Looking forward to this..

Dungeon hunter 4 was also good, but too bad they never updated it...

Free with IAPs. Gameloft always messes up with IAPs

That's a lie... today's March 12 and I cant' download nothing on windows phone Store, or Windows 8.1 Store T_T
​What have happened Windows.... whyyyyy!