EA details huge changes to Star Wars Battlefront II's progression, 'pay to win' is gone for good
The backlash against EA's aggressive pay-to-win strategy for Star Wars Battlefront II has succeeded, as the company details sweeping shift to cosmetic-only loot crates.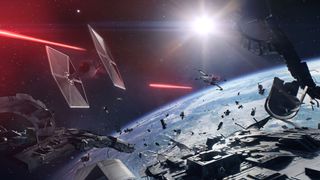 Last year, the industry was in turmoil over EA's misuse of the Star Wars IP, creating a premium $60 game with deep advantages for people willing to pay extra cash. They ignored the early feedback from Star Wars Battlefront II's beta and ploughed ahead with the microtransactions for the game's release last November, which provoked a huge consumer backlash.
The negative reactions were covered by mainstream news outlets like the BBC, and led to comments from politicians about whether or not "gambling"-style loot crate mechanics in video games needed regulation. As a result, Battlefront II's sales were impacted, leading to EA to remove paid loot crates entirely while the company reworked the game.
Today, EA revealed the revamped progression system which finally adds a linear-style progression system for in-game abilities, as was requested by fans early on in the game's beta last year. Loot crates will return, but will take an Overwatch-style cosmetic-only approach, rewarding players with new skins, emotes, and other types of flair to show off your character. Here's everything you need to know, direct from EA, ahead of the March 21, 2018 update.
A major Star Wars Battlefront II update is cleared for take off! Since release, we've been hard at work making changes based on your feedback to create a better game for all our players. Today, we're happy to announce that the Star Wars™ Battlefront™ II Progression update, which includes a complete re-design of the in-game progression system, will begin rolling out on 21st March. There are also some additional changes coming to the cosmetics in the game, but we'll get to that in a bit...
With this update, progression is now linear. Star Cards, or any other item impacting gameplay, will only be earned through gameplay and will not be available for purchase. Instead, you'll earn experience points for the classes, hero characters, and ships that you choose to play in multiplayer. If you earn enough experience points to gain a level for that unit, you'll receive one Skill Point that can be used to unlock or upgrade the eligible Star Card you'd like to equip.
You'll keep everything you've already earned and unlocked. You will keep all of the Star Cards, heroes, weapons, or anything else you have already earned. What you have earned will still be available to use with this update regardless of how much or little progress you have already made.
Crates no longer include Star Cards and cannot be purchased. Crates are earned by logging in daily, completing Milestones, and through timed challenges. Inside of these crates, you'll find Credits or cosmetic items, such as emotes or victory poses, but nothing that impacts gameplay.
Starting in April, you'll be able to get appearances directly through in-game Credits or Crystals. The first new appearances are coming soon, meaning you'll be able to grab new looks for your heroes and troopers directly by using either Credits (earned in-game) or Crystals (available to purchase in-game and through first-party stores). If you've ever dreamed of being a part of the Resistance as a Rodian, your chance is right around the corner.
EA also says that it plans to continue to improve the core game experience, adding new modes, polish, and other features in an attempt to bring Battlefront II up to player's expectations.
We noted in our review that Battlefront II could have been a runaway success story, in a world where shooters like Fortnite and PUBG have become dominant solely with cosmetic-style monetization methods. Hopefully, these changes signal a shift away from pay-to-win in core games forever for EA, and should hopefully bode well for Anthem, EA BioWare's so-called "Destiny killer."
You can grab Battlefront II for $34.99 on Xbox One, currently on sale on Amazon.
See at Amazon (opens in new tab)
Jez Corden is the Managing Editor for Windows Central, focusing primarily on all things Xbox and gaming. Jez is known for breaking exclusive news and analysis as relates to the Microsoft ecosystem while being powered by caffeine. Follow on Twitter @JezCorden and listen to his Xbox Two podcast, all about, you guessed it, Xbox!
The only reason this came to pass is because it was rumored that Disney was shopping the license.

Pink Darthy with blings suddenly came into my mind...

Hopefully this is the last of it, considering the price of a game these days, and on release there is more content to purchase. How much money do these companies think the average joe and parents have.

Games these days are cheaper than ever compared to real-currency. A game in 2000 did also cost $60. But back then 60$ were worth much more.

Yay. I actually can't believe this happened.

Money talks, between the lack luster sales and threats from Disney, EA really had no choice but to back down. Hopefully they learned a lesson, but until Anthem and the New Dragon Age are released I'm going to reserve judgment. Those releases will indicate how much influence Disney had on the decisions versus consumer backlash.

I want to like this game. I bought it for the story mode, but I can't get past the first space duel. Do I suck at it? Kinda. But they also don't save progress enough because I did finish it but died and it reset. Ugh... More irritating than fun at that point ; was really enjoying it up until that...

something needs to be done with gameloft

Its already free to play, cant complain much

What is with all of the complaining about a FREE Game company!?!

I may consider buying this now. It's a damn shame really. If they had just done this from the beginning, consider how much further they could be in the game's evolution by now. Instead they spent the entire first "season" fixing the game.

I enjoyed the game, especially the campaign. Just a tip to those playing for the first time, don't just run through the campaign as fast as possible because it's not that long. Enjoy it and really try and play the roll of each character.
Windows Central Newsletter
Thank you for signing up to Windows Central. You will receive a verification email shortly.
There was a problem. Please refresh the page and try again.