EA has temporary disabled Battlefield 2042's SOB-8 Ballistic Shield due to serious glitch
A shield that could be its own Avenger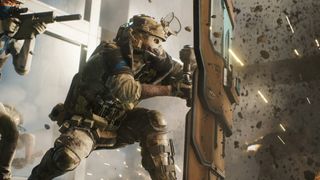 (Image credit: Electronic Arts)
What you need to know
Players are able to play Battlefield 2042 a week early by owning a premium edition of the game.
The SOB-8 Ballistic Shield is able to tank massive amounts of damage, but it was causing some major issues.
The shield has been disabled in all active game modes and spawning the specialist will give you no gadget.
Battlefield 2042 is set to release on Nov. 19, 2021. It is going to be the latest entry in the series after many years of waiting, and is EA's return to modern day combat, and a departure from the World War era the company explored with Battlefield 1 and Battlefield V.
However, some players have been able to play multiplayer up to a week early if they purchased the Ultimate Edition or accessed the game through EA Play. That means we're already seeing some technical issues.
For example, we recently learned that EA now disabled the SOB-8 Ballistic Shield that belongs to the new specialist, Santiago "Dozer" Espinoza. The specialist is currently disabled across all playlists, and the tweet below tells you why it was a necessary action, but basically, it's able to take massive amounts of damage and can even stop tank bullets.
Tom Henderson, a famous leaker in the gaming scene also chimed in with how the shield was also capable of stopping tank bullets.
EA confirmed the removal in a tweet, adding that it'll be removed across the All-Out Warfare, Hazard Zone, and Portal modes.
The glitch is quite significant and its evident that the gadget needed to be taken off the battlefield to keep the game fair and balanced. Otherwise, it would've severely affected the game for many other players who are currently playing the game.
There is no word yet on when EA plans on returning the specialist, but you can follow Battlefield Direct Communication twitter account for more updates as they come.
*Battlefield 2042 is set to release for the Xbox One, Xbox Series S|S, PS4, PS5, and PC on Nov. 19. *
All-out warfare
(opens in new tab)
Battlefield goes back to the future

Battlefield 2042 debuts Electronic Arts' next-generation vision for the military shooter, supporting up to 128 players, the largest-ever maps, devastatingly destructive weather systems, and more.
Windows Central Newsletter
Get the best of Windows Central in your inbox, every day!
Early access exists specifically to find issues like this, so the system is working as intended.

Awww, but I want to be Captain America.