How to enable native call recording on the Lumia 950 and Lumia 950 XL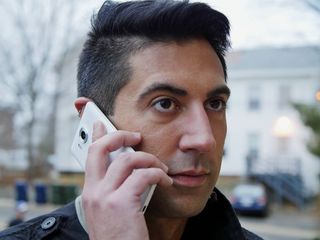 One feature that many users have been asking for on Windows Phone is the ability to record phone calls. While there are legal issues varying from state to state the real reason has always been a technical one. Both the OS and hardware need to be able to support recording a two-way conversation as there need to be API accessible microphones and the ability to intercept the audio coming out the ear piece.
Windows 10 Mobile brings this feature natively to the OS although not all phones can do it. Whether that is because of firmware or hardware, it is not yet known. What is known is that the new Microsoft Lumia 950 and Lumia 950 XL can both have this feature enabled. However, it is important to note that it is not configured by default, so you need to do that before anything else.
Here is how to get it working. Just follow our written tutorial or watch our video hands-on.
Enable call recording – Lumia 950 & Lumia 950 XL
1. Settings
Go to Settings > System > Phone
2. Manage recorders
Scroll down to the bottom of the Phone settings and from the menu selector 'Choose the app you want to use to manage recorded phone calls.'
3. Voice Recorder
As of now, there are no third party apps that handle this feature. However, you can choose the native Voice Recorder app from the menu
That's it!
How to use
Using the call recording feature is very simple. Whenever you are on a call, your on-screen menu now has an extra option to Record found in the upper left area. Simply tap this button to initiate two-way call recording.
It does not matter if you call someone or someone calls you. From our testing, there is no audible beeping noise either notifying the other party that call recording has been initiated.
Listening to recorded calls
To go back and listen to call you recorded is very simple. Once the feature was enabled as outlined above you get a new menu option under the Phone app called Recorded Calls. Tapping this menu item brings up the native Voice Recorder app with the recorded call history. Simply tapping one of the logs will play the recorded call.
The audio call is recorded in MP4 format at a 174 bitrate , which should keep them at an adequate size. You can listen to a short sample above via our SoundCloud embed.
Other options include:
Ability to flag (demarcate) important points in the call timeline
Share – Using the universal Share picker you can send the audio clip to Messaging, Outlook Mail, Bluetooth, OneDrive, WhatsApp and more
Trim- Using the editing tools you can trim the file to just the pertinent part you want
Delete
Contact information
Open file location: Choosing this option opens the file in File Explorer. The directory structure for recorded calls is always This Device > Recorded Calls, although you could have these stored on the micro SD card under Storage.
Wrapping things up
All in all native call recording on the Lumia 950 and Lumia 950 XL is pretty straightforward once you get past the initial step of having to enable the feature. Once turned on, it is just another option on the call menu. You cannot, of course, have it set to auto-record every call, which could theoretically take up a lot of space if you forgot.
The quality of the recorded conversation is decent with the other party being slightly more quiet than our voice. Still, the recording is audible and depending on the connection and quality of their microphone is more than usable for record keeping.
It is finally nice to see native call recording come to Windows 10 Mobile. It should be obvious how such a feature leverages all the native apps to handle fluidly the feature. From Phone to Voice Recorder to File Explorer all of these apps are involved. It will be interesting to see if other third-party apps take advantage of the option as clearly Microsoft leaves it as a user choice.
Where to buy
Want to know which Type-C cable to get? How about a micro SD card? Read these guides for the best tips.
News
Want all the latest news on these phones? Hit these topic pages for all that we got.
Microsoft Lumia 950 XL main page
Support and help forums
Need to chat about the Lumia 950 and Lumia 950 XL? Jump into our forums and ask others what they think or get help and advice on your new phone!
Windows Central Newsletter
Get the best of Windows Central in in your inbox, every day!
Daniel Rubino is the Editor-in-chief of Windows Central, head reviewer, podcast co-host, and analyst. He has been covering Microsoft since 2007 when this site was called WMExperts (and later Windows Phone Central). His interests include Windows, laptops, next-gen computing, and for some reason, watches. Before all this tech stuff, he worked on a Ph.D. in linguistics, watched people sleep (for medical purposes!), and ran the projectors at movie theaters because it was fun.
Does this feature work on the 1520.3?

I talk about that in the opening paragraphs and in the video.

Sorry didn't really see the answer to that in the first paragraphs. I'll watch the video later. I'm at work.

I think this might come to other phones through firmware update ;)

Does it work on a Bluetooth or wired headset? That was the biggest drawback with Android recorders I've used. They only worked through the handset, and the callers voice was very low because the secondary external mic near the earpiece was recording the callers voice coming from the earpiece.

i don't get whats so difficult my symbian belle phone has glance screen (sleeping screen), call recording (automatically) and OTG! and its 5 years old ! ## better late than never! hoping to get this in future builds of W10M! (i doubt its hardware thing!) would love to have it on my L1020!

Well my Windows Mobile device from 2005 had a lot of things

I had a Nokia 7230 classic..I guess it had S40 OS..it used to have that feature..

No sir. Like the reviewer said in the video it's most likely due to a hardware constraint. I also have the 1520.3.

I think it could be firmware that Nokia has made for these phones. Since Nokia doesn't technically support these phones, I don't believe we will ever get anything for older Lumia devices (that originally came with WP8)

And you believe that? This can't be a hardware constraint, There was an app for windows phone 7 that could do it and it even worked on old 512mb devices.

Im sure its not hardware issue! Because i can add this feature on ALL Android phones! Due to legal issues, it usually wont be added in the OS as it goes to other manufactures. It might be added through firmware update on official release to each phone.

Nice to know. Thanks Dan. Hopefully have my XL soon since Microsoft charged my card today.

My old age sony ericsson could do call recording.... it doesn't make sense that a high end hardware is required to record a call.

I agree, my first smartphone (android) with gingerbread could record calls..

Call quality is probably a bit better quality now.

My old Nokia 7190 could do it too. But my 7190 didn't have much else going on during a call like a smartphone does. In any case, like the article notes, you'd want hardware and software working together to make this happen.

Even my nokia7210 supernova could do it. :p

Yeah, all I can see is that they just gave it an artificial limitation. All can be done to be available in software, maybe the firmware limitation maybe real but it doesn't make sense to be hardware feature.

Firmware limitations that Nokia has imposed on us. Plus them not supporting these phones means we will never get that feature

The part of Nokia responsible for supporting these phones was bought by Microsoft, the employees became Microsoft employees. And the no-recording thing spanned the entirety of Windows Phone, not just the Nokia phones. Why blame Nokia for something that is clearly Microsofts decision?

I guess Microsoft has the responsibility now, but they probably don't want to update the firmware on hundreds of older Lumia models.

Hey Daniel I was wondering if u have any problems connecting the jaybird x2 wireless headphones to the Lumia 950. My Lumia 950 can't seem to even discover the device.

Mange recordings? I'd see a doctor about that if I were you.

Smile, you got the 950 :)

Pretty sure Mark's phone # is visible for a miniscule time around end call. Hopefully you submitted feedback about the voice being quiet. Sounds like the recorder should take into account volume in the recording level as people will turn up a quiet line. This is a nice feature to gain when calling companies for support.

Cool stuff. We are finally beginning to get features we have been clamouring for since spring 2014. Well, better late than never. Good job Microsoft!

OMG, why not take the free space in the first row of buttons in the call screen?? Sometimes I don't get why MS take some decisions regarding UX.

Yes, that seems rather odd.

Maybe there is another button hidden there that isn't active yet? Maybe on dual sim phones there is a button that give the option to switch sim??

Indeed, the Call UI is really weird and also it looks quite ugly. The call UI from WP8.1 where a large contact photo fills up the UI which looks way much better and give the focus on the person you calling rather than buttons. Even Android and iOS adopted that UI from WP8.1 and now they have beautiful and still functional calling screen. While W10M adopted/inspired the old iOS7 Call UI. http://i.imgur.com/CtJbOM2.gifv

You might want to cover up the phone number/face in that gif, Miss.

Is it original or concept? Sorry, I havent seen the Windows10 yet.

that space suppose to be "redirect" or something, and maybe they put apps-related button to the new row

mine was set up by default. Also, some states have laws in place, so you may need to advise the other party that you are recording them.

Yup, in California it's a felony to record a conversation without notifying the other party. Dan does point that laws vary from state to state.

Felony? Seriously? Perhaps their flagrant designations of everything as a felony in CA is designed to expand the pool of people who cannot own a gun, or vote in an election.

Not really close to being on topic...

I still do not understand or comprehend the need for call recording. I personally do not find any use for it but apparently many people do and Microsoft has listened to them. Good.

I use it because I have a terrible memory and often forget what people told me, so there's that ;-)

But I'll forget to record it also. Auto record is a handy feature, if you have sufficient storage space.

That's actually a good point, on my android I have it on always, so I don't forget that, heh.. About storage, I don't think that's why it's not implemented - 1. They could just limit it to the last 30 calls or something and 2. On my android it's just 5 MB for an hours talk, so...

Because an abusive ex is threatening you

If you want to maintain multiple girlfriends you need to be able to know your convos so you don't mix up any info.

Recording the call comes in handy when dealing with custome service. Some companies tend not to be very honest and will tell you inacurate things over the phone.

Or for journalists like myself when conducting telephonic interviews.

I do service work, and take calls while driving. I often need the information given during the call, but writing it down isn't always a safe thing to do.

When is the 950 XL coming??

Does it make a beeping sound (hope not) to let the other person know you are recording?

This call may be recorded... I think at least here in the US recording the audio is fine for personal use, as the person has to answer your call or call you, different than recording random audio of someone in the wild. However, without their consent of the recording I don't think said recording can be used in a court of law. I'm an engineer and talking out of my ear here.

The laws very by state. In many, it is required that any party recording the call must announce their intentions. In others, if one parry states they'll be recording the call, the other is free to do so without announcing it. As in: When you call customer service, they always say they might record the call. In many states, that's legal precedence enough to record the call. But as always: Look up local laws for yourself, and be cautious when getting legal advice off the internet.

Not on my 1520 dang nabit!

That looks great! I'll rarely use it but I'm glad they made it available for the one, random occasion where it's necessary.

Nice to see Microsoft put this feature directly into the OS.

What about reports of echos during calls?

This will come on handy while i am trying to cancel DirecTV.

Time to record dem phone s*x. I kid.

Perfect for anyone facing a phone call with Comcast Customer Support. Or any other terrible company, for that matter.

Can't wait until lawyers flip out over this and it's stripped out via an update. Yes I know laws vary by state.

damn ive been w8ing for this feature im gonna buy 950 or 950XL not sure yet... need to check on finnish store first before i choose wether it is 950 or 950XL :D

This feature is only for L950 and L 950 XL. Not any other Variant

Guys, let's say the bluetooth is turned off and you intend to share a file via bluetooth. Will the bluetooth share option still show up??

Mean if we need very small feature (ex- call recording , USB OTG) in windows phone we need to buy a high price lumia 950/XL !!!
Mean same hardware running android device that support call recording and USB OTG but windows phone can not do it why? Our other lumia running fake hardware's ?
i really big hope to windows 10 to fix our problem/limitations but i disappointed with windows. Now I thinking to buy a new android phone and switch to android.

Lumia 950/XL have call recording and OTG features already...

Seriously hilarious...how can a call record doesn't support our lumias??? And the blame is hardware and software? Watta way to cover up something which is a basic requirement of a phone.

For every new(old) feature it requires new hardware? lame excuse by microsoft, 8-9 year old basic java phone can record calls, why can't lumias?

And even if we assume that there is a hardware that is required for recording a call which is missing in our lumias, does that mean MS or Nokia dint think of call recording feature in their future updates?

Will we have this feature on previous version of Lumias as well like 1520,1020 & 830 ?

Unlikely, as stated in the article.

Looks like someone's phone # is visible when you go to phone settings, who ever that sim is for.

Nice feature. But there should be an option to record every call. Then the phone should only keep the last ten calls or so in storage, with an option to permanently save the file if the user tells it to.

Very hard to believe it was a hardware limitation.. @dan please clarify. What about other lumias and windows phones in general??

Other phones don't ruin their noisy recent firmware yet. Only 950 / xl do. Insider previews don't include firmware

I thought its location will fill the empty space on the second row. Not make another new third row!!!!

That's handy! Looking for my 950xl even more :)

Hi Dan,
Is the phone recording only available for normal phone calls or can we even record Skype calls?

Bollocks it's a hardware limitation. It will come to every Lumia phone getting a w10 update.

Why not just WMA, MP3 or OGG? No need for video.

Just because the feature isn't available on other phone YET doesn't meant it'll never be available. The feature is part of a yet unreleased update. Microsoft doesn't always release all features to insider builds.

Is features like this that will help push Windows 10 Mobile higher on the ranking assuming that network providers or government policies don't block it from being included.

"It is finally nice to see native call recording come to Windows 10 Mobile." ...so you mean that other smartphones have this natively? Because this is NOT the case and actually most CANNOT do it at all.

No, he simply means what he wrote. You are right anyway

This is GREAT! I miss being able to record phone calls since... I can't remember which phones I had that did it, but it was super useful! Perfect for when you don't have a pen and pad available and particularly useful for bookies (I'm not a bookie). This should be an advertised feature.

Is there a way to make the deafult save location on the SD card? You touch on it a bit but didn't explain how.

I have voice recorder on my 950 but it says no compatible app. How do I fix that?

This is a bs move....buy a new phone for a simple record function...wtf...

Cool feature. I hope it's just a firmware update needed to enable it on older devices.

Definitely handy feature when calling Rogers (worst carrier on the planet) or other customer services...

I have lumia 535 and just update it to win 10 build 10586.29 but cannot see the option to choose app to manage recorded calls under system > phone settings . Do we have any other apps that have this feature enabled in windows 10 mobile??

Why Lumia 950 or XL? wy not Microsoft first Phone Lumia 535? Pls do something.
Windows Central Newsletter
Thank you for signing up to Windows Central. You will receive a verification email shortly.
There was a problem. Please refresh the page and try again.