Endomondo for Windows Phone updated with Premium support, notifications and more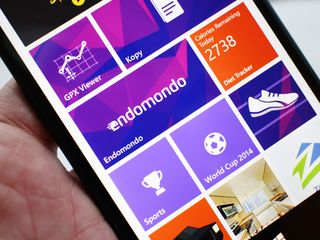 Endomondo for Windows Phone has picked up it's third update in seven months. The team at Endomondo has been cranking up their Windows Phone development pace and the latest update adds a handful of new features. One notable feature being the introduction of Endomondo Premium.
Head into the Windows Phone Store and you'll now see Endomondo at version 9.3.0.2. Here's what you get with this latest update:
Endomondo Premium support
Ability to choose audio coach feedback in six languages.
Notification inbox where users can view messages, accept/reject friend and challenge invites, and more.
Live Tile notifications, 'Toast' notifications, and support for the WP8.1 notification center.
Tag 'Friends' on workouts.
Privacy setting controls.
Endomondo Premium is a new, subscription-based service that provides personal training plans, custom audio coach settings, a low-power mode, ad-free usage, and more available online. Endomondo Premium is priced at $3.99 per month or $29.99 per year. Look forward to English, Spanish, Portuguese, Italian, German and Polish as supported languages with the audio coach feature.
If you're one of the 25 million users worlwide using Endomondo grab the new update and let us know what you think!
Thanks for the tip everyone!
Windows Central Newsletter
Get the best of Windows Central in your inbox, every day!
This app is one of the best, faster, and stable what I see in all store, good job Endomondo

Just now got Cyan on 1020 India ..

Was developer preview activated?

Thank you Endomondo! The entire app now has ads and basic voice notifications require a paid subscription. wtf?! Track Runner is much better and free, only wish I could upload runs to Endomondo portal more easily.

Couldn't agree more, endomodo has just gotten worse the last few updates. I ditched it and now I use track runner as well. And for other workouts I use runtastic pro.

Can't log in via facebook

I have the very same problem. Please help as I dont want to create another account and lose my history.

I always have mileage issues with this app. I use track runner as my go to app now.

They took away one of the stats on the the page. I have to give up something I enjoy viewing during my walks and I'm not happen. Distance should not be a premium feature.

And they want you to pay a premium for the platform without ANY of the new paid features available in the app. So for $29.00 a year I basically get no Ads (which just appeared) and priority support. Hardly worth it at this point until they really improve the app.

how many calories does a Sam Sabri eats?

First thing first (i'm a realist... lol jk) I'VE BEEN ACKNOWLEDGED http://exhalecdn.breatheheavy.com/public/style_emoticons/default/wahlykeomg.gif !!! now my actual reply... i'm actually almost on a 1520 calories diet :O

What are the alternatives that have good voice cues by time and distance?

Track runner is way better than endomondo, but you can only track running.

I'd say for other than running I use runtastic pro. But marathon is also a good alternative.

It looks like a greedy move on their side, they only made the regular app to have premium features. While on android the Pro version has low power mode and customizable audio coach on WP you need a monthly subscription for that.
Really annoying. Feeling like they are trying to squeeze out on the few WP users on an app they haven't even works on that much.

Ahhh. I shouldn't have updated. Now it has ads. They should at least remove the ads or keep it that way.

My favorite health and fitness tracker! (I only walk)

If they only added route tracking for wp I might be interested in premium. Looks like I'll head elsewhere

The new version has issues with connecting to an HRM on my 1020 (Cyan, WP8.1). It was working fine before the update. Looks like I'm not alone judging by the Endomondo forum.

+920 (Cyan, WP8.1) Can't connect to my Polar H7 anymore. Caledos HRM connects just fine so it is not my phone, it's the app.

This app was unreliable, they don't work on adding things people want, instead that now added ads and a subscription... Great way to handle customers! Thank you... And uninstalling!

Good to know how bad this new update is. I'll keep the app at its current state since it serves my needs well. I remember updating Nokia Creative Studio and regretting it lol ( the old filters were way better than the new ones).

and why we still cant choose own music to play?

I don't get that, I'm listening to Spotify while running, any other player would work as well.

Why would they remove the distance stat? Also unable to connect to facebook. May be time to switch.

They didn't remove the distance stat. They did remove one stat to fit the ads.. But you have the option to replace a stat to bring back distance.

Did they add languages also? Can't remember the for sure if the app was in Swedish before?

The new version also killed the connection with my wahoo blue hr. This makes the app a lot less functional for me. Hope they fix this soon as more people have problems with hrm connections.

Endomondo used to be the only fitness app for me. Also, it was the best GPS tracker in Marketplace. I recommended Endomondo to all my friends. Now it's over. The last update is the shittiest update ever. Every second button in the app leads to Premium ad, which make it hard to use the app with efficiency.
Also, feature named similar to 'Low power mode' was offered for free in previous version. Thanks God, Microsoft updates its own fitness app today with great features and sync.

They won't approve my comment on their blog. It seems that only proper comments and comments left by themselves are permitted like 'WOW … I'll be joining premium now !' Funny enough.

Hi Sam, please, can you share your background? Please, is very nice :]

This or runtastic? For training to ruin in a marathon?

If you want to run a marathon you need coaching plans IMHO.

Got in touch with support, HRM bug is found and fixed, will be released in next couple of days. I love the update as I was a premium user before and was missing the features. I think now all platforms can enjoy same features with same business model.