Enpass 5.0 now available for Windows, adds browser extensions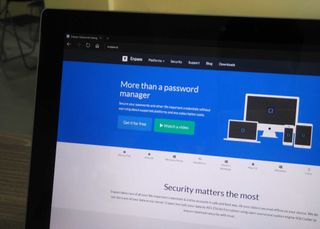 Enpass is a popular offline password manager that secures all your data locally on your device. It allows managing your passwords, login details, credit card numbers, bank details, ID numbers, and more and there's a wide range of categories and customizable templates. The app makes data entry easier, fast, and organized.
Enpass doesn't store any of your data on their server and encrypts your data using open-source encryption engine SQLCipher to ensure maximum security with trust.
The cross-platform app, is available in three flavors for Windows devices at the moment. There's the Windows Phone 8 and Windows Store app for PCs, but the app that packs in most features is the traditional x86 Windows app. The Windows desktop app has just been updated to version 5.0 adding the much-requested support for browser extensions.
There are two reasons why Enpass has opted for the parallel product line. One, the traditional Windows desktop app is available for all users with Windows XP SP3 and above – something Windows Store apps limit. Second, the API restrictions do not allow the modern Store apps to allow for features such as browser extensions. I spoke to the developer to understand their predicament, and learned that the upcoming Windows 10 Universal Windows App would help to make for a seamless user experience.
The marquee feature in the latest version is the ability to auto-fill with Enpass Browser Extension. The extension, available for Chrome and Firefox, lets you auto-fill login forms, save credentials, generate strong passwords and much more with a single click from your browser.
There are a few other advantages of the desktop version over the modern Windows app. You can customize your items in more ways, rearrange the fields, and change the category of a saved item. Also, the desktop version lets you import your data from other password managers automatically in a seamless manner.
If you are using Enpass on multiple platforms, you can sync your data across them with any cloud of your choice. Enabling sync with cloud adds safety to your data in case of loss or theft of your device; as it automatically synchronizes the changes with your own account. The cloud is only a storage medium and all security-related operations (encryption or decryption) are performed locally on your device.
Download Enpass, and the browser extensions, from here. The full-featured, desktop version is free with no hidden or subscription fees. The mobile apps though offer a paid upgrade. You can sync up to 20 items free, and then pay $9.99 for the upgrade. You can find these versions through the link below.
Do you use any password managers? If yes, which one? Enpass is a solid password manager with a comprehensive feature set. Give it a whirl and let us know how you like it.
Windows Central Newsletter
Get the best of Windows Central in in your inbox, every day!
Lastpass (cloud) or keepass (local)

Keepass for life :) Works great with 7Pass on WP

7Pass is still under developement or maintained by the developer?

LastPass is cloud and local and is encrypted. The cloud/local sync works on all my devices. They have a package deal with Xmarks that syncs your browser favorites.

I use the universal app, it works great!

I use Hp simple pass. Though I started using it on my hp laptop but works well on my desktop as chrome extension.

I use this on both my Lumia 830 and Surface Pro 2. It's an awesome piece of software! Devs, keep up the good work!

Lastpass. Just waiting for windows 10 and edge to support browser extensions so can use it on my surface pro2 w windows 10 and then hope that w10m edge will allow extensions or a better integration with password management software such as Lastpass

Use Enpass on all my devices. Wonderful cross-platform app. Well worth the $10 cost.

I've been using this since it was an appfree deal. Love it, might check out the desktop version.

I use Dashlane. It's similar in function but need of mobile app. Hopefully coming soon. $39 yearly for premium.

Pricey! I'll stick to my free Enpass app that came via the myappfree promo a few weeks back :)

Ronald you are wrong its not similar when it comes to price. Dashlane charged you yearly but you get Enpass for desktop with Browser Extensions for free.
For Mobile Enpass costs only once for the life time license.

I love Enpass! Hopefully the universal Windows app they're working on allows for copy/pasting.

The current apps already allow for copy/paste. Either do a long press or right click on a field to get the copy option.

I use 1Password and I do not know who borrowed from who but looking at that video introduction many interface elements are almost identical between the two.

This app reminded me a lot of 1Password. I would imagine that Enpass is the copycat here, but this is solution that is well suited for Windows Phone users versus 1Password and iOS users.

Yeah 1Password has had this design style for many years now, coming from OSX/iOS & using aspects on Windows 8-10, WP8x, & Android. This will hopefully light a fire under AgileBits arse, as they've been pretty slack with WP, not so much with x86/Win32. I hope to see them get far more agressive with Win10 Universal Platform... So long as the API keeps improving quickly enough, to allow them to make an app that's as powerful as their OSX/Win32+x86/iOS apps, ASAP!

Best password manager I've used. I found it over a year ago and moved everything from SkyWallet when it became clear that SkyWallet would never be updated again. Enpass is constantly updated, they support the Windows Store, and the cloud sync works perfect with OneDrive. I have both the x86 app and the store app on my tablets because the store app is easier to use for touch, but the x86 has the additional features.

I did exactly the same thing. Used Skywallet for a while but tired of its limitations. changed to Enpass when it was free for a day in the store and haven't looked back. I have the desktop version on my main PC and the store version on my 930 and Surface 3. Haven't looked back. Even though I originally paid nothing, I'm more than happy to pay for this upgrade. Looking forward to using its extensions in Edge, which will undoubtedly happen soon.

Exactly. ​And considering this only costs something once as opposed to the other full featured managers, I couldn't be happier!

I might look into this if it could replace my lastpass subscription.. What about xmarks any alternatives?

Enpass is a great app! I use it on all of my devices, both personal and at work. One of my favorite things is that after the initial purchase you're all set as there is no monthly subscription needed. I also like the fact that it backs up and syncs data to OneDrive so you can make a backup of the data file if you want to.

I'm still acclimating to Enpass. I have it on my HTC One M8 so far. I'm too used to Lastpass but Enpass has my attention.

Is it better than 1Password?

Enpass is what I use and it's the greatest password app I have used, have it on my 928, Asus T-100 and a desk top, IPhone, IPad all backup works fantastic to OneDrive.

Been using Lastpass for nearly 10 years now and never had any issue. Works great, especially cross-platform. Their apps are not the "most sexiest" though.

Enpass is more secure than because it's an offline app and saves all your database locally on device not on their servers which gets hacked.

Great app, cross platform, reliable, periocally updated, very customizable but still a snap to use without 100 settings getting in the way. Best 10$ ever spent on an app!

Wanted to try it the last time WC posted an article about it. They claimed to be able to import LastPass data. I use lastPass and love it. But Enpass documentation said it could only import text files while LastPass only exported CSV (or vice versa). Their tech support was useless and gave me the impression they didn't really understand English which is a problem for me but not others. But if they just started supporting extensions, I'm glad I didn't get farther becasue how else could it detect and fill in passwords for websites if not via an extension? I means, did you have to open an Enpass app and search for the site and copy/paste information into browser?

You can simply paste the LastPass exported data into text file and save that as .TXT from which Enpass will import the data automatically. With the release of new extensions now you don't need to copy/paste the data in browser. Your main Enpass App must always be running in background and must be unlocked from which extensions will securely fetch the info for autofill and feeds into when you attempt with a new login. Also go through the Enpass settings section and setup the autolock interval according to your needs.

Thanks. I MIGHT try again. If you are right about just renaming the .CSV to .TXT and I'm not doubting you, its amazing that they kept telling me they were going to update their software to read the .CSV and would let me know (which never happened).

I have been using an application called Password Depot. I has had browser extensions for years. Support IE, Chrome, Firefox, and most functions with Edge. It can sync with Drop box, Google Drive, One Drive, local servers, internet based server (that you manage), it can run from a USB drive as well and have no foor print on a PC if you desire. I may take a look at Enpass just to compare, but I have been very happy with Password Depot.

I love Enpass. Best cross platform tool for password management. Their support has always been responsive too.

Enpass is a really nice app. I have tried a few and some like 1Password are really expensive and others are just butt ugly. Enpass hits the sweet spot.

I was using mSecure but after latest windows upgrade I did a hard reset. Since then that's not installable in my Lumia 1520. Enpass working fine. It's better to use two applications to avoid such situations.

cool. i use this on my android.

Enpass update and support Windows phone app which is not the case with other password managers, for this reason alone they get my support and money.

1Password for my Surface Pro 2 and OnePlus One...though the Android app leaves much to be desired compared to what LastPass previously offered...
Windows Central Newsletter
Thank you for signing up to Windows Central. You will receive a verification email shortly.
There was a problem. Please refresh the page and try again.