Evernote Desktop gets "dramatic update" with version 5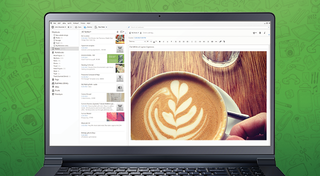 Around these parts the majority of you might be using OneNote as your note taking application. It has applications on most platforms, syncs across devices and more. One of the biggest competitors to OneNote in both features and users would be Evernote. They too have apps on nearly every platform, strong syncing, and more. They also just recently updated their desktop application for Windows to version 5. This is what's new.
While most of you may be content with OneNote, a strong competitor can only make your product better. Evernote is that product that will, depending on who you ask, always push OneNote forward. Now enough about OneNote, there are a handful of readers that use Evernote as their note taking and storage application. It's hard to ignore them with apps available for Windows Phone (recently updated), Windows 8, and desktop. New in version 5:
New look
Faster everything
Reminders
Improved notes
Smarter searching
Your notes on a map
Much more
The first thing you'll notice about anything in life is how it looks. Evernote v5 brings modern aesthetics to the desktop. The interface has received a "flat" overhaul. Flat, as you may know, is essentially what the world outside the Microsoft bubble are calling the design language formerly known as Metro. The team stripped unnecessary elements and has made it easier to browse and create notes.
Speed improvements are also found throughout the new app. Not just in technological aspects, but features that make using Evernote faster. For example, the app now has a shortcuts area in the top left panel. This area is where you can get quick access to things you do frequently in the app. You can drag whatever you want into the shortcuts section. Other things like improved organization also speed up your use of Evernote.
Evernote v5 brings a feature called reminders to the mix. Reminders turn your notes into "inspiring actions". You basically turn your notes into a to-do list and alarm clock. Not bad for when you get inspired, take a note, and want to act on it before a certain deadline.
The other improvements to Evernote should make fans of the service happy and users on OneNote slightly jealous. I'm not aware of the ability to put notes from OneNote on a map, which is something Evernote users will now be able to view. A lot of times I'll see a cool location where I think it would be useful to come back and take some nice pictures. Note + geolocation data = awesomesauce.
Evernote v5 is free for desktop users. Grab it here (opens in new tab). Using Evernote across multiple devices is free, but you can pay for premium features. Read up on those premium features here (opens in new tab).
Source: Evernote Blog (opens in new tab)
I wonder if Metro apps would ever reach this level of functionality and stability - both of the main reasons I loathe to use windows 8 apps...

i am sure it is possible when the devs want to.
Qua stability i had alot less problems with win8 apps then on andoid/ ios

personnaly the mail app in w8.1 is verry nice and stable and has alot to offer when it comes to funcionallity ok, can be improved but gives a nice picture of what is possible and when office wil have a real modern ui app for w8 i think it will be as good as the desktop one.

The only reason that I still use Evernote is the browser extension that allows you to clip data from your browser and send it to Evernote. Hopefully OneNote will get this ability soon.

you can clip from anything to one note, doesn't have to be a browser even... at least in office 365. (windows + S)

That is available though as part of the OneNote 2013 which is not free.

Thankyou for saying "..a strong competitor can only make your product better". That's why bashing other products is, in my humble opinion, silly.

Need a "dramatic update" for WP app too. Although I'm slowly transitioning to OneNote, still on the fence about which one I prefer


Sky drive integration takes the cake for me when comparing Evernote and OneNote. Although, now I have an Android tablet, which could tip the scales in favour of Evernote. But this still would require that I used my tablet for anything productive. Android + productivity? Hahahahah...

What about SkyDrive integration? What does that add?

This is a drop-dead gorgeous upgrade! Rumors of the Desktop's demise have been greatly exaggerated.

Evernote's PC software is the reason I use it over OneNote. It's fully featured and free, where Onenote's full feature software is only available with Office and I feel it's web app is lacking - like most web/Windows 8 apps.

I never knew there was a desktop app.

Its also possiable to sync between evernote and skydrive:
https://zapier.com/zapbook/evernote/skydrive/
I was also looking for a recipe on www.ifttt.com but I could not find any which worked with both.


I can't take handwritten notes in Evernote on the Surface like I can with One Note. That's why I switched in the first place!

(Although I am downloading the new version just to make sure that is still the case)

OneNote's pen input is a huge advantage. I'll never consider anything that doesn't have it. I bought a Windows 8 tablet specifically for that reason. It's so great to have a digital markerboard and ot be able to take handwritten notes. And on a more frivolous note, I'd love to see someone try to doodle during a meeting in Evernote. I'd like to see a Lumia OneNote with a stylus since right now I can only view ink notes on the phone.

i am a mac user with a windows phone and android tablet, evernote is really usefull tool for me, cause i have all my notes sinchronized. And the mail advice tool is very cool i recomend.
Windows Central Newsletter
Get the best of Windows Central in in your inbox, every day!
Thank you for signing up to Windows Central. You will receive a verification email shortly.
There was a problem. Please refresh the page and try again.