Everything new in Destiny 2's The Dawning 2020 holiday event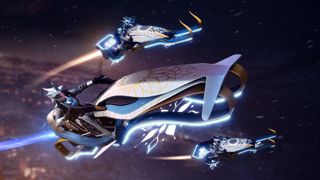 (Image credit: Bungie)
The Dawning has arrived in Destiny 2 for the holiday season, bringing snowfall to the Tower and lots of new items that Guardians can find, earn, or purchase. Here's a thorough look at everything that's on offer for this year's The Dawning, as well as how you can get your hands on each item.
Wield the Darkness
Welcome to Europa, Guardian...

In Beyond Light, players will encounter a dark Fallen faction, travel to new locations, and go beyond the Light to wield the power of the Darkness.
The Dawning 2020: Glacioclasm
Glacioclasm is the new High-Impact Frame Void fusion rifle available during 2020's The Dawning, and it's quite a good one if you like the weapon class. You'll get random rolls of it naturally as you bake cookies for the various in-game NPCs and complete Dawning bounties. Within the first 30 seconds of my experience with The Dawning, I managed to snag a nice Under Pressure/High-Impact Reserves roll myself! Make sure to check out the Light.gg page for the weapon so you can identify which roll you'd like to hunt for.
The Dawning 2020: Armor ornaments
There are three new sets of Dawning armor ornaments (named "Lucent Night") available during The Dawning 2020 — one for each class. Each of them cost 1,500 Silver or 6,000 Bright Dust in the Eververse store, but it's expected that as The Dawning goes on, individual pieces from the sets will become available for Bright Dust for a limited time.
Here's a look at the set for Titans:
The Warlock set is my personal favorite. You can see it below:
And lastly, the Hunter set:
The Dawning 2020: Weapon ornaments
A couple of Exotic weapons also got some ornaments this year: Xenophage and Monte Carlo. The Xenophage ornament is called Glee Barrage and features a bright blue and gold coloration, while the Monte Carlo ornament is called the Merry Maker and has a white and bronze palette with some dark blue accents and decorative patterns. Both of the ornaments are available for 700 Silver.
Here's the Glee Barrage ornament:
And here's the Merry Maker ornament:
The Dawning 2020: Ships and sparrows
If you're a fan of vehicles, don't worry; The Dawning 2020 has you covered with quite a few new sparrows and ships on offer. The first of which is the Starfarer M7, which is unique in that it's a ship with custom engine and transmat effects. You get it by baking and delivering your first cookie for Amanda Holiday to her in the Tower, and you can unlock upgrades for it like a special shader by progressing the "And All to a Good Flight" quest. This quest involves engaging with The Dawning's core gameplay loop of baking cookies with ingredients collected from enemies and completed bounties, and then delivering them to NPCs.
The second ship on offer is the Silverwing Kestrel, a sharp, sleek vessel with lots of Dawning-themed patterns all over it and a base white and gold coloration. It costs 800 Silver in the Eververse.
Image 1 of 2
If you'd prefer to go with a sparrow instead of a ship, you have three options this Dawning. The first two are the Polar Prancer and Gift Giver. The Polar Prancer is more of a bulky sparrow, while the Gift Giver is slimmer and smaller. Both sparrows feature plenty of decorative Dawning markings and the Dawning's signature white, gold, and blue colors. Each one costs 800 Silver in the Eververse store.
The third option is The Mirthmobile, which is a comically tiny sparrow with the usual Dawning theme. It, like the rest of the vehicles, costs 800 Silver.
The Dawning 2020: Ghost shells
There's also a trio of Dawning-themed Ghost shells on offer this year for your little buddy, all available for 600 SIlver. The first one, the Tangled Shell, is my personal favorite and features a bunch of festive lights wrapped around your Ghost.
Secondly, there's the Emberwick Shell. This Ghost shell aims to make your Ghost look like a candle, complete with a beige base color, wax on the top of your Ghost, and a candlelight projection.
The final Ghost shell available is the Little Helper Shell, which removes all the triangular armor on the Ghost and replaces it with a little elf hat. How cute!
The Dawning 2020: Shaders
Image 1 of 2
All of the above gear is fantastic, but if you're not a fan of the default colors and textures they come in, you may enjoy how they look with this year's two new Dawning shaders: Dawning Festiveness and Celestia. Dawning Festiveness adds a quilted look to gear and features a light gray color palette with blue accents, while Celestia gives gear a strong gold look with light blue trims. Both shaders are available from Eververse for 40 Bright Dust. Once unlocked for the first time, you can get these shaders from your Collections tab for Legendary Shards.
The Dawning 2020: Emotes
If you're a fan of emotes, you'll be pleased to see that there are three new ones available for The Dawning 2020. The first of which (and, in my opinion, the best) is the Frosty Friend Emote, which is a multiplayer emote that allows you and a friend to build a snowman. It costs 1,200 Silver.
Next is the Turbulent Weather Emote, which features the vigorous shake of a snowglobe followed by a swirl of beautiful snowflakes all around your Guardian. It costs 1,000 Silver.
Finally, there's the Ho Ho Hum Emote that's perfect for the Ebenezer Scrooges out there since it features your Guardian shaking their head in annoyance while wearing a funny hat. It costs 500 Silver.
The Dawning 2020: Finishers
Cool Dawning-themed animations aren't limited to Emotes, as you can also pick up some new cool Finishers as well. Both of them cost 800 Silver in Eververse. The first one is Perfect Ten, which allows your Guardian to ice skate around triumphantly before finishing off your enemy.
The second is Happy Trails, which allows you to execute foes by pulling a hand cannon from your back and delivering the finishing shot.
The Dawning 2020: Transmat effects
Finally, there are a pair of new transmat effects available for 200 Silver each that give your Guardian a unique particle effect as they load into areas. The first is Sweet Entrance, which surrounds your Guardian in a flurry of gingerbread, frosting, and candy as they spawn.
Secondly, there's the Snowy Entrance transmat effect. This effect features your Guardian bursting out of a plump snowman each time they spawn into a new area.
Your thoughts
What do you think of all the cool stuff available for The Dawning 2020? Let me know down below.
Destiny 2: Beyond Light is available on Xbox Series X, Xbox Series S, Xbox One consoles, PlayStation 4 and PS5, and Windows 10 PCs. It costs $40 but is also available through Xbox Game Pass. If you've never tried out Destiny 2, I recommend doing so, as it's easily one of the best Xbox One shooters. For more on Beyond Light, make sure to check out our guide to the new Deep Stone Crypt raid as well as our guide on how to get Stasis Aspects and Fragments.
Wield the Darkness
Welcome to Europa, Guardian...

In Beyond Light, players will encounter a dark Fallen faction, travel to new locations, and go beyond the Light to wield the power of the Darkness.
Get the Windows Central Newsletter
All the latest news, reviews, and guides for Windows and Xbox diehards.
Brendan Lowry is a Windows Central writer and Oakland University graduate with a burning passion for video games, of which he's been an avid fan since childhood. You'll find him doing reviews, editorials, and general coverage on everything Xbox and PC. Follow him on Twitter.