Everything you need to be a cable management pro in 2022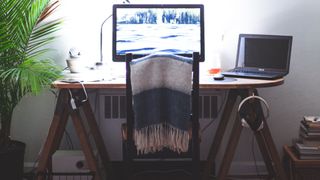 (Image credit: James Fitzgerald via Unsplash)
You may have the perfect setup, fully equipped with top-of-the-line monitors, desks, and gaming gadgets, but none of that matters if it looks messy and unkempt. Organizing your cables can take your setup from amateur mess to full-blown professional sleek. A neat and tidy space will help you focus and increase productivity. That's why we comprised a collection of everything you need to become a cable management pro.
Getting things organized
A combination of the above items will really take your cable management skills up a notch. Using accessories such as the J-Channel Cable Raceway will automatically make your space look more organized as the wires running along the floors and walls can be instantly covered.
If you would like to go a step further with your cable management, you may want to organize your wires through the use of clips like the GWHOLE Cable Clips and sleeves like the Envel Cable Management Sleeves. Labelling your wires ensures that you know exactly where they are all going and what they are all connected to. Using sleeves reduces the appearance of messy cords and allows you to hide multiple cables under one accessory.
Another great organizational tool is the use of power strips like the Orico 10 Outlet Power Strip as it can centralize where your wires are going. You can then hide these by using 3M Double-Sided Tape, which is a strong a strong adhesive, and attaching them underneath your desk. Taking a series of these small steps will bring you that much closer to becoming a cable management expert.
Get the Windows Central Newsletter
All the latest news, reviews, and guides for Windows and Xbox diehards.
Camille Sanghera is a UX writer and copywriter for global brands as well as an author of self-help books. Although she has lived and traveled internationally, Camille is originally from British Columbia, Canada. She merges over 10 years of writing experience with a love of words to bring authenticity and human connection to every project. When not writing, Camille can be found exploring nature with her dog, sketching to music, or laughing with loved ones.
You can chat with Camille on Instagram at @projectpvo.