Evolve relaunching as free-to-play game on PC July 7, with Xbox One to follow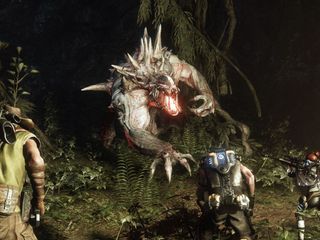 Developer Turtle Rock Studios has announced that, starting on July 7, its sci-fi co-op shooter Evolve will relaunch on the PC as a free-to-play game. The plan is to make the game free on the Xbox One and PlayStation 4 consoles as well sometime in the future.
In a community forum post, Turtle Rock's co-founders Chris Ashton admitted Phil Robb that when Evolve was released in 2015, the critical reception was mixed and players didn't care for the game's way of handling post-release DLC content. Turtle Rock is going to be updating Evolve to make it better, and it feels making the game free-to-play is a good way to get feedback:
The folks who paid for the old version of Evolve won't be forgotten when the game switches to its free-to-play version:
Turtle Rock used its Twitter feed to confirm the plans are to turn Evolve into a free-to-play game on consoles, but no specific date was revealed on when that might happen:
Windows Central Newsletter
Get the best of Windows Central in your inbox, every day!
That's how it should of been, good thing I didn't buy it.

now I want my 50USD back which I paid for the full game

Welcome to early adoption. Xbox one is $279 now. Should I get my $129 back from buying mine two years ago?

sweet, always wanted to try playing the game

Steam, look for it, it will probably say something like Stage 2 Beta

I bought this on Xbox One about 2 months after release and have managed to play about 30 minutes of it since there was no one playing it. I do wish Xbox would offer a similar refund policy to Origin or Steam.

Bad move by both turtle rock and ea
This will decrease their sales instead
They should have waited for the sale to end! Posted via the Windows Central App for Android

I know right, it's on sale all this week, after this news why would anyone care to buy it now

Assuming a standard f2p model dlc will still cost. Buying a full version gets you dlc at a discount

This is awesome because it will bring new players and a fresh a approach to the game I love. And also there's a recognition for us who have supported the game from its inception.
Try it, it's a great game.

Lol: "didn't care for how DLC was handled..."? The prices they charged for very little content (15€ for ONE hunter...) were absolutely ridiculous and regularly created shitstorms on numerous forums. Nearly noone I played with bought any DLC. Look at what you get from CDPR with the Witcher 3 expansions for the same money... I am very glad that game didn't show the success they hoped for. It was one of the most overhyped and dull experiences I've had in 2015. Suits the FTP model rather well, but turtle rock have lost all credit I have had for them originally.

Agree 100%. Feels a bit stupid that I paid for it and never got to really play it.

Oh no! I do not like the direction this is heading towards; free-to-play means in app purchases which segregate the gamerbase even more, and WILL mean you pay more than previously on an outright purchase (this includes "Season Pass" costs as well). I don't have a significant objection to season passes if they provide meaningful extra content and are accessible in price for enough people to buy. I do NOT support "free" games. Plants vs Zombies is a prime example of it costing you more and far more fractured experience. Games need to stand up on their own merit and justify our hard-earned; I feel that the freemium model is simply a cash-grab and does not ever benefit the consumer.