Facebook for Windows 8.1 gets a major update today, here's what's new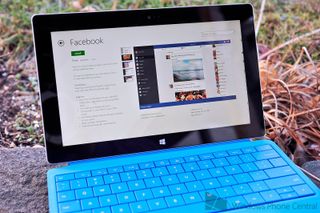 Microsoft is pushing for a major refresh on their Facebook apps, with Windows Phone 8 getting a major overhaul earlier this week and Windows 8.1 counterpart nipping at its heels. Although Christmas may have come in the middle, it's clear Microsoft has a plan to keep these apps in tiptop shape.
If your Store has refreshed your apps, then you should be sitting on the version 1.2.0.12 of Facebook for Windows 8.1. It's a fairly big update with a decently detailed changelog, let's take a look.
Facebook for Windows 8.1 v1.2.0.12
320 snap view for the whole app
Smileys sticker pack
Profile pic sync
New Stories indicator
Create albums from photos page
Add photos directly into an album
Search thread names when choosing conversation members
Refresh in Nearby
Improved toast notifications to remove already seen messages, old stories, etc.
Edit Posts
Edit post privacy
Edit Comments
Copy link to post
Add/Remove people from groups
Add friends to lists
Delete photos
Where to start? There are so many new features listed for 1.2.0.12 that it's hard to wrap your head around. Everything from editing posts to profile picture syncing to 320 snap view makes this app so much more full featured than before. That's all after the previous colossal update on Thanksgiving.
Whether you are using Facebook on your PC, Surface 2 or your new 8-inch tablet, the updated Facebook app should be a real treat to use. We're curious to see if you hardcore users are enjoying the benefits and whether or not you thin think this app is worth it. Has Microsoft finally delivered on a satisfactory Facebook experience for Windows 8.1? Let us know.
If you don't have the Facebook app, simply follow this link in your browser (opens in new tab) to get started.
If you still need the update, head to the Windows Store and then using the Charms bar (right side) go into Settings > App Updates > Check for updates to force check to see if any new apps are available.
Thanks, Salman M., Anmol M., and faalil, for the tips!
Windows Central Newsletter
Get the best of Windows Central in in your inbox, every day!
Daniel Rubino is the Editor-in-chief of Windows Central, head reviewer, podcast co-host, and analyst. He has been covering Microsoft since 2007 when this site was called WMExperts (and later Windows Phone Central). His interests include Windows, laptops, next-gen computing, and for some reason, watches. Before all this tech stuff, he worked on a Ph.D. in linguistics, watched people sleep (for medical purposes!), and ran the projectors at movie theaters because it was fun.
Sweet. Downloading it now!

I wish they had this much support for Windows Phone.

They do, use the Facebook BETA app to get the latest updates

WP version is miles apart as compared to this version. At least I managed to get chat messages pushed promptly while in the chat for the Windows 8.1 version. But I need to do manual refresh or post something in order to receive latest messages on the WP version.

Because it is developed by Microsoft, not Facebook itself.

I get every message pushed to my 920, even before they arrive in the native message on wp8. I'm using fb beta.

He is talking about online chat experience! Yes Messeges pushes instantly, but it is still not possible to chat through Facebook beta app.

I'm talking messages not refreshing inside a chat room. Messages are not pushed through promptly at all, unless I do a manual refresh or it get refresh by itself after I sent something out. Seems to be some kind of a timer behind the scene and messages only get refreshed once the timer is up. Bottom line, WP version is still far from being on par with iOS / Android or even Win8.1 versions.

When I need to chat in real time; I log into messaging hub but doesn't work for group messages.

facebook for windowsphone is a total shit right now compared to iOS and Android...

Why is profile sync even an option, it should just happen

I suppose it's a bandwidth option. I mean, sync once yeah, but if on a tablet and mobile how often should it ping to see if there's a change for what is basically a trivial 'update'?

I guess that's a good point. Fact is it should never ping, it should be pushed.

If it just happened , someone would be complaining: "Why is profile sync just happening,it should be an option".

Exactly. I don't like my Facebook profile picture synced with my Microsoft account. BTW, are notifications broken for anyone after the update? It was working perfectly before, now they just won't show.

From my perspective, I would be pissed if any app changed my PC settings without permission.

If you have a Microsoft account connected to Facebook, your profile pic is automatically sync'd. So I imagine this is a feature designed for those still using a local account.

I might be mistaken, but would it not be impossible to have a local account and the facebook app installed? Seems to me if you want to use the store u must connect the microsoft account.

If if if if if only they do the same for the phone version. Ugh. Fb for phone is so depressing still. We soooooo behind

I think also. In my opinion, Facebook will develop the very own app on Windows Phone after Instagram app's work.

How profile pic sync supposed to work? I don't get it. :S

Such a great work ! Updated it yesterday because saw it mentioned in forum thread todays app updates ;)

Great update. Now I hope they add more stickers and languages of course. It would be nice if this improvements arrives soon to WP version (I can't believe that WP version doesn't show Instagram photos and other content)

Is pic messaging in Chat available yet?

This was available a long time ago buddy

Hi Gents, Man I have look all over...how do I find the darn version #....in the Facebook Metro app? I just can't seem to locate Timeline----->Permissions as shown in above 'ss'...thanks

Just go to the store and check when u last updated the app, should be legit hahaha

Lol...yes I realize this...I was just curious how the above 'ss' showing the version: 1.2.0.12 was obtained..? As most of these Metro apps do not show a version number within the Store....Summary.

Within Facebook app, Charms -> settings, scroll down, and then hit permissions.

Talk about the most unintuitive place to put a version number. My app isn't updating and the store isn't saying there is an update. They really need to get their stuff together.

1) I agree with the super -antiintuitive version number hiding. The WP 7/8 app store shows clearly WHEN was the app last updated, and what is its current version number, why its not available for the "normal" windows store, is beyond my understanding. 2) for some reason i also cannot see the download updated Facebook app in the store. Since windows RT 8.1 the app store updare notification seems breaking frequently. With windows RT 8.0 there werent such issues in the past 10 months since I own my surface RT.

Could not agree with you more...Check out this thread: http://www.eightforums.com/software-apps/33515-windows-8-1-most-metro-apps-crash-immediately-launch.html

Why not support other languages???? Only English since the first release!! The FB app for WP supports all the languages supported by WP...

Still hesitated to upgrade to windows 8.1...

Just get'r done already. 8.1 works better than 8.0.

Yeah, what are you waiting for? 8.1 >8.0

Sending pics in chats never worked for me. Hope it has been fixed in this update.

What the heck !! Windows phone store was born first .....it should have gotten such a wonderful app first

Why doesn't my store show me there is an update? Is there anyone else experiencing this? Sam happened with the previous updates too. I had to uninstall and reinstall the app altogether to. Get the new version.

You should look for couple of things! 1. Make sure auto update is not turned on, otherwise all ur app updates automatically. 2. Check for update through. :-> Store -> Settings-> App Updates OR reset the store through RUN (Win+R) & 'wsreset' without quotes

Just went looking for the update (UK) and found Facebook app missing from Windows store!

Totally do not get profile sync. When I turn it would stop notifications dmnc: X

They need to fix sharing. Right now the People app shares formatted links, and Facebook just posts a link in your status. Hopefully fixed with this update. Isn't this one made by Facebook? I still feel like the WP app is a bit more polished than the Windows app.

If you have activated one synchronization profile? What makes it better?

Why does Facebook not make an official app for wp8? Why is the current official fb app made by Microsoft??

Hmm..my fb chat is not working on.my l620 it shows can connect option..but everything else works perfectly fine..any opinion?

8.1 is a significant improvement. Do it.

Is there a way to show the latest updates in the news feed vs the "top" stories?

What is "320 snap view"??

The autocorrect in this version is a pain in the ass. Normally if I type something and it autocorrects if I backup and retype it will leave it. This one keeps changing everytime unless I let it correct the word then after the entire sentence is done come back and change it very annoying. Makes it difficult when using abbreviations.

now please more language support and most of those features for the windows phone version! ;)

I think this facebook app is brill :) very snappy.

Better, but still needs work. No live tile for the pinned Messages tile. Notifications are not as reliable. Also, not liking how they seem to be pushing MS to move some functionality out of the People hub since they've released their official app. Live tiles are gone for pinned people from the People hub, as well as live tile notifications for the main People tile. They shouldn't have removed the MS Messaging app or these other MS People features if we cannot pin people from the Facebook app to Start and get the equivalent features. Moving in the complete opposite direction as WP has with its integrated experience...

Why do you say Microsoft wants to get their apps in line. Facebook develops the app for windows 8.1 where as Microsoft develops it for windows phone

I think the Facebook app for Windows 8.1 is rubbish, yet people fawn over it with every update. There's no proper timeline support, pictures don't scale properly, there is no way to hide the hideous black bar that runs down the left handside or hide the friends list on the right handside. At least wait until the app properly matches the website BEFORE jumping for joy!

Have you tried the WP version? Try it, and you will be jumping for joy that this is already much better that WP piece of crap. How I wish this will be on WP too.

What's the point of using this over the browser? It is just a cut down version of the website, with everything blown up too big. I really don't like the look of it nor see the point of it. I've got it installed, but I never use it, just use the browser. I feel like I'm missing something, but just can't see the point of it (or many apps for that matter that just mimic the website). Maybe i'm too "old fashioned" or something. I see the point for a phone, there notifications help and the small screen needs a different UI, but on a computer (or tablet) what's the point?

I never even new this update happened, over 2 months later and I just noticed that curios Profile Sync option. I'm still not entirely sure what it does. I was expecting it to change my Windows Profile Pic to the Facebook one but it also has changed my lock screen to my cover photo! It's so annoying that you don't get any notification that an app has been updated, what's changed and how to take advantage of it. It really should be something required for any app
Windows Central Newsletter
Thank you for signing up to Windows Central. You will receive a verification email shortly.
There was a problem. Please refresh the page and try again.