Fall Guys for Xbox: Xbox Game Pass and everything you need to know
The jolly beans are heading to Xbox.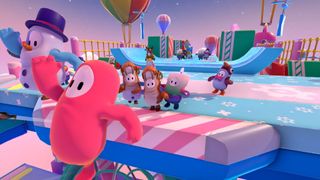 (Image credit: Devolver Digital)
Fall Guys: Ultimate Knockout was one of the biggest games on the PC and PS4 when it released last Summer. The goofy, squishy bean-shaped contestants captured the internet's hearts as they bumped and pushed dozens of challenging obstacle courses in a mad dash for the grand prize — a bright and shiny crown. The game quickly became one of the best multiplayer games on the PC, however, Xbox owners have been left out of the madness — until now, that is. Fall Guys: Ultimate Knockout is heading to the Xbox One and Xbox Series X|S. Here's everything you need to know about Fall Guys: Ultimate Knockout on the consoles.
What is Fall Guys: Ultimate Knockout?
Fall Guys: Ultimate Knockout is a battle royal game modeled after game shows like Wipeout and Ninja Warrior. You take control of one of the 60 contestants as you try to qualify by completing one of the many randomly selected obstacle courses. There are eliminations every round, so you must qualify in order to move onto the next obstacle course.
Don't let the cutesy façade fool you, the physics-based obstacle courses are deceptively challenging, and one false move will ruin your chance at glory. Whether you win or lose, you'll earn experience points that will unlock currency to spend in the shop for cosmetics. There's not much else to it. You're a fashionable bean-shaped contestant of a gameshow that forces you to outlast your opponents.
What kind of cosmetics are in Fall Guys: Ultimate Knockout?
The charm of Fall Guys comes from the ridiculous outfits players can purchase for their beans. A number of those charming outfits are from popular video games and media. Just like games like Fortnite, Fall Guys: Ultimate Knockout has many legendary cosmetics. It has since turned into a bizarre crossover, where Sonic the Hedgehog can run shoulder to shoulder with Gordon Freeman from Half-Life. Perhaps we'll see a Master Chief skin when it launches on the Xbox?
What are the obstacle courses like in Fall Guys: Ultimate Knockout?
Fall Guys: Ultimate Knockout features many different courses to steer your Fall Guy through. Each of the stages is sorted into four different categories:
Race, players must get from point A to point B as fast as they can.
Survival, players must outlast one another in a game of elimination.
Team, players are broken into teams of two or three to compete against each other.
Final, the final stage that combines elements of every obstacle you've faced up to that point.
How many players does Fall Guys support?
Up to four friends can party up on the PC and PS4 versions of the game, so we expect the Xbox version to be capable of the same.
Is Fall Guys: Ultimate Knockout coming to Xbox Game Pass?
That remains to be seen. Fall Guys: Ultimate Knockout gained a lot of its initial traction on the PlayStation 4 because it was included as a free game for PlayStation Plus owners. Will Xbox follow suit? They were able to get Among Us for Xbox, the hugely popular social deduction game, onto their Xbox Game Pass service, so it seems likely. However, developer Digital Devolver has publicly shut down the Game Pass rumors that were circulating earlier this year.
Does Fall Guys support cross-play?
At the time of this writing, there's no crossplay, but with Fall Guys arriving on the Nintendo Switch in the same time frame makes us think we won't have to wait much longer to play with friends on other consoles.
Will the Xbox Series X|S version have any special features?
We don't know what the differences between the Xbox One and Xbox Series X|S will be right now, but we can probably expect a bump in resolution or framerate on the new platforms.
When does the game release?
No release date has been announced yet, but the developers have confirmed a release window of Summer 2021.
Falling over myself
Fall Guys: Ultimate Knockout
So much fun.

Fall Guys: Ultimate Knockout is a video game version of hit game shows like Takeshi's Castle and Gladiators. Players compete online in a variety of obstacle gauntlets, with physics-based mayhem and cosmetic unlocks as the central gameplay loop.
Get the Windows Central Newsletter
All the latest news, reviews, and guides for Windows and Xbox diehards.
Zackery Cuevas is a writer for Windows Central, Android Central, and iMore. I like playing video games, talking about video games, writing about video games, and most importantly, complaining about video games. If you're cool, you can follow me on Twitter @Zackzackzackery.