Fanband for Microsoft Band owners gets a new Windows 10 PC and Mobile app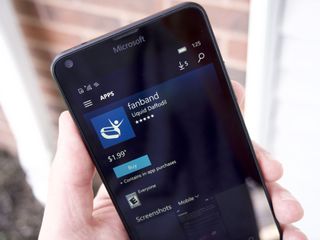 Fanband, the popular app that allows Microsoft Band owners to pick and change their theme from over 2,000 choices, has released an all new Windows 10 UWP version for both PC and Mobile users.
Developer Liquid Daffodil now says that all Fanband features are available on all of its platforms for the first time, including iOS, Android, Windows 8.1, Windows Phone 8.1, Windows 10, Windows 10 Mobile, HoloLens and Xbox One. They include:
Custom Theme Designer
Full Search for over 2000+ themes
Automatic scheduled Band theme updates
Interactive and adaptive toasts and tiles
Jump lists
Deep link tiles
In addition, some features currently available in only some versions of Fanband will be coming this weekend for the others, including:
Adding back in the ability to use Bing Wallpapers into the Designer
Adding back in the ability to use current lock screen into the Designer
Adding back in the ability to create themes from your Xbox Avatar
Custom Theme Social Sharing
The developer adds:
Download Fanband from the Windows Store (opens in new tab) $1.99
Nice, going to grab this now. Need to switch back to my Band.

Q: Do you actually ever use the Daniel Rubino theme? :)

everytime he looks in a mirror

lol, I have. it's hilarious.

I don't remember the old Fanband prompting for ones MS credentials... Microsoft Account username and password. Was that always there?

It was there as an option to update themes remotely over any device and to update your Band via the web, but a lot of users couldn't find it, so for now we just put it in the setup.

how do I/we opt out of not providing this and still use the app?

In an update next week I will make it optional. I didn't realize some people would need to opt out. Thanks for the heads up!

This version is live now. Enjoy!

wow! that was quick. Cheers

I have to mention this. Microsoft customer support is awful. My wife has a band 2 and it has been back for service 3 times. 1st time- frozen during system update. 2nd time-battery 100% and would shut off randomly. It would only turn on when plugged into charger. 3rd time-clasp completely fell apart. They must have sent me a refurbished unit. My wife removed it from magnetic charger and backplate separated from clasp. All internals were exposed and the clasp no longer works. I contacted Microsoft support and they said it was abuse. Absolutely ridiculous! Never again! Posted via the Windows Central App for Android

So I actually totally agree that Band support is terrible, however the actual Microsoft Band is phenomenal. I keep using them and buy for others and just cross my fingers I don't have to deal with support. So: DEVICE: 5 STARS. SUPPORT 1 STAR>

Love my Band! I bought later on so I missed all the strap problems, which is understandable frustrating. Looking forward to Band 3.

No issues with support here in Australia. Complete opposite actually, sent my Split Band 2 Monday for repair and received new one Thursday.

Same in Canada. My wife brought her Band 2 to get a screen protector, while the MS store rep was about to put it on for her he noticed a defect under the glass. We never noticed it and it was quite small. The rep replaced the band because of it. He could have said nothing and we wouldn't have known. I've not had any issues with support on my Surface products. Now Apple? Different story, will never buy an Apple product.

Same in Portugal. Sent on a Monday and I got a brand new band on Thursday. I´m on my 5th band lol

Ouch! I'm on third. First split, second one battery didn't last a day. Third is going good for now.

Been using Wallpaper Studio 10 but I will check this one out. And I've had OK band support. I live close to a MS Store and got a torn strap B2 replaced in about 5 minutes. They didn't even ask for a receipt. I did call the band support number which was OK too but decided to take the ride to the Store. Now back to the topic at hand (or wrist). :-)

I think that's the difference. I think in Store support is probably excellent, and standard support is not.

It doesn't work for me. Downloaded and tried to get it work but nothing. It keeps asking to validate account in mobile but doesn't give me that option. The I tried it on the tablet and it doesn't work either. Very frustrating.

That's usually an issue with the Microsoft service. Try the latest version which allows you to connect without your Microsoft account.

wow! that was quick. Cheers
Windows Central Newsletter
Get the best of Windows Central in in your inbox, every day!
Thank you for signing up to Windows Central. You will receive a verification email shortly.
There was a problem. Please refresh the page and try again.