Final Fantasy 14 (FFXIV) for Xbox discussions with Microsoft are 'positive,' says game director Naoki Yoshida
Naoki Yoshida says he hopes he can provide an update to players soon.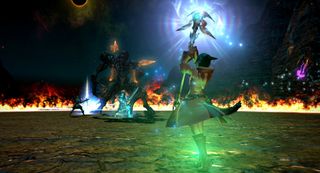 (Image credit: Square Enix)
What you need to know
Final Fantasy XIV is Final Fantasy's second MMORPG and the 14th entry in the mainline series.
The game's director Naoki Yoshida has been discussing with Microsoft if Final Fantasy XIV will be ported onto Xbox consoles.
He says the discussions are proceeding in a "positive tone" but doesn't have a further update.
Final Fantasy XIV is an MMORPG where you play as an adventurer, chosen by the goddess Hydaelyn to become a Warrior of Light and save the land of Eorzea from the forces of Darkness. In a recent interview conducted by Youtube channel Easy Allies, the game's director, Naoki Yoshida was asked about the status of an Xbox version.
In the interview (you can view his comments at around 3:40), Yoshida says, "we are still in discussions with Microsoft and I feel like our discussions are going in a positive-like tone. I don't want to say we do not have an Xbox version, but I'm hoping that the timing will be very soon that I will have some kind of update to the players."
Final Fantasy XIV has been enjoying a huge boom in popularity and financial success in the past few months. It has become the most profitable entry in the entire Final Fantasy franchise and has accumulated over 24 million players without any signs of slowing down.
Could this "positive tone" mean that Microsoft recognizes Final Fantasy XIV's recent surge in popularity and would be willing to capitalize on it by allowing the devs to make an Xbox Series X|S port in the foreseeable future? Obviously, if it was ported to the platform, it would only gain more players. Perhaps it can become one of the best games to grace the Xbox platforms? Only time will tell.
Final Fantasy XIV's fourth expansion, Final Fantasy XIV: Endwalker will be released on Nov. 23, 2021 for PC and PlayStation systems. It will feature new playable races, Jobs, mounts, and much more content for players to indulge in as they explore the heart of the Garlean Empire for the first time, Garlemald.
The Final Days draw closer
Final Fantasy XIV: Endwalker
It's time to end this war once and for all.

A decade-long saga between the forces of Light and Darkness will soon reach its final conclusion in Final Fantasy XIV: Endwalker. This expansion will feature the biggest story arc in Final Fantasy XIV's history, two new playable jobs, tons of new mounts to collects, and new areas fans have been waiting to explore for years.
Windows Central Newsletter
Get the best of Windows Central in in your inbox, every day!
Alexander Cope is a writer for Windows Central and iMore that has been gaming since the 16-bit era.
An Xbox port would only benefit both parties. FFXIV gets more potential players and Microsoft gets another game that was formerly exclusive to its rival.
Windows Central Newsletter
Thank you for signing up to Windows Central. You will receive a verification email shortly.
There was a problem. Please refresh the page and try again.