Final Fantasy XV release date delayed by two months to Nov. 29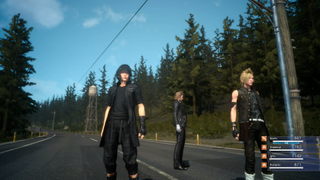 Square Enix has confirmed that the release date of its next major RPG, Final Fantasy XV, has been delayed for the Xbox One and PlayStation 4. The game, originally scheduled to release on September 30, will have its launch pushed back two months to November 29.
In a press release, Square Enix stated the two-month delay will allow Final Fantasy XV to receive "further polish and conduct quality testing" so it can match the heavy expectations of both the game's development team as well as its many fans.
In a YouTube video, Tabata offers some more info, stating that while the master version of Final Fantasy XV has been completed, the original plan was to release a "day one" patch for the game that would have added more content. However, the team decided to simply delay the release of the game and offer a version on the disc that will have all of the game's content, including the day one patch. He also suggested that the game may be receiving additional content after the initial launch.
See at Microsoft Store (opens in new tab)
Windows Central Newsletter
Get the best of Windows Central in in your inbox, every day!
I'm happy as long as the game is as amazing as I hope it will be, whether this is true (could be that they are wanting to alter release closer to Christmas to ensure maximum profit) matters little as I want then to be successful anyway, regards, a rational superfan

Sorry but I have to say it. How "final" is something that had (so far) fourteen sequels?

At first it was supposed to be the final game before the company shuts down many years ago. And here we are 14 games after

Actually there were only few sequels'. Ff x-2, FFXIII-2, Lighting returns XIII, FF VII dirge of cerberus and FFIV after years. We could also include Nds FFXII revenant wings.

And several spinoffs such as Crystal Chronicles :P

How many destinations did those poor kids travel to in the final destination series? (It's just a title of a made up story)

NOOOOOOOOOOOOOOOOOOOOOOOOOOOOOOOOOOOOOOOOOOOOOOPP

good now they can fix that boss fight they couldn't beat at e3

cool, so now all the DLC that was going to be released in that two months will be able to be included for free.

Another delay?? Damn! Been waiting for years for this.

This is not the kind of news I like seeing first thing Monday morning, but we've already been waiting over ten years for this one so another two months is a drop in the bucket.

To hell with 15 whens the 7 remake coming Posted via the Windows Central App for Android

Must be pretty embarassing to delay this after making such a big deal about their September release reveal event...
Windows Central Newsletter
Thank you for signing up to Windows Central. You will receive a verification email shortly.
There was a problem. Please refresh the page and try again.