Final Fantasy XV team talks Windows Edition, UWP development, cross-play, and more
We sat down with two of the minds behind Final Fantasy XV Windows Edition, discussing the PC port process, developing for UWP and catering to the wider Xbox ecosystem.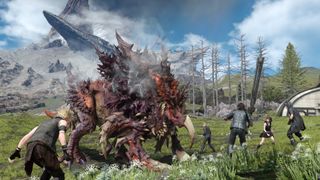 Following the release of Final Fantasy XV in late 2016, its publisher and developer, Square Enix, continues to deliver a healthy stream of post-launch support. Between free updates, paid expansions, and even visual upgrades for consoles like the Xbox One X, the game stands out as one of the richest Final Fantasy adventures to date. Now, the game has made its debut on PC with "Final Fantasy XV Windows Edition," bringing an impressive assortment of features to leverage the power of the platform.
While Square Enix offers titles across console and PC, Final Fantasy XV Windows Edition marks a significant milestone for its approach to PC development. With a range of improvements designed with PC in mind, Square Enix claims this is its best port yet. Marking the game's release, we sat down with Takeshi Aramaki, Technical Director & Lead Programmer, and Kenichi Shida, Game Design & Development Manager, to discuss the Windows Edition and what it means for Square Enix going forward.
Making the move from console to PC
Later this year Final Fantasy XV will be approaching its second year on store shelves, following its strong debut for Xbox One and PlayStation 4. Departing from the franchise's turn-based roots in pursuit of real-time action-RPG gameplay, it offered a fresh take for franchise veterans and point of entry for newcomers. Paired with a strong narrative, captivating open world and strong combat, the game sits among the top entries in the series.
Final Fantasy XV saw a long journey from conception to release, with first work on the project starting over ten years ahead of launch. This meant the project spanned multiple console generations, with several pivots throughout the project. Despite this, Shida explained that the PC release was a natural fit and planned during the early stages of development.
Although the PC version marks a major leap from the original console experience, this isn't the first time Final Fantasy XV has seen graphical upgrades. Visual enhancements were delivered for both Xbox One X and PlayStation 4 Pro versions of the game in the past, bringing gains in resolution, texture filtering and other effects. As described by Aramaki, work on these console versions tied directly into Windows Edition development, spreading the same team across the three versions.
Embracing the Microsoft Store and UWP
Final Fantasy XV Windows Edition is available across three main digital distributors – Steam, Origin and most surprisingly, the Microsoft Store. Windows 10's integrated storefront hasn't been short of criticism in the past, amid technical issues, limited player pools and a general lack of flexibility, its reputation with consumers has suffered. Similarly, from a development standpoint, limitations of Microsoft's Universal Windows Platform (UWP) has driven many major studios away.
So why is a high-profile publisher distributing its games on the Microsoft Store? Aramaki expanded on the decision to develop a UWP version, positioning the Microsoft Store as natural progression beyond Xbox One.
Since the arrival of UWP, Microsoft has gone to great efforts to streamline development for the platform, while ushering in familiar features from traditional Win32 applications. However, there are still limitations that can hold back titles. This left aspects of the complete Windows Edition package excluded from the UWP version, though Aramaki feels this gap is rapidly closing.
Beyond efforts to support advanced third-party technologies, Aramaki indicated that work on migration tools such as Microsoft's "Centennial" desktop bridge is making UWP development more compelling to the studio.
In the future, at least from Aramaki's perspective, UWP and the Microsoft Store has the potential to grow going forward.
When asked about future Square Enix titles coming to the Microsoft Store, Shida sees similar opportunities for the platform in the future, with the goal of reaching as wide an audience as possible. Although the approach taken by Square Enix's individual business divisions varies, he feels a similar ethos is being adopted throughout the company.
Bridging the gap between Xbox One and Windows 10
In recent years the concept of cross-platform multiplayer has become a reality, with Microsoft and Nintendo voluntarily opening their networks to third-party platforms. Several games now offer these unified multiplayer experiences, bridging the gap between once-separate communities.
Microsoft has been at the forefront of these endeavors, with a library of titles offering cross-play between Xbox One and Windows 10 PCs via Xbox Live. Square Enix has adopted this for Windows Edition, with multiplayer between the two platforms. Aramaki feels that Microsoft's recent cross-platform efforts are bringing the duo together, under their own independent community.
By embracing cross-play with Xbox One, this means the Windows 10 is tied down to Xbox Live – cutting compatibility with Steam and Origin versions in the process. Instead of being another PC version, Aramaki explains that the team treats the Windows 10 version as an extension of the console experience.
Establishing a future for Final Fantasy XV
While the Final Fantasy XV Windows Edition wraps up a long journey of post-launch content so far, Square Enix still promises to deliver further content in the future. Shida pitches this release as a summary of the Final Fantasy XV experience so far, serving as a great point of entry, or return, for players.
During our time with Shida and Aramaki, they emphasized that Final Fantasy XV Windows Edition marks the company's biggest investment in a PC port. During my brief hands-on with a pre-release version game, this shone through too, with a level of depth profoundly surpassing console editions. Even with the team's limited background in PC development, Final Fantasy XV Windows Edition is shaping up as a PC port done right. Shida wrapped up our discussion with what the team has learned – and their plans for the future.
Final Fantasy XV Windows Edition is now available across various PC platforms, including the Microsoft Store, Steam, and Origin, priced at $49.99. With a variety of upgrades, including native 4K and 8K resolutions, HDR10 and other graphical enhancements, the version is shaping up as the best Final Fantasy XV experience so far.
Get the Windows Central Newsletter
All the latest news, reviews, and guides for Windows and Xbox diehards.
Matt Brown was formerly a Windows Central's Senior Editor, Xbox & PC, at Future. Following over seven years of professional consumer technology and gaming coverage, he's focused on the world of Microsoft's gaming efforts. You can follow him on Twitter @mattjbrown.