First glimpse at Nokia's premium leather case for the Lumia 1020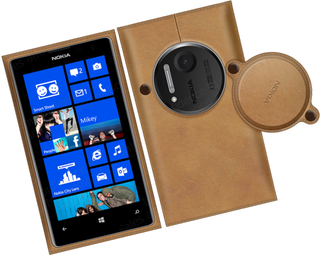 Last night, we reported how AT&T was planning on launching the Nokia Lumia 1020 with a few third-party accessories, mostly including various cases for the high-end camera-phone.
Now, the site PureView club has turned up this image of what looks to be a premium leather case with an included protector for the lens housing. No word on pricing, availability or model name but in our searching endeavors, we did find another company, Noreve.com, who also have a leather case in the process of being made for the 1020.
So the good news is we're looking at a fairly robust accessory co-launch with the Lumia 1020. The bad news, well, you'll be tempted to spend more money to protect you're crown jewel of smartphones.
Source: PureView Club; Thanks, Benjamin D., for the tip!
Daniel Rubino is the Editor-in-chief of Windows Central, head reviewer, podcast co-host, and analyst. He has been here covering Microsoft since 2007 when this site was called WMExperts (and later Windows Phone Central). His interests include Windows, Microsoft Surface, laptops, next-gen computing, and for some reason, watches. Before all this tech stuff, he worked on a Ph.D. in linguistics and ran the projectors at movie theaters, which has done absolutely nothing for his career.
Looks like Piel Frama. They usually make this kind of cases in that color. edit: nvm. I might be wrong. It has Nokia logo on it, could be original.

After close inspection, it looks like a render to me, not a real one, but I hope even if a rendering, it becomes a real case, that is a sexy one.

Piel Frama.would be far better designed that, not to mention that Piel Frama would never have the screen exposed like that

I hate using cases. That said, that one looks pretty darn nice!

+1
This looks beautiful. I "need" one for my L920.

I need a white one for my 920 too!

Not a fan of cases either, but that beautiful lens needs some protection.

Agreed. My phones are always virgin with no case, but that case looks amazing! If it's not too bulky, I may jump on it

I use my wireless charger cover to my NL1020, But this looks sexy and premium, I wont mind purchasing this one.

Seems that this phone will be getting loads of optional accessories. I'd quite like this case for my Lumia 920.

Would be nice if it has the wireless charging built in that case.

Exactly! Someone needs to make that happen.

Who's to say it won't be?
Wishful thinking..

Personally the lack of wireless charging has turned me off the 1020. I've already bought wireless chargers for my house and car, and being limited to one crappy snap on case that doesn't even wrap around isn't really thrilling me.

Agree. After having a Palm Pre, wireless charging is pretty much mandatory now.

Wow that case is just beautiful, can't wait to get my hands on the 1020, its like phone to have this holiday.

This case looks nice. It reminds me of an old SLR case from the 60s-70s.

Wow.. Now that's a classy case

Very nice. Love that nokia.

Not a fan of the case, unfortunately. But, I want that 1020.

Nice. This addresses my biggest complaint with virtually every phone out there – no freaking lens cover on my camera! I used to have a lens cover ages ago on one of my fave phones but at this point its been so long I can't even remember which phone it was! Most smart phones use gorilla glass or some variant so I'm less concerned about putting my phone in my pocket and having something happen to the screen than I am having scratches, sweat, fingerprints or dirt get on that tiny lens on the BACK of the camera. You know, the surface we put down on the table, counter, etc. Can't believe more phone builders don't cover up and protect one of the main selling points of a smart phone!

Yeah, I was kind of surprised Nokia did not bother to incorporate a lens cover for the 1020. It would be a real bummer having that lens all scrached up.



There is a lens cover. It closes when the camera is not in use. At least that's what the video showed.

And I heard from one of the hands on videos that the lens was gorilla glass 3 also...that can't be true? Can it???

The old Nokia N95 used to have a little slider with which you could open and close the lens cover. I suppose this sort of feature was a casualty of the (daft, IMO) battle for thinness and lightness.

Does it come in black? It's pretty amazing as it is though.

Just bought a CR-200 Qi charger so covers/cases are out. Besides, why hide the phone...unless you've dropped it.

. . . Nails done hair done . . .

Am I slow, or late with this, because I just noticed that NL800, NL820, stand for first generation, and second generation.. So the third generation NL920 will be the NL930 if this is how Nokia intends on doing things from now on... What's really confusing is the NL810, which is a second generation Lumia device.. I bet Nokia puts everything in line buy making the third generation T-Mobile version simply the NL835, and they should be getting the NL935.. Verizon should get the NL938, and NL838, for their third generation Lumia devices. This fall at&t should be offering a NL930,NL830, and possibly a NL730, with a NL1030 to come in 2014... It all makes sense,, doesn't it?.... For the US market at least..

So next Gen 1020 will have to be 1130 but base it on 930 aesthetics... Love the 1020 prob will buy but that number is just stupid I still think it should be 9XX

No,, the next generation 1020 will simply be a 1030.. The 5678910 are the model.. 10, 20, 30, 40, are the generation.

I'm surprised that cases with lens protection is not more common on all smartphones.

A simple slide lens cover built into a case, or a flip/clip style cover like the one above should be a common feature, especially on the bulkier cases. Heck even an adhesive cap/slide lens cover for users that don't use a case would seem to be a popular product. Especially since it would be a universal fit for the majority of smartphones.

I have seen so many smartphones that have been in cases with screen protectors, yet the camera lens is scratched horribly.

This case looks very sophisticated. Hope they offer a variety of shades - i.e. black, navy, etc.

The phone hasn't come to our store yet. I don't know when will it reach us. So no point for me to buy this. for now. sigh~

Like the leather case, but not this color. Hopefully they have some darker colors.

To me, that case looks equal parts silly and cool.

Love the case, love the attention and detail, I wish we got the same for all other phones. Almost feel they should sell the phone and case at Neiman Marcus.

reminds me of the OE Zune cases. Those were so bespoke when I whipped that thing out people were like dayum what iPod is that? F-ers

Lol ah yes I remember the days. Spent some $80 on a custom leather case for my zune just because I like to be different

Beautiful and classic. I want one.

Hopefully, and if a new high end device is introduced by Dec, the outer shell is iconic enough for Nokia to just concentrate on the internals as they better that specific product line for ar least 2 years. That should give a rise to the number of peripherals like the IPhone 4 and 4S did, therefore making the overall ecosystem a lot more attractive to those who are committed to contracts.

Nokia is gonna Fuckin clean house this year.

Well, with the most exspensive Nokia Lumia to be released to date, I feel that a leather case is more than a worthy investment. Beats having to buy a new phone.

It's quite nice, but if I end up getting a leather case for my future 1020, I'd prefer that it be one of those wallet-type cases that I can put my Metrocard and college ID in, too. I see folks with those at school and on the subway all the time, and I always thought they were pretty slick.

That's a compliment, case is very stylish

Not a case guy myself but I would be kidding myself to say that this case doesn't look excellent for what it is. Great job on that. I love my red 920 too much to cover it though. ;D

hey Daniel can you write an article on how much money Nokia makes from exclusivity agreements and the amount of profit it made with the 920 as compared to what the iphone made before it stopped its excllusivity agreement?

Are we still waiting for Nokia eos? They said leather case for 1020. Eos, etc...

1020 definitely needs classy accessories.

I have to say this, it's been too long. I HATE the cobalt theme! Worst theme colour EVER!! I don't understand how anybody can use it :/

I'm using it right now. Sure, I fool around with other colors, but I'm always drawn back to the nice, refreshing cobalt blue.

1020 is so damn ugly because ... ?

I mean it can be good wp but I don't like the way it looks..

@Daniel Rubino, always enjoy reading your articles, reading your reviews, and watching your videos. Thank you for your work!

Hopefully they do it in black, but even then, I bet it won't fit around the wireless charging shell.

I would love to see a 3rd party come up with a wallet case with wireless charging built in, similar to the one that comes in the Muvit Qi Wireless Charging Kit for the Sony Xperia Z.
Here is a review of that kit : http://www.youtube.com/watch?v=ElFJzbsiiOQ

It's "your", not "you're". Unless you really meant to say "you will be tempted to spend more money to protect YOU ARE crown jewel of smartphones".

People avoid you at parties, don't they?

You've made the incorrect assumption that I go to parties.

Shocking. You seem like such a fun individual.

Any update as to when/where this case might be available? Other than this article, I haven't been able to find it anywhere...

Hmm, to get or not to get, that is the question...

This case looks stunning. I want to buy this case. Can anyone tell me where can I buy it from in India. Thanks in advance. Ravikishore
Windows Central Newsletter
Thank you for signing up to Windows Central. You will receive a verification email shortly.
There was a problem. Please refresh the page and try again.