First look at the HP Spectre x2 (2017): Your perfect alternative to the new Surface Pro
By Daniel Rubino published
Does the new Surface Pro not float your boat? Check out HP's new Spectre x2 and prepared to be wowed in our first-look!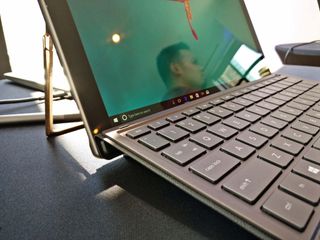 Earlier this week, before Microsoft unveiled the new Surface Pro, HP also had a few announcements including their revamped Spectre x2 for 2017. Going back to 2015, the Spectre x2 is HP's proper take on the popular 2-in-1 category, and like Microsoft, they make significant strides in between releases.
Last week, Windows Central got to see the Spectre x2 in person, and it's a beautiful device. Moreover, if the new Microsoft Surface Pro's price is not in your budget, or that missing USB Type-C port is bugging you, the Spectre x2 may be your cure.
HP made a lot of substantial changes with the Spectre x2 for 2017 including bumping the processor to either Core i5 or Core i7 and adding Intel HD Iris Plus graphics (optional).
The display also goes from a measly Full HD (1080 x 1920) to a monstrous 3000 x 2000 one with a preferred 3:2 aspect ratio (instead of 16:9). In fact, that's a higher display resolution than the new Surface Pro, which is "only" 2736 x 1824 (267ppi).
HP Spectre x2 (2017) Specifications
Category
Specification
Display
12.3-inch IPS
10 point multi-touch
Gorilla Glass 4
Display Resolution
3000x2000 (293 PPI)
Aspect Ratio: 3:2
Software
Windows 10
Processor
Seventh Gen Intel Core i5
Seventh Gen Intel Core i7
Storage
Up to 1TB Solid State Drive (PCIe SSD)
Memory
Up to 16GB RAM
1866Mhz LPDDR3
Graphics
Intel HD graphics 620
Core i7: Intel Iris Plus Graphics 640
Front Camera
Full HD
Windows Hello face-authentication
Speakers
Front-facing stereo speakers tuned by Band & Olufsen
Ports
Two USB Type-C (power, display, data)
USB-C to USB-A dongle adaptor included
Headset jack
microSDXC card reader
Sensors
Ambient light sensor
Accelerometer
Gyroscope
Network
Wi-Fi: IEEE 802.11 a/b/g/n/ac compatible
Bluetooth Wireless 4.1 technology
Pen
HP Active Pen (N-trig pen)
Battery
Up to 8 hours
HP Fast Charge thru USB-C
Weight
2.51lbs/1.14kg (with keyboard)
Additionally, HP is using two USB Type-C ports, with either being used for power, display, or data. Unfortunately, neither are specced for Thunderbolt 3, so an external GPU (eGPU) will not be possible. HP does include its popular Fast Charge ability, however, giving you a 50 percent charge in just 30 minutes. The company is also tossing in a USB-C to USB-A converter dongle in the box for your legacy needs.
The keyboard features an impressive 1.5mm of travel (versus 1.3mm of Surface Pro) and has an all metal deck, something that many users prefer. The bottom too is also not cloth anymore due to – ironically – concerns over staining and long-term wear. Instead, it's a rubbery, durable plastic.
Other features include a new Ash Silver color scheme and copper colored kickstand. That kickstand is stainless steel and can now articulate to 165-degrees like the new Surface Pro.
The included HP Active Pen is based on N-Trig, which also means you should be able to use the new Surface Pen with this device as well.
Finally, this wouldn't be a Spectre without HP's facial-recognition front-facing camera for Windows Hello authentication.
Overall, the Spectre x2 looks to be an impressive device. The only drawback appears to be battery life as a Core i7 with Iris Plus graphics, two fans, and that 3000x2000 display will only net about eight hours of usage versus the claimed 13.5 hours of Surface Pro. The trackpad is also not Precision. We'll, of course, put that to the test later in June when the Spectre x2 becomes available starting at about $1,000.
Daniel Rubino is the Executive Editor of Windows Central, head reviewer, podcast co-host, and analyst. He has been covering Microsoft here since 2007, back when this site was called WMExperts (and later Windows Phone Central). His interests include Windows, Microsoft Surface, laptops, next-gen computing, and arguing with people on the internet.
My next laptop needs to be fanless. They noise ia annoying and they need occasional cleaning.

I hope the tech is advanced enough that fanless doesn't compromise on performance when compared to a fan'd counterpart.

Having tested the Acer Switch Alpha that is also a Surface 'clone', but with a fanless thermal loop, I can say, the technology is solid. Even without a Fan, the Acer Switch Alpha is faster with less thermal throttling than the similar configured Surface Pro 4 with a fan. (Especially under load with CPU/GPU being pushed, like in gaming it was about 10% faster with less overall thermal throttling.) So, I wouldn't worry about the new fanless designs, if Acer's design is any indication. Considering the Acer Switch is over a year old design, I would imagine the Microsoft Surface Pro new fanless designs are another small generational improvement, combined with the thermal advantages of the next generation Intel CPUs. I also wouldn't pass up a unit with a fan if it had what I wanted, the newer generation of models with fans are also getting quieter and seldom are audible.

They're getting there. Huawe's new MateBook X laptop is Core i5 and i7 and both are fanless (U-series, not Y either). Microsoft just made Surface Pro Core i5 fanless. I imagine in next 2 years we'll have fanless dual-core processors readily available.

but can I install windows 8.1 on it ?

Yeah, the 'tablet interface' on Windows 10 is pretty awful. Windows 8 didn't really work as a desktop UI, but for a tablet it was pretty good.

Still coming soon , looks promising

At first, when I saw the kickstand, I thought it didn't look as nice as the solid one on a Surface. Then I realise, is HP used that thin frame instead of a solid piece, it allows the thichness of the entire device to hold more hardware. So, as long as it holds up to normal use, I see it as a plus. I wonder how good it will be with a stylus.

At first I thought the kickstand would look gimmicky and cheap but after seeing it open on the table, its actually quite nice to have open on a desk in a luxury boutique, as it looks minimal and stylish with the gold trim. I quite liked it.

It's more than just looks, what about functionally in the real world, holding it would be awkward.

I specifically mentioned it would look good on a desk in a Luxury Boutique, which mind you, is the real world as well, in which it's nice if the PC can fit in with the deco of luxury boutiques. As for holding it, I doubt that's an issue, it seems to be more or less inline with the structure of the Surface Pro, so I don't think there is any issues holding it, unless Im mistaken about something related to its form.

More expensive, no thunderbolt 3, and way less battery... Plus HP has always been hit or miss for me with build quality and support.

If you want Core m3 processor then clearly HP is not competetive in any way as it doesn't even offer such a model. Other than that I am not sure if you are familiar with Surface Pro specs and pricing as they aren't less expensive.

I know the i5 are cost competitive, but been burned too many times by HP, my Surface RT and Surface 3 have out lived numerous HP products.

I've only owned one HP, bought it back in 2004 or 2005, had a single core processor before Core Duo or Turion were on the market. I just tossed it out because it's obsolete, but still worked.

I've had just a 2008 13" HP Pavilion dv3510nr with Intel Centrino 2 which came with Vista x64-Bit, would have still been using it till today with Windows 10 Pro (and its HDD upgraded to an SSD, RAM upgraded to 8GB) if it weren't for the Surface Pro 2 fully replacing its use as a Laptop/Desktop (in 2014) and enhancing my workflow with added Tablet, Digitizer Drawing Board, Notepad/Logbook, complete pen/paper replacement, miracast, etc. uses. Now, I can't settle for anything less than a Surface Pro. If this HP X2 weren't lacking in the Webcam and Pen department, had at least 1 full-size USB Type A port, and had Thunderbolt 3 support on the USB Type C port, I'd buy it. As it is now, I'd take the new Surface Pro over it, but I still really want Thunderbolt 3 in my next device, so, still waiting for a Surface Pro equipped with such.

I don't think that HP has ever shipped something even remoetly unreliable as Surface Pro 4, Surface Book and Lumia 950. Of course if you had patience to wait for a few years those products got decent with software updates and hopefully Microsoft has learned the lesson from that time, but as those are their last products that have some record it is hard to hold on to your claim that Microsoft is more reliable than HP.

I had the 950 since launch and never found it unreliable in the least.

So you won the lottery and now you can say that it is by far the best way to earn for living to buy the lottery ticket? Not to say that I don't think anyone could have a good experience shortly after the launch because software just wasn't complete. It was running Windows 10 Mobile and there was no working Windows 10 Mobile in the existence. I hope you had the device several months later, or I don't know how to take the claims that something that wasn't even intended to work worked properly for you. Still the quality of the product is not measured by how well YOU had the experience with the product, but how well PEOPLE had the experience with the product.

I judge it by that the phone was reliable and the system did everything I needed professionally. It still works great and has improved since launch, but was as capable as my 1020 when I switched. Of course all the HP love above was the exact same, "mine worked great" mentality you are busting my chops for. I've had multiple bum HP systems and their legacy printer support sucks. My Surface products have been rock steady their entire lives.

In our family - Pro 4, Surface Book, 950xl...etc. Not one device unreliable or have had problems. On the contrary - quality, reliable and just fantastic devices.

I know it's stainless steel but how durable do we think that skeleton kickstand would be compared to the one on the Surface Pro?

I find that with the Pro 4 many times I carry it or hold it or pass it to someone with the kick stand as a handle and to make it feel that there is no way it will drop, and never had a problem. With this HP stand I know you wouldn't be able to do that, but the device looks beautiful barring the keyboard that looks a but ho hum... love what HP is doing though..

So, the purpose of the Surface Pro its starting to work...Thats what OEM's should do...

It won't have the fancy pen like Surface Pro so I am just getting the SP

Technically the Surface Pro doesn't have it either. You have to buy it separately.

I have the previous generation Spectre X2 and for the most part, I agree with the changes HP have made. Thing I most agree with is getting rid of the fabric keyboard covering as although the fabric is nice, I've had to glue the fabric back together from where it's come apart from the keyboard. I don't find the 1080p screen resolution to be a problem but the poor performance of the display when using the X2 outside is something I hope they've fixed with this model. The keyboard's wicked on my current model and it looks like HP have made more improvements to make it even better this time around. Biggest complaint I have about the new model (and why I'm glad I bought the previous one when I did) is the lack of m processors but there are other 2 in 1 detachables to choose from with m processors. Well done HP on a solid update!

Let's hope so. I am against the dongle life though having to carry around a dongle for all my USB-A needs. That's a deal breaker for me. If they keep 1 USB-A port, I'll be happy. Interestingly, the battery life of 8 hr is not exciting. If they claim 8 hr, the real life usage could be abysmal. I am going to wait and see the test on WCentral.

It is definitely worth considering, it even has USB C. That's definitely a plus against the Surface Pro.

I agree with you Ameet Narayan

To me USB type C (on a pc) without Thunderbolt support is Not USB type C.

Just like the Elite x2, it seems to be an AWESOME device!
Somehow, there is nowhere to be found whether it comes with backlit keyboard or not..
And secondly, what happened to the LTE connectivity of the last generation?!
For Mobile First Windows 10, devices has to come with eSim and LTE support!

Still looks like the Surface Pro will be my machine... Quieter, fewer fans (less moving parts to wear and fail). Do like the keyboard material better than the fabric one of the Surface Pro though.

I don't particularly like the keyboard material, but the good thing about then new Pro is that the 'older' keyboards without material are compatible with the new Pro....MS you rock!!!

I've gone full circle. I sold my surface pro 3, had a surface book and come back to a proper laptop. An alienware 13 r3. And it's a keeper. So much better.

It's such a great time to look for a new laptop! I want to buy one in August and I'm spoilt by choice. I'm currently wondering between the new Surface Pro, the HP Spectre x360 and now this HP Spectre X2! For the spectre X2 I am worried at battery life though - good to outstanding battery life is a requirement for me. Although to be fair the new Surface Pro claims oustanding battery life but I'll clearly wait for the reviews online to confirm that. To me the mains pro of each are: Surface Pro: fanless (I would take the i5), extremely thin and light even with keyboard, very portable, surface build quality is well-known, claimed outstanding battery life Spectre X2: great design, stands out of the crowd, metal keyboard with long travel (and HP starts to be well-known for great keyboards), but battery life seems average at best (to be confirmed). Since keyboard and pen are included, price may be more competitive than Surface. Spectre x360 (i5 8Go, ash silver): thicker and bigger, so less portable than the others - I travel for work fairly often and when I do I already have a Lenovo T460s ultrabook in my bag, not sure I want a second ultrabook in there (the T460 is locked by the company, I can't install anything so I need a personal device as well). Screen is only full-HD compared to the QHD of the others. However, great design and built quality. Screen is bigger (although not 3:2 so comfort might actually be similar). Battery life is known to be outstanding after multiple reviews. Keyboard and touchpad likely to be the most comfortable from the 3 options. Can be used as traditional laptop so it is "lappable". I guess than first I need to wonder if I want a 2-in-1 or not. It's hard to say, I love their portability but I have never owned one so I'm wondering if it will not be very uncomfortable in many cases where I need to have the device on my lap. For exemple, right now I'm typing this comment on my sofa...where I need to have the devide on my laps. For 2-in-1 owners, if this is the only device you have, do you feel constrained very often because of this very reason? I'm really worried that in the long term I'll regret not having convertible instead (and I don't plan to put another €1500 in 6 months and to keep the 2-in-1 just for traveling - I need to get this right!).

What about the Surface Laptop!!

Why is X2 battery time so much lower than Surface pro?

TB3 isn't just about external GPUs. You keep sending confusing messages but the lack of USB-C on the new Surface Pro isn't as big an issue as the lack of TB3. Yes, some of the protocols like HDMI over USB-C are there but TB3 offers a lot more going forward. You just wrote an article explaining the difference but in every post about a laptop there's more confusion about it

Does the n-trig tech mean that all the improvements of the new surface pen should work here? I.e. Which of the improvements are pen specific, and which are due to the combination of the pen and the new surface pro?

To me, and all these things are to a degree subjective, this HP device looks far more exciting than the new Surface Pro. Above all, it uses USB-C for the charging connection as well as other purposes. The Surface has a proprietary charging connector. As my mobile phone charges through USB-C the convenience of one connector outweighs the inconvenience of having a small adapter for USB-A devices. Albeit in a perfect world that should not have been necessary. I suspect that I am now faced with a choice: wait to see if the replacement for my Surface 3 has USB-C and stick with Microsoft or get the more interesting, stylish and powerful HP device.

Another advantage of the Spectre x2 is user serviceability. For example, you can replace a degraded battery by lifting the kickstand, removing a few Torx screws, and using a suction cup to remove the screen. In contrast, my Surface Pro 4 (17% battery degradation in 1.5 years, which I understand is normal) is glued together and virtually impossible to service by DIYers. Therefore, battery replacement must be done by Microsoft or other professionals, which usually costs hundreds of dollars.

Well, one thing Microsoft should be proud of: their strategy with the Surface line did pay off. OEMs - and specially HP - are putting out way better looking devices and prices than Microsoft is. This new X2 looks way more appealing than the Surface Pro 5, just like the Spectre X360 beats the sh*t out of the Surface Laptop. Well done HP. If fact, the only negative I can think of about this X2 IS the presence of USB-C instead of USB-A in it. I do NOT have any use for USB-C on my devices and I have absolutely no plans of needing it anytime soon. Not for the life of an X2 anyway. And I sure as hell won't join the dongle-club that is currently filled by iSheep. Apart from that, this would probably be a very strong candidate to replace my aging and overheating SP3.

This is personal opinion, but that gold kick stand looks ridiculous to me. I kept seeing pictures of it and thought it must be a special edition model. I wouldn't buy it just for that reason... I bet this is a one and done design choice and they go back to something more traditional next cycle. The only thing I like better about this is the fact that its user servicable. I don't like that Microsoft uses glue. As far as technical abilities.. I don't expect to need or use USB-C for the forseeable future and just in trying to shop for a machine with USB-C, there seems to be a lot of inconsistency in it. I was looking at an Acer Swich Alpha 12 and it seems that reports on charging it via USB-C were wildly inconsistent. USB-C seems to be a standard port design that is used for different things and that to me is a recipe for problems. Regarding the desire for Thunderbolt 3. I jumped on the Thunderbolt bandwagon when I bought a MacBook Air and to date the only thing I ever bought Thunderbolt was the Apple dispaly. Every time I thought about buying something TB, it was way more expensive for marginally different performance and I ended up buying USB3 instead. Granted for a dock cable it was great; but Microsoft already has that covered with their dock port. So all the hoopla about USB-C and TB3, for me personally, is irrelevant. I would rather have had an extra USB-A port. But I will just get a tiny USB hub to throw in my backpack. And, mini DisplayPort is what all the Dell laptops my company deploys to thousands of people has, so that works better for me too. I ordered a new Surface Pro... can't wait to get it.
Windows Central Newsletter
Get the best of Windows Central in in your inbox, every day!
Thank you for signing up to Windows Central. You will receive a verification email shortly.
There was a problem. Please refresh the page and try again.