The Fitbit Versa is the best fitness tracker and wearable you can buy right now
Though it's more fitness than smarts, the new Fitbit Versa is the best all-around wearable right now.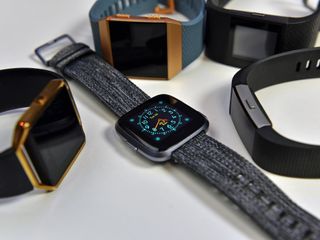 Do you want a smartwatch that can count your footsteps, or do you want a fitness device that can perform smartwatch-y things? In theory, you shouldn't have to decide, but the reality is you do. At least right now.
The Fitbit Versa for 2018 falls into the latter category, but it is the best blurring so far between a smartwatch and fitness wearable that I have used. The asking price of $200 is not cheap, but it's priced right where it should be with this feature set.
I've been using the Versa for the last week and here is why I think it's the best wearable around.
Fitbit Versa design and features
The Versa is best thought of as a sequel to the Fitbit Blaze rather than a revamp of last year's Ionic, which itself was a sequel to the Fitbit Surge. That distinction is important because the Ionic and Versa serve different markets. Specifically, the Versa lacks dedicated GPS and instead relies on your phone to track a run or a bicycle ride. For hardcore joggers, the lack of stand-alone GPS is a deal killer with the Versa.
For those like me who are gym rats or go on twenty-mile bike rides (and therefore always have their phone), the Versa is perfect. Because of the connected GPS, the Versa is significantly smaller and lighter than the Ionic. It's also more comfortable to wear.
Many novices suggest the Versa's square and rounded design is a copy of the Apple Watch, but Pebble geeks rightly cite the Pebble Steel and Time as the appropriate linage. That makes sense too as Fitbit bought Pebble a few years back (along with Vector) and that deal is now paying off in design and features like Fitbit OS and customizable watch faces.
Weighing just 31 grams (literally one-third the weight of a beefy Apple Watch), the Versa is so light your first thought is that it feels cheap. The materials used, however, betray that, with a aluminum frame (available in black, silver, and rose gold) and 300 x 300 Gorilla Glass touch display with 1,000 nits of brightness. The Versa's display is higher resolution than the Ionic's 348 x 250 and with a square aspect (versus rectangle) and you notice it.
There is also the usual 50-meter water resistance for swimming, 24/7 heart-rate tracking sensor, Bluetooth 4.0, and previously mentioned connected GPS. Like the Ionic, there is even a Relative SpO2 sensor for tracking blood oxygen levels – and potentially to help diagnose sleep apnea – but so far, that sensor is inactive pending Fitbit's machine learning algorithm being turned on at a later date.
Also, like the Ionic, the Versa can store up to 300 of your favorite songs locally, or you can sync with Pandora or Deezer (both need to be paid accounts). The method of adding music to your Versa is done easily through the Windows 10 app for PC, but it can take time. For 140 songs, it was nearly a 40-minute wait to transfer them via Wi-fi to the Versa, so don't plan to add music routinely.
One the music is onboard you can connect your favorite Bluetooth headphones to the Versa for a complete wire- and phone-free setup. To claim this is a liberating experience is an understatement. Being able to lift weights or go for a run with no phone or wires is a much less cumbersome experience.
Audiophiles may want to stick to their phone for music though. The audio quality is merely OK due to the lower bitstream rate when compared to your high-end Android device, but it gets the job done.
For an extra $30 ($229.95), Fitbit will sell you the Special Edition of the Versa available in graphite aluminum or rose gold with matching nylon ("woven") bands (in addition to the regular classic band). That edition also gets you NFC needed for Fitbit Pay in the United States (opens in new tab).
I bought the Special Edition Versa in graphite aluminum, and I think it's worth it. The woven band not only matches everything, but it's ultra-light and thin too. Wearing it at the gym is not an issue either as it is very breathable. I see no reason to use the default classic band. Luckily, you can also buy a ton of third-party bands from Amazon if you want to swap them out on the cheap.
Get your very own Windows Central-themed clock for the Fitbit Versa or Ionic!
Speaking of, changing bands on the Versa is merely OK. There's a pin/spring system, but it's a bit tedious especially compared to the button-system of the Ionic. The Ionic's mechanism though required a much larger band adapter that would not work with the Versa, so that's understandable.
Works everywhere: Windows 10, Xbox, (and Mobile)
One of the reasons I am such a huge fan of Fitbit is the company has always embraced Windows 10. That's no different today with the Versa working well with Windows 10 for PC including Bluetooth syncing and even Windows 10 Mobile. Users can even install it on the Xbox One.
The Fitbit app found in the Microsoft Store is routinely updated, and it does everything that the apps on iOS and Android do too. Users can even opt for the new Fitbit Coach app, which can also work on the Xbox One, for guided workouts..
Notifications can work with Windows 10 Mobile too though they are read-only with no ability to reply. That's the same on iOS and Android though the latter is getting an update this spring that will finally allow quick-responses to messages.
Finally, you'll also want to use the Windows 10 Fitbit app to transfer your music to the Versa. The process is a bit clunky, but it gets the job done.
Fitbit Versa – balancing the best
Compared to the Ionic I prefer the Versa for comfort and style. It looks significantly better, and the lower profile and smaller size make it more comfortable to wear. The Versa heart-rate tracking was also more accurate than the Ionic which I attribute to the smaller design (less sliding).
I'm also excited to see members of the ex-Pebble design community flood the Fitbit app with hundreds of stellar watch faces. It's amazing to see the amount and breadth of design for this watch, which stands in contrast to Apple's closed-off system.
You will likely spend a good thirty minutes trying all the various faces, which is a fun problem to have. There are still quirks with Fitbit OS, but Fitbit has worked out the major kinks. Fitbit OS 2.0 is much zippier and better than its 1.0 counterpart.
For battery life, the Versa does well, but not nearly as good as the Ionic. Fitbit claims four days of regular usage, and that's accurate.
In my experience, a two-hour gym session while streaming Bluetooth music the entire time will knocked around 25% off the battery — though that is pushing the Versa quite hard. A normal night's sleep of around seven hours nicks the battery about five percent.
Although Fitbit – again – changed the charging mechanism for its latest wearable, this new one is a winner. It's a full-on cradle that pinches to hold the Versa. It's like a full base station versus the crummy magnetic cable of the Ionic. This charger is finally the accessory your Fitbit deserves. Charging was rapid, picking up a ten percent charge in 15 minutes.
As far as smartwatch features, eh. Sure, there is Yelp, Philips Hue, and a nifty AccuWeather app, and about thirty others," but don't buy this watch for that. Those apps work, but they're not great and to be honest no smartwatch today has impressed me with its apps.
For me, those smartwatch limitations are fine. I loathe my Apple Watch series two. It's terrible at fitness, doesn't do any sleep analysis (because the battery is awful), has few watch faces, and weighs 91 grams. I also don't want a second phone on my wrist.
Where the Versa excels is fitness, heart-rate tracking, excellent sleep analysis, community, and just being fun. Alerts and notifications (which can be smartly auto-disabled when exercising) are also very good and serve as the smartphone extensions here. But don't look to the Versa to be a second phone like the Apple Watch. If you want that, get yourself a Wear OS or something from Apple, just don't expect the same level of health and fitness data.
If you're a hardcore runner go for the Fitbit Ionic with its dedicated GPS, or take a look at Garmin, which is popular with that community.
My four favorite fitness gadgets for the 2018 summer
I highly recommend the Fitbit Versa for gym rats like myself, casual fitness fans, or those looking to get back into exercising. Even for Microsoft Band owners looking for something new the Versa is a good choice. While there is no Cortana support (no microphone, after all) the excellent design, great battery life, support for Windows 10, and cleverness of the Versa do something that most wearables fail to achieve: being delightful.
Pros
Design is slim, light, and modern.
Solid battery life.
Excellent health and fitness tracking features.
Gorgeous, bright display.
Cons
NFC is extra in the U.S.
Syncing music is a bit clunky.
More fitness wearable than a smartwatch.
Daniel Rubino is the Executive Editor of Windows Central, head reviewer, podcast co-host, and analyst. He has been covering Microsoft here since 2007, back when this site was called WMExperts (and later Windows Phone Central). His interests include Windows, Microsoft Surface, laptops, next-gen computing, and arguing with people on the internet.
I Think you should compare the Samsung Gear Fit pro or the Gear Sport..the fitness and notifications are excellent and the 02 sensor works!!

I'll probably pass. For one, it doesn't work with anything Microsoft (Windows 10, Xbox, etc.). Second, I just don't have any interest, tbh. I've been a Fitbit user for five years now and I see zero reasons to change to anything else at this time.

Hey Daniel, I currently have a blaze but this one looks like a nice replacement... Do you know if my blaze bands would fit this one?

Blaze is completely different for bands, so, unfortunately, no. The good news is there are already dozens of third-party bands on Amazon for $10-15 to choose from. I have a sports one already (awesome) and two leather bands on the way.

good enough :-) just pre-ordered it... Should arrive Tuesday :-)

I'm 99 percent sure you'll love it. Keep me posted.

Same... Reading the reviews it looks like it has all the things I missing in the Blaze.

We could "what about xxx?" all day, but what about Garmin?
They seem very similar. Good Windows support - fitness focused, etc. I would love to see a comparison.

Garmin are not committed to Windows, Fitbit still is... so far.

Garmin is not committed to windows mobile. They are committed to windows.

I'm open to the idea, but then I go and look at Garmin's gear. I find it horrible looking lol. That limits my interest. Maybe I'll look past it, but for what I use these for I don't see the Garmin offering anything better.

Garmin is more "outdoorsy" styled...which is their intended buyers. They do have a couple of nice devices for style too. Have a look at the vivomove HR Daniel. That is a nice watch. But I do get what you are saying. Style wise, for the most part, there are nicer LOOKING devices. But for anyone who camps, bikes, hikes, and does backcountry exploration like my family does, They are hard to beat!

Daniel, Do you have a place where I can see what apps are available on fitOS? I am getting two versa's for my wife and I. SE models to get payments through them. Thanks !