My four favorite fitness gadgets for the summer
Getting fit has never been so fun with the latest tech. Here is what I use every day to keep away the fat.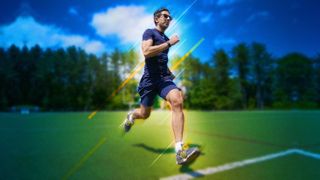 For many of us in the northern hemisphere spring – and soon summer – is upon us. That means it's time to do some house cleaning, but also dust off the mountain bike, get some new runners and think about that thing none of us like to think about: exercise.
Trying to get in shape is often perceived as a chore in and of itself, but that's the wrong way to think about it. If you're like me and into technology the best way to give yourself some motivation is to geek-it-out with the latest gear.
Here are the top four tech-related exercise items that I recommend if you want to get motivated!
1. Fitbit Versa — Step to it
I think the Fitbit Versa is the best all-around wearable for early 2018, at least for my needs. I've owned just about every Fitbit, starting with the Fitbit One from 2012 up through the Surge, Blaze, Charge HR, and the 2017 Fitbit Ionic.
The Versa is priced reasonably at $199 and works with Windows 10, Windows 10 Mobile, Xbox One, Android, and iOS. Featuring a 24/7 heart rate tracking, the best sleep tracking in the business, hundreds of custom watch faces (thanks to the ex-Pebble community), and a sleek design the Versa is easily the best choice for those who want a fitness-first, smartwatch-second experience.
Review: Fitbit Versa the best wearable right now
Compared to the Ionic the Versa is lighter, smaller, and has more pixels (300 x 300 versus 348 x 250). I'm also okay with connected GPS as I don't run outside and I only bike with my phone. While the battery life is not as good as the Ionic, the sleek design and comfort make up for it.
While some Wear OS (ex-Android Wear) devices and the Apple Watch are perhaps better smartwatches neither have the exercise chops and fun community like Fitbit. Did I also mention the Versa is 1/3 the weight of the Apple Watch? It makes a huge difference.
If you can, splurge for the Versa Special Edition. The extra $30 gets you an excellent woven band (in addition to the default rubber one) and NFC for tap-to-pay in the United States.
Plus, you can now get your very own Windows Central clock face for the Versa or Ionic!
2. Nokia Body+ — Body Composition Wi-Fi Scale
If you're trying to lose weight what you likely really mean is, you want to lose fat. That's not semantics. People often confuse the number on the scale with general health and leanness. But it's more important to focus on losing fat, which is not always the same as dropping pounds (or kilograms).
How to measure your fat level (versus muscle mass) while also nailing your Body Mass Index (BMI)? You get a smart scale.
While I've been using the Fitbit Aria scale for years (read my review), but I recently switched to the Nokia Body+ – a rebranding of Withings Body.
Featuring Wi-Fi and Bluetooth the Body+ measures all sorts of things including:
Weight.
Fat mass.
Bone mass.
Muscle mass.
BMI.
Body water.
Oh, and it tells you the weather for the day.
Compared to the Fitbit Aria (version one, not the new model) the Nokia Body+ reports more accurate body fat percentage, has many more features, and it was super simple to set up.
With the Nokia Body+ the information gets synced to my Fitbit and MyFitnessPal accounts where it can all work together. While there is no Windows 10 support, the Body+ does have apps for Android and iOS to manage things.
Smart digital scales are not the end all, be all for figuring out your fat percentage and BMI. But we all don't have access to a proper DEXA scan, and this is more about consistency and habit forming.
If you want to get in shape and slim down, get yourself a smart scale first. It makes all the difference.
See at Amazon (opens in new tab)
3. MyFitnessPal — Keep those calories in check
Okay, it's an app, not a gadget. Just go with it, because no matter how much of a pain counting calories may seem, it's crucial if you're trying to slim down. I guarantee you are under-estimating how many calories you consume a day (and that assumes you are bothering even to consider calories).
MyFitnessPal has been around for ages and while they have discontinued Windows Phone support the company, now owned by Under Armour, is still going strong. Granted, the company did just have a pretty serious breach, which is unfortuante (and a good reminder why a strong password is necessary).
What makes MyFitnessPal so unique is the ease in which it makes calorie counting. The app for Android and iOS lets you barcode scan food items letting you then pick portion sizes and more. This tool makes recording what you are consuming for all your meals very easy especially with the quick-access widget in Android.
I also like MyFitnessPal because it works with almost everything. If you link it to your Fitbit account, your exercise and step goals get auto-imported into MyFitnessPal affecting your daily calorie goal. So, while you may set 1,600 calories as your daily limit running for an hour and burning 500 calories then bumps your target to 2,100. From my experience, this incentivizes exercise. Want that cookie tonight? Hit the elliptical for 20 minutes, and you're good to go!
Like Fitbit MyFitnessPal also has a large community. That means you can add your friends to your account to help motivate each other.
4. Bose SoundSport Free — Hands-free music
No one likes being bored while exercising which is why listening to music (or a podcast) is so important.
I recently went on the hunt for new Bluetooth headphones to use with my Fitbit Versa (the Versa can store up to 300 songs on it and links to Pandora and Deezer).
For various reasons, it came down to the Jaybird X3 (opens in new tab) and Bose SoundSport Free (opens in new tab).
After using both, I ended up going with the Bose. I spend up to two hours a day at the gym, so comfort was my main priority. I prefer my headphones to not go into my ear canal, which can result in ear fatigue and the Bose fit nicely. I can wear these for hours and hours and forget they are there.
Battery life is also excellent, pushing five hours on a single charge. The carry case is also its charger so dropping the SoundSport Free into them gets you another ten hours. I find this whole method infinitely easier than having to take my headphones out of my bag every other night and plug them into a wall charger.
While I liked the Jaybird X3 app for Android and its abundant equalizer presets, the Bose just sounded better to me. I can pair the Bose to my Android phone, while at the gym I use them exclusively with the Fitbit Versa. The result is a hands-free, ultra-light, wire-free experience that is super comfortable whether running, using the elliptical or lifting weights.
Don't get me wrong the Bose are expensive as hell at $199. But if you want something that motivates you, you get the best so that you can enjoy it. Don't cut corners here as you'll end up using it as an excuse later to stop hitting the gym!
Use tech to motivate
There are so many cool bits of technology right now for fitness that you owe it to yourself to get started today.
Whether you prefer Garmin to Fitbit or Jaybird to Bose, it doesn't matter. What does matter is finding something – anything – that works for you and lets you hit your goals.
Windows Central Newsletter
Get the best of Windows Central in your inbox, every day!
Daniel Rubino is the Editor-in-chief of Windows Central, head reviewer, podcast co-host, and analyst. He has been covering Microsoft since 2007 when this site was called WMExperts (and later Windows Phone Central). His interests include Windows, laptops, next-gen computing, and for some reason, watches. Before all this tech stuff, he worked on a Ph.D. in linguistics, watched people sleep (for medical purposes!), and ran the projectors at movie theaters because it was fun.
Loved this article, please keep them coming. Microsoft news and a bit of fitness from time to time, now that's just my cup of tea.

Why don't you run outside? I've always found it weird that people run inside on a machine when you can just as well run outside... fresh air, more interesting environment, and free.

It's more comfortable, safer, more consistent, better for my knees and it's near all the weights. No one has ever died by getting clipped by a car on a treadmill :P I also don't do a lot of running. I lift weights then do a round of LISS (~35mins). Every few days I'll do the elliptical for more intense cardio. In the summer, we'll do all-day bike rides. Just depends on what/how you want to train. Endlessly running is not my thing.

For me, I struggle to run outside, I think the pressure on my knees and also I find I cannot maintain a consistent pace, means that it is more beneficial for me to run on a treadmill. I'll ride a bike outside, for hours, but running, I just can't do.

Daniel, What "apps" are available for the Fitbit versa/Ionic? is there a full list we could see somewhere? I am looking at getting 2 versa SE's for my wife and I.

Good question. Not sure if there is an online area to see what is available. The list is...modest. Here are a few big names: Deezer, Pandora, NY Times, Yelp, Hue Lights, Starbucks Card, Walgreens, Nest, United Airlines, E*Trade, Flipboard, Strava. Then there are a bunch of gadget ones like air index, tips, barcodes, world clock, drink counter, water logger, etc.

So I see that Dan is a heel vs. toe runner. Does the Nokia scale allow for multiple users?

;) Yes! You can multiple family members to the Nokia scale. There's a whole "family" area where you can them, gender, profile pic, age, height, etc. They can then log in to their app and track everything.

Interested in a new pair of ear buds to go with my Ionic to train for my first marathon. Not sure yet I can break the 5-hour mark, so those Bose ones may not cut it, as I wouldn't want to lose music/motivation near the finish line... ;-)

TBH, not many ultra-light/wire free options go past 5 hours. I know the Bose, for the wire-free bud style, is reported as the high-end for battery life. You'd probably need something like Jaybird x3 or something similar in design.

About the Bose ... Is it not possible to connect to the Versa directly? Do you HAVE to use a smartphone? More a tech question than fit :P But I really enjoy your fit articles! They are well rounded, informative and motivating. When your work (mostly) requires sitting down and your hobby is computer based, you have to go to the gym (if you care about your body). I can feel the difference if I can't make it to both of my weekly workouts. You will quickly realize the positive effect of it (and the negative, if you stop) :)

"About the Bose ... Is it not possible to connect to the Versa directly?"

I do connect them directly to the Versa, that's the point of having on-board music on Versa/Ionic ;) It just pairs up and you're good to go if you have music locally stored (your own), Pandora or Deezer subs. On the Versa, you set the BT source for music as either local (onboard) or from your phone. You can toggle dynamically between the two whenever you want.

Cool! Thank you for clarifying :)

Daniel, I had to move on to an S8+ last year and now need to get a new fitness tracker after my Band 2 has split in three, so thank you for doing articles like this that let us know tech options for fitness and how they interact with various ecosystems. My phone may be android but I still use a PC and Surface.

Definitely! Yeah, for me it's about getting it all to work together (one reason I wanted to try Nokia's scale...luckily, it still works thru the Withing's connector).

I used to have the Bose Soundsport Free but returned because they would not keep a connection when jogging outside. Ended up purchasing the Jabra Elite Sport and couldn't be happier. Battery life is about the same and I
have never had the connection drop off. The Jabra do take some time finding The correct ear piece but once done They are just as comfortable as the Bose.

I'm still searching for an app that can track weights/reps progress. I asked this question a couple of weeks back for AskDan, but you took it to mean weight loss and recommended me Fitbit/MFP. Right now I record my reps and weights in a spreadsheet, which is rather boring. Especially as I do a boat load of exercises per day. It's a mess. What I'd love is something like Happy Scale (for iOS) but for weight training. That way I can see my progress more clearly, and focus on areas I'm not increasing the total weight on.

https://www.mensjournal.com/gear/8-great-strength-training-apps-download That has a bunch of options, there is also the Reps & Sets app, but it looks like it might be Apple only. not too sure.

I wish that the scale manufacturers would exclude BMI, especially when they can tell you your body fat and lean mass. BMI is a crude measure that only factors in height and weight (does not differentiate between lean mass and fat); it's intended to help assess populations, not individuals.

How accurate are scales that provide those kinds of measurements? Because I have used professional machines, where you stand and hold two rods, and also machines where you lie down and effectively get xrayed (I don't think it's quite that, but similar) which is easily the most accurate thing I've done for body composition. But I would be interested to know if the basic scales with those functions are actually accurate enough.

The bottom line is that, for the average person, they're consistent enough for tracking progress. The longer explanation is that they're less accurate than the methods that you mention. The scales only do impedance analysis on the lower half of your body and, using the measurements of your lower body, your total weight and estimates about the top half (which is why you need to input gender [different fat distribution], age, height, etc), they'll spit out numbers that are close enough for rock and roll. Compare that to the machine that you mention with the hand-held rods - those machines are doing impedance analysis on everything but your neck and head, essentially, so they'll have a much better idea of actual body composition.

Using tech to motivate. No truer statement for me.
After my second Band 2 band broke I found myself significantly less motivated. I just moved from my Lumia 950 to a S9+, recently I purchased a Samsung Gear S3 to do my tracking. I have been way more motivated as I can track activity, stats etc.. I have been evaluating which apps are best for me. I cycle and workout, a lot of apps focus on running which isn't my thing. Right now Sworkit is the top contender but going to evaluate the free 1 yr Under Armor premium membership. Will see what I end up with.