Five popular apps that have not been updated for Windows Phone in months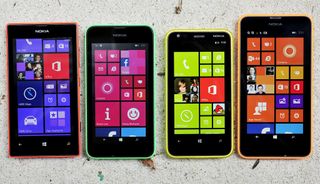 Microsoft has been trying to get more developers to release their apps for the Windows Phone platform, but there's also a problem with major app creators and publishers that don't bother to update them with new features or improvements for months. In a couple of cases, the apps haven't been updated for nearly a year.
Microsoft recently revealed a new Developer's Code of Conduct for Windows 8.1 and Windows Phone apps that stated, among other things, that developers must stay active in the store. That's certainly not the case for these five popular free apps, which have seen numerous feature and bug fix updates for their iOS and Android counterparts over the past year. In fact, most of these apps have seen some update in the past month for those two platforms, and none have been updated later than early September. That is certainly not the case for their Windows Phone versions.
Instagram Beta
The folks at Facebook have apparently abandoned the official Windows Phone version of Instagram. There has not been an update for the photo sharing and filter app since March and it still has a beta tag. It also lacks a number of features, like being able to upload video, which are in the iOS and Android ports. You are better off with the unofficial 6tag app from developer Rudy Huyn.
Hulu Plus
While the folks at Netflix recently updated the Windows Phone version of their streaming video app, the team at Hulu doesn't seem to care about their Windows Phone port of Hulu Plus. The app has not been updated since April of 2014. Meanwhile, the iOS and Android versions have both been updated many times, mostly for bug fixes.
eBay
The hugely popular online auction site has also not updated its Windows Phone app since April for US users, although an update was launched for international users in June. Once again, a number of feature updates and improvements have been released for the iOS and Android versions since then.
Vine
While an official Vine app for Xbox One was recently launched, there's no love for the Vine app for Windows Phone. The Vine app hasn't been updated since December 19, 2013. That's just plain wrong.
LinkedIn
The famous business-themed social network could have the worst record of supporting its Windows Phone app among the major developers. It has not seen an update since December 16, 2013
Why do you think these apps have not been updated in the Windows Phone Store for months or even close to a year?
Dominos India had an update recently & it is awesome!!!

Unfortunately the delivery time for Dominos India is atrocious, the delivery charges are astronomical, theres hidden import taxes and you're guaranteed some bastard on the plane will have swiped a slice.

Actually the one in UK is pretty good as well. Looks alright and does it's job. Hasn't been updated since they design new UI, but hey - it works.

Pizza updates are faster than Insta updates. lol

Yeah thanks, mine's a gluten free godfather with extra pickles and stuff that crust!!!.....Oh...That wasn't an offer *blush*

Dominos might not have been updated recently, but it is fine as is. It had voice-activated ordering from the start, a feature which only came to the Android and iOS versions in the past month or so.

Dominos doesn't need an update, that app is/was fantastic from day one. It is by far one of the most well done apps in the Windows Phone store.

Agreed, works great for my pizza addiction

ESPN ScoreCenter? Break? IMDb? On another note, can we get a universal clock app that does timers, stopwatch, and alarms from Microsoft like the iOS Clock app? Please?

Yeah, ESPN has totally forgotten about their app. On both Windows Phone and Windows 8 the app is completely broken. Their iOS and Andoid apps are very good.

Yes, I would like Viber too, but with our platform being MS, well we have Skype, so probably not gonna happen...

WindowsCentral? Lol jk Waiting for universal :)

Yeah. I bet they're all waiting for universal, so like the last three years our mantra for apps here on WP is, next year.

I really hope MS does add some kind of android compatible runtime to Windows 10. I'm sure it will fuck with a whole lot of loyal Developers but by this point they need to just have the app availibility issues left in the rear view mirror. That's the only way I see that happening pretty much ever. I'm really not understanding the viewpoint that MS will be admitting defeat.

No no no. Then Google still makes money through play store, while ms losses patent revenue on an android device sold, and potentially gave away that version of Windows (like small screen or what not), losing more money. That should never happen. Xbox one, phone, PC, tablet... That will be enough users for apps to be made. 8.1 just came out and that trend is showing true.

The Nokia X phones ran android apps but had conversion tools that remove the Google Play services and replaced them with MS services. Last I heard they had a considerable sum of apps in that Nokia X store. MS can also add APIs to expand capabilities specifically for Windows. Android is not specifically a google OS. Nokia and Amazon forked it and the apps have google services integrated but all kinds of other services can be used to replace them if someone makes it happen. MS already did this and there are major apps that ran on Nokia X that utilized it. I just want everyone to get the apps they feel they need so they don't look to other platforms because MS became unsupported by large segments of popular development.

Google's privacy invasion business model clashes so much with MS's secure business model that this would be a very big conflict.
Don't want to get Scroogled by my Windows Phone!

I really think that Android apps on Windows will suck, because they're not made for the platform. They don't follow the design guidelines, because they aren't designed with Windows in mind. And when you build your app for Android and it will be also available on Windows, there will be no developer who build a good app. When Windows runs Android apps, Windows is dead.

I'm sorry but have you really used most android apps like the facebook, Instagram etc.... They function perfectly. Way better than MS' platforms available versions. I wish this idea that MS design guidelines are better than everything else but the average user would get alot more usage out of MS platform if MS adopted a platform for apps that people would program for because it was easy to get the app they've already built and modify some things and then just submit it to the windows store. The average user doesn't know anything about apps just that they can use them or not on the platform. All of the triangulation that everyone is going to judge MS as being dead for using Android apps is pretty much backwards because you assume that everyone is knowledgable about the source of these apps. If the average user opens the facebook app on windows, they will never think "is this an Android app?" They will say this is the Facebook app. MS' has recently done alot of work to put it's ego in check to look at the lay of the land before them and I think MS Fans now need to do the same.

LOL most of the android apps are not made for Android too. The don't follow android design guidelines.

Let Blackberry keep that remedy.

Oh yes, that worked great on the BB Playbook! /sarcasm

I'm really, REALLY hoping we'll see a jump in universal apps after Win10's release. That's just about Windows for phones greatest hope, really.

If your on 7.8 thats true

I can notice that apps are disappearing on the Marketplace for WP 7.8

Me too, I want universal on Windows Central so I can get rid of those damned ads on my tablet and desktop. Don't mind buying a new version that is universal, but please we need the option of no ads.

Even though Netflix received an update about a month ago, I would've put it on this list. That update was the only one within at least a year and it did nothing noticeable.

How about the updated branding that the iOS and Android versions got? What's ironic is that the Windows 8 version got an update that did just that, all they need to do is make that version into a universal app, but it seems as though they CBA if it's WP.

To look pretty like android's or on xbone...

Maybe it's so fabulous that it doesn't need an update?

The app "Blocket" in Sweden, Gameloft's Order & Chaos (the MMORG) etc etc etc etc etc etc. Several apps and games. The Swedish app market have been almost completely abandoned. If MSF keeps priority on other platforms, who will take responsibility for WP?

Don't feel too bad, US market blows just as much. Sadly, our hopes are left to dangle on Windows 10.
Still interesting how MS went from first to last in software development, ie: developers wanting to develop for them.

I really don't see how 10 is going to make that much of a difference. Anyone want to explain it to me?

I agree with you. I understand the point about universal apps, but I still don't get why developers would jump on board for W10 (for mobile/ARM devices) if they hadn't done so already for W8 RT and WP8.

The audible app is so bad I've actually considered going to a certain website to download books I've already purchased. I mean it simply doesn't play books the majority of the time. It works ok over Bluetooth, like in my car, which I the only reason I keep using it. It's coming up on a year since its last update. Its so bad I've actually considered moving platform and makes it hard for me to recommend windows phone. Microsoft should keep track of buggy behaviour of apps like this and pit pressure on developers to fix them. If there was a viable alternative to audible I would use it, any suggestions? I suppose this is what happens when there is no competition, in the audiobook field I mean.

Overdrive seems less buggy (it loses your place less often) and the books are free (though harder to get since it depends on your library). It doesn't have the rewind 30 seconds with the previous track button feature though.

I have run Audible on Sansa's, Kindles, Android Tablet, and my current Win Nokia phone. I find that ever single platform has major problems playing back the enhanced (highest quality) format. They all loose your place for no good reason whatsoever. The Win app on the Nokia sometimes forgets how far to scroll on the left rights and you end up with it stopping with nothing displayed, but you can see the chapter list stream by on the way to the blank screen. Of course it only does this sometimes. The Android would stop playback at various intervals making you start it again. The Sansas also lost my place and the last one, a Sport Zip simply refused to play the last 15 seconds of a book in enhanced mode. I reported this to Sansa, to their credit they called me, tried it, called me back to say I was right, and that they would fix it in the next release. In short, no one seems to make a good player for audible enhanced files, and my windows phone is good enough that I can put up with it to enjoy 8 hours a week of commuting audio books. Audible is fantastic, affordable and you can't beat the selection or the quality.

I cancelled my Audible subscription because of the app. I don't expect it to be flawless, but it simply doesn't play.

Surprised. I thought WA will be first in list

I think Whatsapp is doing so far good with the updates. I mean recently. Not frequently but occasionally and with new features at least...

ALPHAJAX. tile does not update after 8.1

Funny thing is I don't use any of those app, I use 6tag and 6sec...:)

IMDB not updated since ages !

Will you guys stop ranting about WhatsApp? You were so happy when it returned to the store with those overdue features. What happened? Personally, I don't need to transfer music through WhatsApp.

Agree, neither do I "need" to send an mp3 file on WhatsApp. I feel it's better to send a link for the song instead. The question isn't whether you really need to send it or not but, the app should, however, be capable of doing that in a way that doesn't look makeover. WP's closed-system shouldn't be a barrier for the developers to avail the feature. For those who really need the feature:
1. Move your desired mp3 files from your music folder to a newly created "WhatsApp Audio" folder through "Files" app.
2. Rename the ".mp3" extension to ".mp4"
3. Open WhatsApp chat >attach > video > select your file from the "WhatsApp Audio" folder and send it.
Yes, the receiver will receive the file as mp3.
Done.

Lolz.
This is not possible.
Nice theory.
Post it on YouTube hope you'll get some hits there.
:D

Common mate, just try it out already. I won't comment without trying it in the first place ;)

Thanks for the steps to TX audio via WA.

No problem! Just make sure to create the "WhatsApp Audio" folder inside the "Pictures" folder and it works like a charm!

We can transfer music via what's app with Lumia

Kik Messenger which I use all the time.

Whatsapp is getting a major update released any day now, have a look back through this site for the details.

Yep, saw the article. Exciting, eh?

LinkedIn definitely needs a refresh on Windows Phone.

LinkedIn in arrested development is particularly galling because they bombard your inbox with emails and links which compel you to launch the app and it rarely logs in successfully and often doesn't direct you to your intended article

Send an email to the linkedin team under the support setting. Make them know you're not happy with the state of the app. I just did that, if enough of us take action they might kick things into motion.

So true about LinkedIn...

Weather network? Weather channel? Too old they dont even have live tiles.. Seriously, any words from the developer of those 5 popular apps? Why there is no update?

Nokia hasn't really updated much. Especially phones. Must be the transition. Only thing that makes sense. Would be awesome to wait all this time to get Microsoft's versions of them completely revamped.

Arghhh i really missed the Harry Potter's Living Image feature! Where is it for god sake...

As always, 1520 has it all...

Well it technically *is* a flagship phone, so yeah its going to have it all...

Yes, it is. Daniel says no. I disagree. I don't think a 1/2" difference makes it a monster from another category. Love my red monster.

Don't forget Netflix, sure the app works good but missing alot of features.

He is working really hard getting mytube for WP 8.1 ready. Look at mytube beta

no need update on this app

myTube os perfect, update for the sake of update is nonsense.

He updates his server whenever there's a trouble so, nothing to complain about.

I've bought Metrotube, and yet I find myself using MyTube more frequently. They're both good, though.

I'm not sure but I feel like MetroTube requires more memory to run while myTube is faster in processing. Love 'em both!

myTube is considered to be one of the best app on Windows Phone. Smooth, elegant, and all updates are performed on the server side. It is the one app that's closest to the definition of perfection.

On my 520, myTube is VERY heavy on the battery. That's why I only use Metrotube.

It doesn't need an update, works better than all other apps & has never crashed on me yet !!
So update just for the sake of update as, has been the case with Xbox m&v, might just ruin it, so no thnx

Tubecast is very smooth and full-featured, and lets you listen to a video while outside the app. The only problem I've ever had from it is not displaying all of my playlists. But it's still the best free YT app for WP I've used so far.
L

The developer of the app works on Beta version. MyTube beta has a lot of updates recently.

Another one... Audible. Horrible horrible app and not updated in over a year.

Yup. Audible being so bad is making me think about going back to android after about 4 years on wp. I don't understand how it can be so hard to get it right. Not like it needs to do a lot just remember where I was when I stopped listening and actually play the bloody thing when I restart the app.

It's worse on 8.1. It'll freeze up and not even rebooting the phone will unfreeze it. Have to have some call you to unfreeze it.

You can open music player and start playing any song for just a second, then switch back and it will play again. But I agree, it's really bad.

I agree, I almost hurled my phone many times while trying to listen to a book on audible...i eventually gave up.

Audible is by far the worst, should be number one on this list. I constantly have to restart my phone if I haven't listened in a few days in order for sound to play. I've also had to reinstall the app to get new books to show up. Its just plain ridiculous. It doesn't make we want to switch phones, just makes me want to stop paying for the service.

+1 for Audible. To say it is horrible is an understatement. My current work around is this. I first play an audio book different from the one that I actually want to listen to for about 30-45 seconds. Then I switch to the book that I want to listen to and it loads with no problem. Sometimes it may start from the beginning of the current chapter that I am listening to or it may start the book from the beginning while not perfect it beats rebooting my phone or redownloading the book every time I want to listen to it.

Report the app for poor performance https://www.windowsphone.com/en-us/store/app/audible-audiobooks/bdc813dd...

Chat with them and then freeze your account for some time. If more are doing it, they might listen. You can still listen to all your audio books.

I'll try that... Just need to get some books first:)

Vine(twitter) is being an absolute pain at the minute! I can't like/comment/revine any of the vines. It's affecting 6Sec too

How about breakingnews? I suggest nagging their developers... Please go for it https://twitter.com/dingl_/status/525036788511830016

+1
WPCentral should post an article with email and Twitter details of respective devs
So that we can force them for updates

I've been calling for a united effort to ask devs/companies for apps and updates, for years. Mac users used to do it. WP owners only seem interested in yelling at Microsoft.

That's because Microsoft create all the apps /s

If Lumia's sell more than the Xbox One, why does Xbox have youtube and WP doesn't lol

The Xbox One doesn't compete with a Google product, for starters.

Yeah, but Neobusiness Non Experts round here, think that making stuff first and better, for the competition is smart.

I will sit and wait for Rudy to come around waving the #DontForgetYourOwnApp flag

Rudy recently got a job offer from Google. He himself has been looking forward to Microsoft for this, but it was Google who was the first. No news on whether he's going to accept it or not but its strange that Google keeps a better eye on the competition's strengths and quicker to act on it too! I myself am tired of waiting to get the best updates on my apps, so going to make an Android phone my primary phone soon. While I love Lumia, so I'll keep it and wait for the 1020 successor, but it'll be my secondary phone only.

If Google snaps him up, this is the biggest hit to Windows universal apps more than anything.

Dude get your facts straight. Rudy got that job offering from Google in September and he HAS declined. He stated in a tweet that he will never work for google.

Easy on the man. Thanks for clearing it up though...

Rather annoying devs are so slow in updating, and so apathetic in supporting wp.

They only made apps on WP to inject money to help them work on their iPhone and Android apps and by not updating their WP apps, they're trying to blackmail Microsoft into paying them in conjunction with WP user in app purchases

There is very little reason for service -owners to want to support yet another platform, especially one that has only a small amount of users. It's just extra cost. MS has done a decent job with dev tools, but there is still a lot they could do to support cross-platform development, which I feel is their best chance of getting app-parity.

Kik Messenger should be added to this list.

Well, in fairness, Kik said they were done with Windows Phone. At least they were honest about it.

I bet you, they'd be back when windows 10 is doing pretty good after release next year.

people said the same thing with 8. then 8.1...

Funny because this: http://techcrunch.com/2011/08/30/why-kik-loves-windows-phone-7-spoiler-i... They USED us for growth, then abandoned.

That's the exact reason why I didn't reinstall Kik on my ATIV S when I got it, if they're done with Windows Phone then I'm done with them. Kik can go fuck themselves!!!

I would abandon Kik for Whatsapp if anyone actually used Whatsapp. Everyone I know only uses Kik.

Luckily there was only one person I knew that used Kik, then they turned into an asshole so I don't have to use it anymore. Kik can fuck off if they're done with my platform.

+929, I can't even log in anymore.

Deleted the apps recently.

Same here and if they do come back I won't support them.

I've bugged Kik over and over to pass their WP code to a 3rd party or to go open source and they don't even answer.

Did the same and even twitted them. They favourited it ~ like whats that supposed to mean?

Maybe subtly hinting at an eventual return to our platform?

Kik should be a little more honest and just outright remove the app from the Windows app store. I've tried reporting it to Microsoft in hopes they do something about it. Considering its been over 2 years since they updated, I say Kik is the worst offender here.

good one john.... nice article,so needed article.....

Twitter as well. They may update it, but it still lags sooo far behind (in terms of features from iOS and Android; not literal lagging).

Yes twitter is long overdue for an update.

Funny enough, I prefer the WP version of Twitter. The simple fact that I can't have a dark theme on Android but can on WP is enough for me to think that the WP version is better.

That oversized font and Twitter layout in my 1520 bugs the hell out of me.

WhatsApp also has not been updated.

EBay shouldn't be on that list compared to the rest

IMDB . Released in the era of WP7 , didn't updated after that :(

That's the one I was going to mention, it was one of first apps released for WP, never been updated.

Thank you! I thought this thread would be full with "IMDb" and "Times of India", and these apps have been rotting in the store far longer than WhatsApp. Also, Foursquare.

I recommend film closet Great app concerning movies and actor, staff info. You can connect to your IMDB account for your favourites, watchlist a.s.o. And it has a great UI and support, I'm frequently in contact with the dev, he is a very nice and helpful guy! Edit: btw it's also available for Win 8.1!

My app hasn't been updated sinds release.
why update when its perfect as it is.

TOI app isn't updated even once. It's Windows 8.1 counterpart has been updated a while back and also got redesigned but not the WP version. Btw, wp app is actually very good and works very well :)

WWE never developed a official app for Windows Phone unless you can give a archived WP Store link to the app as a proof of its existence. The official WWE App is currently for Android and iOS only but when Windows 10 gets released for phones then WWE may re-think about this and release their mobile app for Windows phones.

The Sims 3. Payed money. Won't even download!

The Sims Freeplay is its successor, I wasted money on The Sims 3 as well but The Sims Freeplay is much better.

Sadly development for freeplay is also stopped.

I hope MS remember all of this next year when 10 is launched and they all suddenly realise that an app on a Windows phone is also an app on a much larger audience. Bob

Get on Kik's level! They haven't updated in years...

This is why I want to change to Android. We're relegated.

Moved from a 1520 to a Nexus 5 and the quality of the apps is miles ahead. I love WP as an OS, but I'm sticking to Android purely for the flexibility and app support.

I did that. Was with a G3. Came back to 930,just a week ago.
Everything is nice and perfect for me now...
Could not stand without WP, even without some apps

Seriously these apps needs to be updated they lag ages behind.........

Netflix is still the old red design!

And still doesn't support profiles!

IMDB last updated June 2012

This need to be on top of the list. The 5 apps mentioned aren't updated in months and for IMBb its years.

IMDB. It's still WP7 based. Last update was June 2012.

Every app apart from Microsoft's own (but not in all cases) don't get updated as much as their iOS/Android counterparts... And the quality of apps is never even close

sadly even MS apps have more features on ios & android

This is very true
You can send email with your alias in Android using outlook. Guess what, no way to do that on WP

There's one more app Remaining....and that is LIVE LOCK SCREEN BETA, it urgently needs to be updated for its resuming issue.

I think Live locksreen beta is dead

Probably. I never understood all the hype back when everyone was clamoring for it.

Yep , it was overhyped and there was no need to be presented by Joe Belfiore ....it just added to the hype

The hype was justified because the concept was unique, but they under-delivered! You're right, we got our hopes too high.

It's getting baked into the OS....probably :|

I hope so! It makes tons more sense to include it natively.

This should definitely happen.

Twitter and Tumblr..
Let's just not talk about it.

Email tumblr I have for months and it seems they haven't abandoned it but are just waiting, the more emails, faster the update

Live Lock Screen Beta and Xbox Games hub xD

If I didn't like Windows OS so much I'd dump it, but after my first go around years ago with Android (which I'm sure has gotten better since cupcake) I didn't think I could go back. It might be our fate if we stick with what is quickly becoming a very niche platform.

I had the first Moto X and hated Android... it replaced my BlackBerry and I thought it was uncooked. I now have a 'burner' Android Moto G and to be frank, it's quite good. I also have an iPhone and a Lumia 925 which I like - a lot. But got to say, the next big purchase is an iPhone 6.

I'm on my third week with my first iPhone (6) and while the apps are awesome I really cant stand the UI and how you navigate in the apps, coming from WP that is very simple, straightforward and logical. I also find the keyboard and autocorrect horrible. I'm missing WP more and more by the day but the lack in apps is killing it.

On the other hand, I went back to Android recently with a Note 4. I feel life is so much easier now and apps are always updated with bug fixes. Restrictions are all gone, unlike when I was with Windows Phone. I will rather go with the mainstream platform than some niche platform like WP with so little apps supports.

I think there should a post of this kind regularly!

Agreed. It would be good to bring more attention to these apps plus the appropriate links to contact the devs regarding an update.

Count Tumblr among these too. Big site, official app, not updated since September 9, 2013. Still no ability to comment on posts, a very basic function.

Or review favorites posts. Plus the new search layout has not made it to WP.

TripAdvisor belongs on that list. I at least recall eBay getting 'some' updates in the past year.

I wouldn't count trip advisor because it's not even a real app.

Huh, TripAdvisor had an update a while ago that changed it from a web app into a "real app" so I'm not sure which version you're using.

Real app or not, the last version that was released was v4.0 back in December 2012. It is lacking in features compared to IOS/Android. Hope this gets updated soon.

I never desputed that fact, all I was stating that it's no longer a web app.

@neo158 yes, ur correct. That bit about real/web app was actually meant for offbeatbop

Netflix app needs a lift, as do most mentioned in Article.

Yeah, for god sake the Live Lock Screen really need an update after the first release!

I suggest WCentral to make a "the 10 apps that desperately need an update" in the end of the year. You could make a poll to ask readers this top 10.

Agreed , wcentral are much known , they might have any connection to these companies , maybe they can help us !

It's high time for WhatsApp & LinkedIn to update. Buck up respective developers.

Sometime in the last couple of weeks, LinkedIN stopped pulling in messages and invitations. Apparently, they broke their own app with a site change. That is the essence of not caring.

Sadly yes... Unstable and crappy

6tag still has the Flag problem with the hashtags or should I download it again ?

http://windowscentral.com/commenting-guidelines

YES not updated for YEARS!

You forgot the damn official Google app !!! Who really need an update soon....

Why, it's Google. The very same company that doesn't care about Windows Phone, I'd feel happier if it was removed altogether.

Who even uses that anyway...

Exactly​, when Google show support for Windows Phone then I might support them, until then.....

F*** that sh** I use Bing!

Mongoloid, they are speaking about YouTube...

Forget about YouTube for Windows Phone, it will never go back to being natively-coded again like the Android and iOS versions unless you interop and developer-unlock your Windows Phone, which I won't risk doing at all or Microsoft successfully sues Google to let YouTube for WP regain its native coding. If it wasn't for Google telling Microsoft to downgrade the YouTube for WP app back to HTML5-coding as a "update", I won't even need a phone with Google Android nor any third-party WP app to have a native, HD YouTube mobile experience, I can have the same thing with the Microsoft-made app on my Lumia phone. Don't be evil, my backside, Google!

ESPN? Where's the live app features that were shown at the WP8.1 reveal?

So will these apps be removed from the store since they are breaching the code of conduct by not being regularly updated?

Good point but there are hundreds of apps like it. For instance I paid for the kitt app way back when wp7 first came out, its still in the store but never updated!

It's disgusting how windows phone customers are treated, isn't our money worth as much to these often paid services as ios and android user

Because to Google wants force to us to move to their platform via denial of applications

Ew, you might get a disease.

Actually, no. iOS users spend much more money purchasing through apps than Android or WP users thus the 'iOS First' developer mentality. It's a problem for Android users too but not to the extent that it is for Windows Phone users.

Google is just getting what it wants. The untimely death of Microsoft!!!

The death of Microsoft? "NO" But at this point all of Microsoft's services are on IOS and Android.Why would anyone want to switch to WP.

Twitter. And instagram must Be updated , and an "official" Facebook app please?

Waze........i know I won't hold my breath. Here drive

Tumblr. 13 months and counting

Idk but why you guys like to have an app for everything? Google is evil I know but why you like to have a youtube app instead of using browser and type youtube.com. Is that very hard? Try pin! You don't like the mobile version? Switch it to full desktop version! Yes some of the games and apps are missing in WP but some type of apps like youtube and imdb are too ridicules.

Because the YouTube app works very well and plays well with Chromecast. That's why.

Google Cast doesn't support WP last I checked, can't really expect YouTube app to.

My problem with websites is that full desktop versions require me to scroll a lot sideways and mobile versions are almost never tested with WP. And content within the screen is usually positioned better in an app than in any website. that's just my thought though.

At this rate, with the lack of app support, and no flagship phones coming out from Nokia/Microsoft, I might consider jumping ship to Android, as much as I'd hate that. But, my 920 won't last forever

Ebay app works fine for me.Buy and sell on it all the time.

I hear you. The iPhone 6 pretty much closed the gap. Virtually everything Microsoft innovated on with Windows Phone 7 is no longer unique.

Me too, I keep wondering whether my next phone will be a 730 or a Moto G/X.

Understandable, yet, a soldier holds the line until shit may truly break. Hang in there comrad.

Skype has been updated a coupla times but not yet to the level of iOS and Android. Yet it's owned by Microsoft. Uberly disappointed

Agreed. Even iOS have an extra feature than WP for Skype Qik. And the app is owned by Microsoft, for goodness sake! *shaking my head in disbelief*

Even Microsoft has to make money otherwise they would be forced to ditch their own OS, they get that money from iphone/android phone users and put some of it into WP, it's a slow and horrible process for us fans, but we always get there in the end... They have faith in WP otherwise they wouldn't have bought Nokia, we must wait

Oh come on. As Windows Phone owners we always seem to be waiting and hearing '..in the coming Months'. Microsoft have more than enough resources to put competent teams in place to update their own Apps around the same time they're giving the competition sugar. People need to stop making excuses for them. Afterall, if you look at rubbish Apps like Skype, if people see they can't even be bothered giving meaningful updates to their own Applications on their own Platform, they can't really expect others to do so.

The really sad thing here is that Rudy Huyn makes a better job than most of Microsoft... Microsoft is still suffering from being a traditional inflexible giant. First action should be to hire Rudy and me as headbrains for Microsoft to compete with the evil twins:)

I call my balls evil twins for they always try to lead me astray.....lol

Add DirecTV to the list of not been updated in 2 years!!!

It's being worked on, that's all I know.

How about the lockscreen app? Even worse is Zite, which is still available only in its WM7.5 version (it worked with 8.1, though).

Tumblr, imbd, Pintrest beta and TED which are both just web wrappers.

The Devs are putting the squeeze on WP.Don't blame them, there is more money to make developing for IOS and Android.

I'm gonna wait until the launch of Windows 10 and the whole ONE OS running Tablets, Phones, Laptops and Desktops.
That should be easier for Devs to work with.

Even Instagram doesn't show the WP app on their webpage.They even took down the WP help page for the app.Nothing to do with the OS.They simply refuse to work on apps for WP.All this about WP8 will get Devs on board didn't happen.

Ohhhhhh, so we pointing"them out" now. Shame on them.

Waze too. Hate you google.

LinkedIn, Instagram, and Netflix are what needs it bad

Lol..whatsapp was not included...

Cause irs gonna be updated in the next week or so

Yet, its not updated for months..

That's because Whatsapp is getting new WP8.1 features.

What happened to that Twitter Beta app that accidentally went live? That thing was more stable and had newer features nearly 9 months ago than the current app does today.

last update of twitter beta is more than half a year ago :)

Also there's WhatsApp.
Big big shame.

They might be waiting for the next big firmware update, i.e. Windows Phone 10

They're always waiting for something else. Truth is, they probably simply don't care. "Good enough is good enough"

If Windows 10 will not help WP grow then it is time to ditch WP once and for all.

IMDB, Instagram Beta, Vine, Tumblr, Vimeo, eBay. That's the thing with the Windows Phone store. I mean, its one thing to get developers to build apps for the platform, its another to ensure these apps are updates frequently. And that is exactly why I went to Android. Sure I still love WP, but as long as this continues, I'm staying away from WP. :/

ESPN cricinfo and Engadget too

I dunno, feeling lazy perhaps? Or feeling that there's not enough users to justify the resources to update the app? Maybe they are just being cheap bastards lol.
SoundHound , Tumblr IMDB haven't been updated in almost a year (2 in case of IMDB) ... To be fair, according to SoundHound support, they are working on an update to bring the log-in feature & the new design ... But that was over 5 months ago.

Hulu is the worse. Performance makes you want to kill yourself.

Yes, I find myself looking longingly at my kitchen knives...

How is WhatsApp not in this list?

Yup, need a fix for notifications not working

Apps that I would like to have updated soon Twitter (GIF support, 1080P support)
WhatsApp
Tumblr (Really want the hold to reblog feature)
Instagram (Video upload support; from storage as well, also, uploading from this app ruins photo's quality. Happens on 6tag as well. IG Beta = More noise/grain. 6tag = Loses details.)
6tag (Whatever mentioned above if Instagram/Facebook isn't gonna do jackshit about their app)
Uber (Can't validate account on the app)


Don't forget Share integration in Twitter. That has been missing since 8.1 RTMed in April and that "beta" app got buried.

This just pushes me into the hands of Android... #sad

Agree..
Windows phone forced me to switch to Android too.

Don't think I will ever shell out big money on a WP again.My 1520 will be the last WP I purchase unless I see some big changes in Dev attitude's towards WP.The three biggest apps out there are Youtube,Facebook,Instagram and they are beta or third party.This is a huge problem for WP.We are heading down the Blackberry rabbit hole folk's.Sad but true:/

Sadly, I'm feeling the same. The way Verizon is treating my Icon by not yet updating it, combined with the lack of exciting new apps and accessories make it really tough to keep being hopeful.

AT&T destroyed my 1520 with the 8.1 update.It's a paper weight compared to how smooth it was before.Even carriers don't test the updates properly before releasing them for WP.It sickens me that a payed good money for a product that doesn't work.

Really! My run like champs....hmmm...

Blame Verizon, not Microsoft.
In the Netherlands I bought my Lumia 925 and went to T-Mobile to get a sim card. Works fine and I get firmware updates asap. There is no need for telco's to 'adjust' firmware [sarcasm]unless they need to add their spyware[/sarcasm]

Me too I feel I've been waiting long enough, I wanted to be loyal as I love wp but I feel like im staying in the crappy hotel on the promise its going to get fixed up while apple and android users are partying in the ritz

It's been four painful years for me.Started out with a Kin Two on Verizon.Love WP,but it's getting to point that Devs have pretty much given up on Microsoft's OS.It's career suicide if you're not developing for IOS or Android.

I have a Zune HD. Do you think that apps were being updated on that?

This article gave me an oh-no-you're-right train of thoughts. Which is a dangerous one. I thought we already won the battle with the app gap. It was just a tiny war. Sigh...

Sadly the same thoughts occurred to me... Now that Microsoft has bought Nokia and buried it I wonder if there will ever be innovations... I'm on board with WP because of 1020 camera. I don't care about the 930 or the 1520 with poorer performance regarding camera. I hate companies that scan the content of your email, so I reckon I'll pick ios as the lesser evil... So sad...

I am tired of looking at Whatsapp's "Loading..." Resuming.... screen. Hoping a update makes it faster.

Try Plants vs. Zombies, it's still a WP7.0 app. Switching from the game to the "open apps" view and then back to the game causes the game to restart completely

DirecTV. Hasn't been updated in YEARS. No features. Such a shame to us paying DTV customers with windows phone.

Dish don't even have an app to update.

Has IMDB ever been updated??

Yes, you cannot login and manage your account. Hasn't been updated since 2012.

Ah, OK. I only use their excellent mobile site. No need for an app.

Same here man. App is so bad, I had to pin the web link to my start screen. It's a shame because the app itself "looks" really good. You just cant do anything with it

The reason for lack off updates is that MS is more interested in making apps and updates for iOS and Android and not theire one OS. Blame MS for lack of updates. I am leaving WP and going to iOS because there i will get updated MS apps.

If were that the case about making money through ios and Android then How come that the majority of the applications of them be for free,? Also we have to recall that office and OneNote comes with the OS so probably that limitation may cause that don't get any update,

So Microsoft make every single app on the Store, do they?

Times of India too. But I downloaded msn news its way better.

Ever saw a OneNote update? Damn, I use it everyday....

What about WhatsApp.
Even it hasn't been updated since 26th June 2014 : 4 months

Watsapp is the backbone of a smartphone here in India. That is must updated

TIMES OF INDIA & ECONOMIC TIMES. PLEASE UPDATE.

As if music n videos app became useful after dozens of updates :p

Need better notification center integration with whatsapp. Instagram Beta and Vine work ok for me, but would be nice with new features. The Hulu Plus app was so slow and video playback controls so laggy that I ended my Hulu Plus subscription. Also, in WP 8.1 the closed captioning and time indicators didn't work right. They really need to fix that app. Also, even though Netflix has technically been kept updated, it has not seen any meaningful new functionality. Video playback works great, but the UI is still years old. No profiles, no season selection for TV shows, etc. It's way behind the other platforms I've tried it on.

O well, everything works fine exept for ABN-AMRO. Stupid fuckups.

That's what I assume as well.

I use Audible a lot, so that can't be it:)

Oooo nooo apps not updated end of the world is near

If it stays this way, the end of WP is definitely near. Unless Windows 10 is the saviour we all seem to hope it'll be.

I don't see the point of updating an app just to update it. I use Hulu Plus a lot, on my Lumia 1020, my Surface Pro 3, all my PCs and my Xbox One. They all work great.

We need instagram update's.please report a concern poor performance for instagram and kik

Not only them. Whatsapp, viber, facebook and some other apps need to be updated too. And monthly if its posible

You do know that Microsoft develop the Facebook app, don't you? That does get regular updates as well, if you use the beta version then the updates are more frequent.

Yes i use beta. It still needs improvements. Dont you think ?

I suppose so, but what features do the Android and iOS apps have that we don't? Any new features get added to the beta first then to the regular app so we can't really add Facebook to the list.

Isn't it just a mobile web version? Last time I used it, it seemed to work just fine.

Nope. It's a very good looking app that is a bare as bare bones gets.

Been waiting for Instagram's for quite some times already... I guess waiting is not something i can do anymore now. Just let it go!!! hahahaha...

I guess windows 10 and universal apps will be the way Microsoft exposes other companies as the ones that don't care about their customers. They'll have no excuse, all they have to do is click add windows phone 8.1 when they make an app in visual studio.

Trouble is most don't even make apps for windows!

Windows lags behind the phone on some apps (e.g., Angry Birds). But that will change as people flock to Windows 10 like they did to 7. Watch; once 8.1 gets a UI tweak it will suddenly stop being an abomination and turn into the best thing since sliced bread, just like the what the tech press said about Vista and 7.

I can have a GD on this...endless. Neverending beta version of many apss.....

Google search app, espncricinfo

Biggest culprit has to be Instagram. What, they scared that they cant do better than Rudy....

I hope Win 10 makes some headway. I like WP but this "just wait, you'll see" mantra is wearing thin. I think ill see what the new flagships bring, if they've even left port.

Wow Reality just set in. Didn't realize the lack of attention given to us WP users. What a shame. This article almost makes me want to try an iPhone again. ALMOST.

Ditto, almost but only holding off due to price (and I love the WP OS)

More and more of these comments are pointing to the fact that Microsoft is failing it's windows phone customers. Will something ever get done?

Twitter they have to fix the notification bug, I hardly get notifications, maybe the other apps are waiting for a kick

Accuweather - live tile hasn't worked for months, contacted CS over 8 times in the past 2 months!

I used to love accweather, switched to weather MS

Same. I switched after the update that ruined the lock screen.

Instagram still being in BETA is a total and complete joke. I stopped using it and went back to 6tag.

The article said "5 popular apps that haven't been updated" not 6 or 12!!! That's why whatsapp wasn't on the list, at least whatsapp has a go once in a blue moon, the instagram malarkey is just abysmal, I'm ashamed to have installed it, but if I hadn't, they would care even less about the minor user base that WP provides :|

I'm sure MS had to beg them to put out an app. Wasn't Instagram and Vine announced the same day the 1520 & 1320 were announced a year ago? No updates since then..

Mapmyride....Seriously?? over 20million users and Under Armour spent a fortune ($150 million) purchasing the company but had not 1 update since 24/03/2012!!! thats seriously poor!

Files, whatsapp, viber, here maps, facebook & beta both are waste of time and credits, ringtone maker, T translator, zoom and finally youtube
Maybe not all of them concerns the majority of users, but that's my tip guys
Thanx Didn't mention games ^_^

And viber &line no video calls and whatsapp need update and no tango APp fuuuuu

There was a official tango app but only had calls no texting... Same thing though... No update for years

Isn't Flickr like the record holder ?

MetroTube was updated on 19-9-14

Toss them out like garbage...

Flipboard app is a big joke.. Poor maintenance of this Windows platform

Freaking Netflix! The store may show an "update" in September but the app hasn't really been updated in over a year. Old branding, and most importantly, still no dadgum user profiles.

IMDB has also not been updated since 7.5

Who agrees with me that there should be a section in the store called "App Redemption"? It would give a second chance to popular apps that are shitty and/or have been updated after a long hiatus.

TuneIn Radio, updated 10 months ago.

Windows phone 8.1 is a big flop.. That's why Developers also waiting for MS to clean the mess up.. They will be updated after Windows 10

Are you high? WP 8.1 is great. And is doing better recently.

8.1 finally gives the functionality needed to create some really good apps. Too bad that few companies are interested in doing so, much less keep them updated.

Wow! Such an uphill battle.

Because they are mainly dirt bags and don't care about windows, damn I hate those haters homie

Make this a top 50 list. I suppose we are the step child (beta) for these companies.

These are huge companies where they can dedicate a staff or two to Windows but they could care less right now. Hopefully W10 will be a hit and one code for all will change this behavior

The whole app situation on WP is fairly depressing. Its a fabulous OS but the lack of dev support is painful.

IMDB. I mean at least update the back photo which is still of inception.

Oh my god it still has inception on the flip side, that's hilarious!!!!!

If they don't support the platform, I ditch their services. Everyone complains on a forum but how many of you will reach out to these organizations?

Easier said than done - especially with stuff like Twitter and Facebook.

Vines are dead. But that's just my opinion. They should update the viber app real soon. It takes way too long to load. Like when you're in a call and you're done, so you unlock the phone but it's stuck on the viber logo for really long before you can get in the app. It's specially weird when you're hanging up on someone's face. It's like - Me: "Fine then!! Bye!!.....". *5 seconds later* Other person: "Are you still there??"

WhatsApp has been updating their beta app since June and not a single update from that has come to regular version since then. Just don't understand their approach. I mean how long do you need to test some features. Obviously instagram just don't care at all. Some of this companies have deep hate towards MS like google but support the consumers. Leave your hatred towards each other at the table and do what is right for the consumers.

Don't forget the awful audible app that crashes constantly

Glad you posted this article! These things need to be pointed out by a large, respected site like this.

I'm hopeful that this will improve after Windows 10. Universal apps will be the standard and uptake on Modern apps for desktop will make it more compelling for developers. Probably a pipe dream.

Are people still loyal to using all things "official", no matter what? I don't even have Instagram installed. 6Tag works for me.

The lethargy MS is showing is unbelievable. They are changing brand name and all types of bullshit but still windows lacks in many apps, surprisingly MS doesn't care for this. Past 2 years they have made little progress that cannot be expected from MS. I am planning to move to Android from windows. I have trusted them for last 2 years but it has made a grave disappointment.

Microsoft can't be held accountable for the lack of updates to third party apps, they provide the tools but if devs are to lazy to update their apps then we can't blame Microsoft for that.

There's no real support for the first party apps too. And one can imagine the quality of this "tools" seeing Xbox music saga: "The music player that took half a year and 10+ updates to have fast resume working"

Kik hasn't updated since 2012 I believe

They have came out and said they are not supporting WP anymore.

LinkedIn app is just awful

At least it works unlike Audible ;-)

I don't know who to blame? But this is so sad , I usually try to contact developers but with no luck

ESPN Hub and Sportscenter. Score Mobile

Agree on ESPN Hub. Got sick of the Live Tile not updating so I removed it.

Don't care. Don't use any of them.

Star walk, they updated their app on iOS, and had a cutesy to send me an email advising me that there is an update, only to apologise after I complained,
There is an error as well on their app on the moon phases, waxing and waning, the correct is vice versa. I highlighted to them but up to now they have done nothing

I would have said rhapsody but just last week they finally updated it with a lot of new features and fixed like every issue that I was having, I was getting ready to switch back to Xbox music with all the update love it's been getting but now rhapsody is back in the game

I think iMDB beats them all (circa Windows Phone 7.0 -not even 7.5)... :P

Where the hell is the IGN app? It was just released for IOS and Android, but not Windows Phone. Wtf is up with that?

Spotify is missing so many features it isn't funny. I still don't have the library functionality that has been out for months and the app constantly goes "offline" even when I have a connection.

Even though facebook is being updated regularly, it looks stupid and lags a lot compared to the android version for example. BIG difference, so as whatsapp I just don't understand why they can't make the same animations on android apps , is it a problem with the os? or are the developers so lazy? please let the real facebook company develop the app

Why would you want the animations from Android when WP has its own animations? We have a perfectly functional WP app for Facebook. If Facebook want to take over development then I'm sure Microsoft will let them but the UI design on WP is exactly as it is on iOS and Android.

Why can't these developers update these apps? Easy. Because Windows Phone still can't hit double-digits in the markets these apps have customers. While that's not necessarily new or enlightening in any way, why the Windows Phone team was put in charge of the Windows consumer and enterprise platforms is beyond baffling.

That lock screen beta also!!!!

red bull music academy radio.....amazing app

GTA SA anyone? Only one update for WP, more that 8 for iOS and android.

Someone forgot Flickr. And why only apps? Games like Cut the rope, cut the rope exp., angry birds series, hungry shark evolution, and so many more. And its not their fault. They've got kids to take care of. No one would like to spend much time on a platform which only 3% of its audience uses. Sad but true. I've learned only one thing from this. Piracy makes a platform play beautifully.

I'm sure its been said, but IMDB haven't updated their app since 2012. Seriously.

I bet they're waiting for Windows 10 now......

And waiting and waiting and waiting... And so are we... unfortunately...

WhatsApp needs to have an updated UI.
iPhone, Android and even BB10 users who see WhatsApp on my WP just say WTF is this!

Because their beloved users are just android and IOS. They just silenced the WP users by providing simple based apps so they blame the system instead of their own. They are simply scared of Microsoft coz they have money power that might sell them out. Shows lack of confidence

Meh. Facebook gets updated every week but it doesn't matter because not even the basic newsfeed filtering got there yet. This is among the main reasons I'm switching next year. I like my 1020 stability among other characteristics but enough is enough.

What OS you're planning to switch to? Android or Apple?

Going for a Sony Xperia Z3 - Android. It has a bunch of stuff that I find interesting enough to make the jump. Currently sporting a Lumia 1020. :D Not that I have anything against iOS though... but the price point in Brazil just isn't realistic. Apple objectively decided to make it a luxury item by artificially inflating the prices here... like, even if the unlocked Sony Xperia Z3 is around the same price as the iPhone 6 in the US, here in Brazil there's going to be a big difference.

Damn, same here! Wanted to get the Z3 as that's the latest, due to also it's smartband capabilities...

3 freaking Gbs of RAM! water proofing. dust proofing. PS4 remote play. 4K camera. Nice design. SD card expansion! What's not to like, amirite? xD

I know! Top notch specs!!! XD

Agree with you, I'm a big sports fan and I can't wait to use the apps that are available on IOS. IPhone 6 64GB Space Grey on the way. ;)

Doesn't really look like any amount of articles or tweeting or tagging is going to help esp where Instagram is concerned. I guess Apple and Google r putting too much into their kitty for them to give a shit about WP.

Waiting to 'kik' out (; unless an update is shown...meh

WCentral should do more articles like this, there are so many apps like these 5... Some has never been updated and some lags behind even after update :(

More then true! I saw Ubisoft haven't updated their uplay app in a while.

How about HERE Drive?? They announced that they were "ramping down" development. What a joke...Last official update was March 2014, but no new features since 2013. Still no traffic rerouting, and this was a Nokia official app, backed by Microsoft...

How about family fued and.... Internet explorer

Seriously how Microsoft wants developers to build apps for Windows Phone if they don't care about their own apps? Just compare how Office, Skype and other Microsoft stuff are far better in iOS and Android than in their own ecosystem. Oh Microsoft, you're funny!

Twitter? With integrated OS share?
MS should give out bounty money for adding functionality to popular applications.

Twitter promised to update their app when 8.1 is on most wps

These apps have not been updated recently because developers are losing faith in a platform that struggles for market share. Simple as that. If Windows Phone sold in numbers remotely near Android or iOS, this article wouldn't exist.

Slingbox needs updated to support the guide option that other OS have, the interface is from 2011.

I think the developer conference which will happen in November now will motivate and boost devs to make universal apps. So from,that time devs will take windows as a whole platform seriously.

Lets hope so and it should do.

To imaginary hell with those who don't support our platform. Save your time and money for those who do.

I just think LinkedIn is the worst one of the worst app on the store.

No that HAS to go to Audible, LinkedIn actually works whereas Audible just doesn't!!!

I was thinking about mix radio

The only ones out of these apps I have are Instagram Beta (on my 920) and LinkedIn (on my 810). Odd that they've haven't been updated in so long.

WhatsApp ??????????????????????????????????????

Its getting a major update any day!

Cause they don't care about This platform

MS should sell windows phone business either to google or apple as mobile business is not their cup of tea.

Windows 10 will change everything, I hope

I disagree, if you were around when Windows Mobile was about then you would know that they ended up dominating the Mobile Device market entirely. They just got complacent and now they've lost out to Android and iOS.

maybe some developers can speak up here. how hard is it to validate updates for apps. i know its tough on the xbox consoles. there's a lot of testing that has to be done, and even though there are emulators for the hardware, its always good to use real devices. i figure most of these companies don't have dedicated windows phone developers. maybe when they switch to 10, things might become slightly easier to work with or not. we'll have to wait and see.

Developer here!!! Just as i state in my comment earlier...it is not a problem keeping up with you development...you are just a lazy ass or have no pride in your work!!! PERIOD!!!

Also a developer (although just in my spare time). App validation has become extremely fast, and unless you rely on movement sensors on the device itself, WP emulators are quite good

Instagram, Vine, LinkedIn, Ebay and Hulu. Well, I don't use them.

Make a list of apps that are missing now lol

WhatsApp obviously tops the list

Add AllRecipes to the list. I messaged their support about future updates and the response was very non-committal.

IMDB... needs a serious update, paragraphs don't even fit and get cut off!!!

Fantasia painter and TOI haven't been updated for years though both are working well and get the job done..

I think is LIVE LOCKSCREEN BETA. It will never update. LOLLLL!!!

I agree. Microsoft needs to update its own apps before 3rd parties update apps. Office hasn't been updated either.

Can MS not support guys like Rudy Heyn? Or better yet make their own Rudys focused on re-invention of 3rd party flagship apps?

Good thing I don't use any of these.

Even that messenger app needs to be updated. We still cant make calls via that!

LinkedIn hadn't been updated in over a year, its one of the worst big name apps on Windows Phone.

There's not enough feedback to warrant an update?

I'm more optimist, I believe than that lack of update is more because the apps doesn't break so easily than another platform...but I really need and update to Waze so badly

IMDb, Foursquare, Times of India, Glympse, PDF Reader (Microsoft), Wikipedia (Rudy Huyn).

The fact that these apps haven't been updated in so long is an absolute joke. I'm a massive supporter of WP and it makes me mad. But who's to blame? Is it the developers who aren't investing more time in providing updates or is it Microsoft who aren't pushing these developers and providing some sort of incentive for them to continue to develop for WP.
I look over at my work phone (Nexus 5) and it's not uncommon for 5-10 apps be updated every week.

It's down to the developer to update their apps, all Microsoft can do is get the apps onto the platform but it's then up to the developers to keep the apps up to date.

Devs go mainly to where the money is. So either a big enough user base, or small enough development costs. That's mainly it.

WWE App... I m waiting for an update .

Waze and Yelp are 2 big ones for me, 9 months and a year without updates respectively. Hardly matters, as much improvement as 8.1 brought, the app gap is still a fatal flaw, especially with no new AT&T flagship for the fall. Looks like I'm choosing between a Moto X and a Galaxy S5 for my next.

WFAA News in Dallas is showing weather forecast from 2 years ago. Now that is lack of support!

I get the sense that the double whammy of no new flagship and continuing app gap is leading to a mass exodus from the platform in the next month. That makes me very sad.

Your sense would be wrong as most WP devices sold are mid to low end.

Can we all agree that the Audible app is the most obscene hate crime against humanity?

DirecTV.... Over two years since last update. :(

It's because of this that I'm seriously considering going back to Android. Kudos to the Windows Phone team, they have done a wonderful job, but sadly the devs just don't care about WP.

I've written to the people at both Vine and Twitter multiple times about how disgusted I am with their ignorance of Vine for Windows Phone. Of course, since they're apparently the most ignorant people on the planet, they never even bothered to write back, either.
In my eyes, devs who do things like that deserve to be fined for inconveniencing millions of people.
Words cannot begin to describe how fed up with them I am...
( ♯`д´) Also, kik hasn't been updated for some time, and as of yet, still only has a WP7 app. It works rather well, but I'm still waiting for its WP8 or WP8.1 update.

Kik won't Support Windows Phone they said that a couple of months ago.

the windows phone for mac has only been updated once that I know of, and it needs a lot of work

The commbank app in Australia is missing careless cash and tap&pay that has been part of the google and iKiddy phone apps for an extended time. They advertise these features heavily on tv and have for nearly a year.

Spotify. And THE only Google app.

Garmin StreetPilot. A $30 app that hasn't been updated since March.. That much money, and still no offline maps!

Apps developed by Halfbrick Inc :- Fruit ninja and Jetpack joyride

The developers are unserious if you ask me.... Of there're 3rd alternatives to theses apps I suggested we abandon these unserious developers... After all I know I know Hulu makes money from their app if they are not serious about making money, just leave them

I dunno about eBay. I actually like the app better than the web page. The only other app I can think of that is as good is Netflix. There really aren't any bugs to fix. It is a million times better than the old 7.5 version. Hulu isn't bad either. I have not encountered any bugs or real issues. Are there any features missing from the iPhone version?

How about Microsoft Office - Excel is joke on windows phone.

Same with most of the "important" apps. Ive been a 1020 user for a year but had to send it back for repairs, in the meantime I dug out my old galaxy s4. The 1020 came back repaired a month ago, I tested it and its ok - but dont really feel like going back. Sure, the camera is rubbish in comparison :( but thats about the only thing i truly miss, but i also have a proper dslr so meh.. App wise, wp is just hopelessly behind - it became even more apparent after exclusively using a 1020 for a year. Even the microsoft apps are playing catchup............ just sayin

IMDB, seriously it's still a windows 7 based app. No one will listen on their community page. We need more numbers to push the message.

why exacly do they need to update the project target for the IMDB app? it's probably one of the very few apps that wouldn't benefit from the new features. Just an update would be appreciate

Netflix doesn't deserve any praise because they still haven't added user profiles to the WP app which makes it useless for me. They have added the profiles to the W8 app for some reason... Another one that has a much smaller scope is Ultimate Guitar's app. It hasn't been updated in THREE years. I guess we can just say they've given up on it. And it costs $3 and it doesn't have a trial. Android's version was apparently updated today and the iOS version was updated in July. We seriously need more marketshare.

Twitter too! I use it frequently, and compared to twitter for android or iOS, Twitter for Windows Phone has the moat ancient look. God! They really need to look after their apps!

Spotify. One of worst coded apps on Windows Phone

I quite enjoy the Spotify experience however it can be improved.

Personally I feel Instagram and Whatsapp are the two apps that need brought right up to date in-line with the performance and features found on ios and android plus any extra features exclusive to windows phone.

How about IMDB. That app haven't been touched since 2010.

All important and highly used apps.

AU Weather pro... Forget months.. Try years!!!!!! Still in "mango edition"

Twitter,whatsapp,bbm,facebook,Instagram...i can go on and on

you should join the BBM beta, that thing gets at least one update per month

you missed two biggies.. Kindle and Audbile, of course both are Amazon apps, so they are all in Android

This should all be less of an issue with Windows 10. At least let's hope.

WordPress, WhatsApp, Tumblr, Advanced English Dictionary, etc.,etc.

apps I would like to see updated: 1. OneNote 2. Peoples hub 3. Phone app dialer still cannot search names using dialer. 4. Email option to send email as a calendar item in windows phone. 5.

I asked Zen studies if the update to pinball fx2 would make it a universal app and they didn't know what that meant

An app that should be popular and isn't because it hasn't been updated in years is IMDB. That app it absolute garbage.

They are waiting for the universal app support, so they don't have to write much code for various versions.

We need an update for KIK!!! It hasn't been updated since February 2012!! The app is so bad for WP, notification's rarely come, the app crashes alot, and you can barely send messages!!!

That was bcoz windows mobile weren't marketed well under Steve ballmers rule. At that time Nokia was the solid company and no one could have imagined about getting another phone. Microsoft windows phone shown some popularity with Windows 8 though market share is less. But things are changing and for a longer tenure the strategy adopted of mobile first cloud first is the best ever. It will take time to develop and get back. Microsoft is a great company but they cannot be leader everywhere though they brought revolution.

Twitter needs an update too, too many features are missing compared to iOS

I'm also the "proud" owner of the awesome 1020, but I'm also honest in saying that my next phone will be an Android device. Something in the line of Sony as I am a Sony fanatic. I like Windows Phone due to the fact that it is a bit more honest platform than the others... No hidden data costs. Also more stable and can sync with my Windows pc. Battery life also is good and yes... The camera!! But I am now tired of always being 3rd in line when it comes to apps releases etc.

I also was a Windows Phone user since 7.8. Bought a 920 had problems with that one, than got a HTC 8X. But yeah basically I bought a Galaxy S4 2 weeks ago so I'm glad that I switched to Android, better app support. Even the Microsoft Apps are better on Android than there own Platform haha

I'm glad im not alone in considering giving up on windows phone very soon. I will probably go ios, I hate google for what they've done to windows phone.

They are not even close to imdb!

Netflix! The resume capability of the Netflix app is atrocious. Especially if a meeting reminder pops up.

Don't have to guess, it's pretty obvious. They took Microsoft's initial bribe money and offer to develop the first version of their the app for them and then the companies never followed up by hiring someone to maintain it when they saw how few people were actually using it.

What about the offical podcast app? So much for splitting out OS features into apps to be updated quickly. SMH

My Yelp's showing a last updated of 2013-11-01, I'd call that both major and worse than linkedin :/

Why did something that ain't broke, outside of instagram for me these words work great

WCentral should be doing more of these type of articles instead of fluff pieces no one cares about. The list of dead un-updated apps on the Store is an embarrassment and the companies should be called out. IMDB, Kik, Whatsapp, Netflix, Hulu, Kindle, countless games, etc. Flipboard should also be included because the app we got was a joke.

Not sure about other countries and official stats, but I see a lot of people in Melbourne, Australia on a daily basis using Windows Phone devices. Sure nothing like iPhone or Android, but there are still a lot of them around here, so app developers need to start improving their app range/updates.

I think if we move to other OS when we hold WP for has much as we can, the companies behind the force that what Windows to fail, they win...I mean, this is no longer a Windows Phone battle...the next step is to get rid of windows in every home and make them use macs or anything else...and windows making universal apps and universal conduct code is not making that vision stay way, is making it close because people will start to buy tablets and macs and we will see people ditching windows over linux because they want something that give them the services that they want...this is a terrible vision that im having but its the way i see things going...what I told to my self is: If I see a beautiful app in windows phone right now and its updated...its because its someone out there that loves windows...i will pay for that app if fits my needs, i will support the ones that believe in this OS...i will ditchs services that only want to burry windows...those services providers that just want to make people travel to their will throughout a "need" of the service they provide can kiss my a**...i don't need them, they need me to give them money, and they wont have mine on any where, windows phone or not, cause the company that best fights for my rights in this eletronical without privacy world have no support because of what stands for...companies what private less things more and more...well, bye. I may even buy the newspaper in the street someday...i know it sounds demental but...i only see us changing the tide by not give then suport...it can work this way...must work the other way around...if they don't suport our needs in the platform i chose to bare with, they are better without me, i will found the services i need somewhere else, not in the platform they want me to be...long speech ahaha

The glaring app missing from this list is ESPN. The app is atrocious and needs a lot of work.

Instagram, such a big disappointment.

Crunchyroll (not updated since 4/2012), Netflix, and there are several others I've been shooting emails back n forth with a Hulu team for weeks trying to get things resolved with an issue, but they kept giving me the run around and pretty much seemed to think the app was perfect the way it was. Meanwhile I think the android app has been updated at least twice in the same timeframe...

Dont use any of them so the fact they have not been updated means nothing to me. Have other apps that I use in their place and have no problem not having them. I am beginning to think the app thing is way overdone.

To answer the question at the end of the article they are either bug-free so they don't need updates, or the developers just put them there to say they have them and possibly to gauge interest. If they wanted to gauge interest then I have done my part by downloading and using them but they could at the very least give us a stable app. I don't care if it is a month late, don't just abandon it. I swear we really need to start costing these companies money by occupying their time on twitter, email and facebook. Just start inundating them with messages asking for a response on why they are not supporting our platform or when they are going to update. Their employees will be so busy copying and pasting replies that it will be worth their while to shut us up and support us. Well, that's how it goes in my dream at least.

You would think these developers who pride themselves on their work would dedicate more time these Apps, but since they are always having to comply with Apples strict standards, Google and the huge device fragmentation they suffer from, they don't care to put the time and effort in these Apps. I mean it's ridicules to think that Apple can roll out updates as they please for their iOS and Verizon still hasn't released Cyan update for the Icon. For the WP to catch on and grow in US markets as well as gain more traction than in emerging economies is to take a 2 step approach. 1. Make phones that are thinner, lighter, and better touch screens without sacrificing the durability that Nokia was very good at. 2. Work more with Google to close the gap as far as iOS Apps and stop developing and focusing on catering to iOS because if Google say's their biggest competitor is Microsoft and that's why they don't create Apps for the platform is BS. Apple is their biggest competitor in the Mobile OS ecosystem. By doing so Apple will have to become innovative again and create their own Apps which will show just how innovative they truly are... But that's just how I see it as way to create a way to bridge the Apps gap. Unless Microsoft can get these developers on board and building Apps with consistent updates then we will be revisiting this same conversation because Microsoft knows they can't impose stricter rules for the more the more popular App makers because they will just stop supporting and pulling the Apps.

Jeeez... Finally got to the bottom here and I must admit I'm losing faith.
I would like to point out that the worst app is outlook/native emailclient... I use it a lot professionally. What amazes me is the lack of or denial of editing an email. Sometimes I need to forward attachments, but I'm not allowed to remove any information from that specific email!!! And if its a PDF you need to forward then you have to have an Adobe-account!!!!!!!!!! It really tears on my patience when Audible, LinkedIn, Tripadviser, Spotify and almost all norwegian newspaperapps except vg.no are atrocious... Other than that WP is really good:)

I posted link to this article internally at Microsoft, hopefully gets some attention

Lack of WP market share makes it silly for devs to waste time on it.

There's a subtle irony to offering a download link to an app immediately after sharing how stale it is.

LiveJournal is another one that hasn't been updated since 2013. Its also in Russian when you first get it. (Its an official app, its a journal app.)

This lack of updates and lack of apps in general is unfortunately pushing me back to android. I love my 1520 and the quickness and responsiveness of the windows Os. Unfortunately this kind of mismanagement in today's tech game is frankly embarrassing and unacceptable. The old defence of it has the apps I need....doesn't cut it. Because the fact that even official apps like the native music app isn't up to par...and essential apps like WhatsApp lag behind is proof that the windows environment is not maturing quick enough and lacks support.

WP is l Ike playing Candy Crush with a hammer.

ESPN Scorecenter. Last updated April '13. It's not even called Scorecenter anymore on other platforms.

I use the Break.com app regularly. Hasn't been updated in years. No HD screen support, videos crash on occasion, text overlay isn't clean, videos mostly play in SD.. Yet despite all this I still use it. Would LOVE to see it updated.

Apps I'd like to see update... - IMDb
- TV Show (talking to you Rudy)
- Redbox (kind of buggy)
- LinkedIn (what a horrible app)