Hit-game Flappy Bird to head to Windows Phone and Wunderlist may get a needed update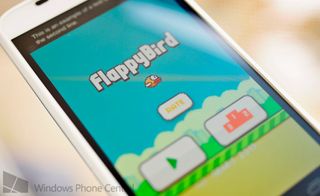 File these under hopeful thinking, but Windows Phone users may be in a treat for new apps and games for their devices.
First up is Wunderlist, the popular task management service available on iOS, Android and elsewhere. True fact, it came out on Windows Phone nearly two years ago. You can't download it any longer as it was unpublished. The app was largely ignored, and was rife with bad reviews.
At least according to their product support team, they're working on a new version, presumably optimized for Windows Phone 8. No word on an ETA, status or even if they are 100% doing it, so for now, file this under fingers-crossed.
The second story is about 'Flappy Bird' made by Dong Nguyen and published by Gear Studios (see demo video above). What's Flappy Birds? We had no idea either, but evidently it's a retro arcade game on iOS and Android that came out nearly a year ago. But for some reason, it's in the news right now. In fact, MSN News literally just ran a story on it 4 hours ago talking about it 'taking on Candy Crush'.
That should tell you that the game is about to become the next big thing. Even though iOS and Android people can play it today, Windows Phone users may not be left out in the cold on this one. At least according to a Tweet by the developer, Dong Nguyen, who hails from Vietnam. Advocate Twitter account @MobileEquality, who contacts devs to make apps for Windows Phone, asked Nguyen about making the game happen:
No other details, including development status or an estimate on a release were given. So for now, we'll still file this under expected, but not confirmed.
Just in case you want to add some pressure, there is a Twitter campaign to get this started:
Source: Twitter; Thanks, Caleb C., Keval S., and Jason M., for the tips!
Windows Central Newsletter
Get the best of Windows Central in your inbox, every day!
Daniel Rubino is the Editor-in-chief of Windows Central, head reviewer, podcast co-host, and analyst. He has been covering Microsoft since 2007 when this site was called WMExperts (and later Windows Phone Central). His interests include Windows, laptops, next-gen computing, and for some reason, watches. Before all this tech stuff, he worked on a Ph.D. in linguistics, watched people sleep (for medical purposes!), and ran the projectors at movie theaters because it was fun.
Being a 19 year old in college I can confirm that flappy bird is the rage among everyone I know right now! Would be cool to have it for sure

It also appears to be a hit amongst the middle school crowd, from what my daughter tells me.

I think the toddlers are totally into it as well!

My middle school daughter loved it on her iPhone for about 2 days, then uninstalled it. It's a flash in the pan.

+822 We need flappy bird! Literally everyone is playing it.

That game is the devil. I spent WAY too much time playing it on my friend's iPhone. Extremely addicting.

The Dong guy has tweeted a few times today that he is making it and it will be easy....

I should hope it would be easy. Bad graphics, tapping, and terrible hit detection in the game to make it difficult can't be that hard to make.

Evidently, it's better on Android than iOS, at least according to the dev.

Not any better that I could tell. Played it on my iPhone and my tab 2. Seemed identical.

I played it on my Android tab last night and if it didn't have hit detection problems I think it would be really fun. Instead you die even if you aren't that close to the pipes.

Wait, Rovio doesn't have the rights to the word Bird?

I wish Word Chums would come to Windows Phone. Its one of the very few games I play and of course I can only play it on the iPad.

The one for me is Clash of Clans.

this is too funny! I just downloaded this on my iphone! Its a fun game but really hard!! Yay for WP getting more popular games. I'm hoping Uber or Lyft or FlyWheel come around in the app store soon though!

This #MobileEquality is MAGIC!

Wrong link to download from?

Correct link, but the app was unpublished. Fixed article to reflect that.

I'm sorry but Flappy Bird looks like a dud, and doesn't WP already have a game like it called Line Birds?

It may 'look like a dud' but figures belie the fact that it's getting tremendous exposure and downloads at the moment on iOS and Android (1 M downloads on the latter). Re: Line Birds, we've covered that game and it's one of my favorites. But show me the MSN News article talking about how popular it is and it taking on Candy Crush...

Just installed Flappy Bird on my brother's Galaxy this afternoon and it's super addictive haha

On the one hand, good. On the other hand, NO KEEP IT AWAY

i literally heard of and played it for the first time today on my friends iphone, its basically a revamp of that classic flash game coptor, but it is addictive. would be a good addition to WP

No idea why, but Monday I knew nothing about it, and no one was using it too my knowledge. Come Tuesday, it's all the rage at my school. Seriously, everyone at my school is suddenly obsessed with it. It's suddenly gone viral...

What would really be the best news ever would be an announcement that hearthstone is coming to the windows 8 store as well. And windows phone, if they're releasing it on iphone and android. Though I appreciate this. My mother will be getting a windows phone soon, and I was afraid that she would be disappointed whenever her friends started playing a new mobile hit game thing like candy crush and she'd be left behind.

Yes, around my social network it is the game at the moment. Good to hear we may have it soon.
Where's candy crush btw?

A coworker of mine just showed me this game. Funny coincidence.

Nice that it made it over to WP so fast. Now if only Plague Inc. would make the jump to WP.

That's funny...my son just asked me if he could download Plague Inc. on his Kindle. I haven't checked it out, yet.

But.... It's not on Windows Phone.

Thanks, Daniel, for updating us on these apps. I know some get tired of seeing apps that might not be relevant to them, but your blogging about it makes others more aware of the WP platform and market. My teen daughter just talked about downloading Flappy Bird on her iPhone. She says it's pretty hard.

You're welcome! Glad we could play that role.

My sisters were just complaining to me last night about why they couldn't download it to their Windows Phone, so I'm glad I at least have this bit to share with them. Though I'm sure they'll say that by the time Windows Phone has it, nobody will be playing it...hehe

DONT DOWNLOAD THIS APP! IT WILL RUIN YOUR LIFE! Posted via the WPC App for Android!

As did Minecraft for me...

It's funny cuz I first read "task manager".

This is all the rage on Vine videos lol, is similar to Line Birds

Glad to see another article about an iOS/Android Developer thinking about coming to Windows Phone.

So... Jetpack Joyride is back, but in a Mario-themed world that has a bird?

Let's just say this video is not the best sales pitch. Terrible.

Agreed. Worst "trailer" ever, though the one for Hill Climb Racing, which only shows the jeep and only in two worlds, is almost as bad. This? makes me never to want to play this game.

If it comes as fast as the temple runs did I'm not interested.

I hate games like Flappy Bird. What's worse is that it's far from a new idea. Just look at Line Birds that came out for WP7 a looong time ago. Better yet, here's a link: http://www.wpcentral.com/windows-phone-game-review-linebirds

yea saw people playing it in class (not payin attention) yesterday and got challenged by my friend today. game is pretty difficult, mainly to the unnecessarily hard jump mechanic but it's nice that it's coming so i can finally respond to the challge

Ironically, I just heard about this game for the first time in my life today. A co-worker was playing it earlier.

Only heard about it today - and then I check WPC and they have an article on it. Did anyone even know about it a few days ago? Played it on an iphone earlier ...... ruddy difficult, is this why it's so addictive???? Also yeah - it's just like that helicopter game

Just emailed them about this yesterday! Yay! Posted via the WPC App for Android!

Need flappy bird for windows phone 7

I want flappy bird but still want candy crush

I have it on my IOS device and I saw a 2 one time. Why is this popular?

For those who don't know, Line Birds is a similar game available on Windows Phone.It was free.

As of right now my high score is 182

Please do some revolution or anything to bring Candy Crush saga from King into windows phone please everybody would be happy....Daniel Rubino your help would be really appreciated.