Folders Pro, Advanced File Manager is this week's myAppFree Deal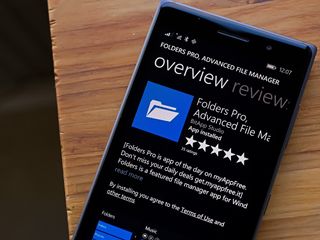 Folders Pro, Advanced File Manager is, as the title suggests, is a Windows Phone file manager. It is a feature riddled Windows Phone app that features password protected files and the ability to move, copy, paste, rename or delete folders or files on your Windows Phone. It will not tap into system files but instead give you one-stop access to all your media and document folders.
Folders Pro normally runs $1.49 but through the myAppFree deal, you can pick up the app for free. The deal will only last 24 hours so if you've been in the market for a file manager app for your Windows Phone, now might be the time to take the plunge.
Folders Pro, Advanced File Manager is a nicely laid out option to manage your media files and create secure folders where you can store sensitive materials. The features are numerous and include:
Move, copy, paste, rename or delete any folder or file.
Encrypted and hidden Folder. Store your personal files in the secure folder so they are not accessible without your password in other apps or when the phone is connected to a PC.
Move or copy a folder with all of its subfolders and files.
Search for a file or folder on your phone.
Wi-Fi file transfer for sharing your files with other connected devices to your Wi-Fi network, easy and fast.
QuickPlay Support for a better experience we have separated the media player and now you can play your video and songs directly with QuickPlay app.
Share a file or a folder with its content via Bluetooth, as email attachments or with other various apps.
Image viewer with pinch and zoom and slide view.
Include OneDrive as another folder just with a tap. No need to insert your email, or remember your password! All operations are also supported.
Open files with default apps, or with other selected third party apps.
Pin a folder to start screen for quick access.
Support for SD Card management with all possible operations. You can move files between your phone storage and SD Card.
Files and folders properties for detailed information about photos like date taken, latitude, resolution etc.
Custom Theme: In addition to the default color, you can choose your phone accent color.
In tinkering with Folders Pro for a short time on a Lumia 830 I was able to have access to and manage folders for Videos, Pictures, Music, Downloads, Ringtones and folders on my microSD Card. Your main folders page lists only those folders you want shown, including sub-folders, to avoid cluttering the screen up with folders you rarely access.
Folders Pro, Advanced File Manager has a clean appearance and the user interface is easy to navigate around. While the app lacks access to the full Windows Phone file system, it comes across as a great means of accessing all your media and document files from one place.
The file management app is currently pulling down a 5 Star rating in the Windows Phone Store and normally runs $1.49. However, through the myAppFree campaign, for the next twenty-four hours you can pick up Folders Pro, Advanced File Manager for free. If you do take advantage of this offer, remember to rate Folders Pro in the Windows Phone Store. Rating an app or game is the easiest way to give the developer feedback on their Windows Phone titles.
Please Note: The myAppFree deal is already reflected in Windows Phone Store listing for Folders Pro. It may take a little while longer before the deal is reflected in the myAppFree Windows Phone app.
myAppFree
Windows Central is proud to be partnering up with myAppFree to bring you savings on Windows Phone apps and games. myAppFree is a free Windows Phone app and service that highlights special deals for software on the Windows Phone Store. Make sure you download their app to keep track of all the specials they run weekly, as you'll never know what you may find.
Windows Central will continue to highlight select apps and games, such as Folders Pro, from myAppFree on a weekly basis as a benefit to the Windows Central community.
Windows Central Newsletter
Get the best of Windows Central in in your inbox, every day!
George is the Reviews Editor at Windows Central, concentrating on Windows 10 PC and Mobile apps. He's been a supporter of the platform since the days of Windows CE and uses his current Windows 10 Mobile phone daily to keep up with life and enjoy a game during down time.
It is free.. Just downloaded on my 730.

Ya free only .it is great file manager.recommend to fellow wp users.

Thanks now its showing free!

Change ur region to US and download it after that change ur region back to India

No need to change the region. It fixed itself after a while.I think it was a technical problem from there side

off topic Guys what do you think about this.
http://wmpoweruser.com/gartner-predicts-windows-will-outgrow-ios-but-tha...

I agree actually unless Google does something stupid sadly :(

Hey prasath have you heard of a 'forum'? Its designed to prevent comment hijacking which is what you're doing.

Why are you asking here? It is a news article, and you are doing off-topic.

Can anyone help me?
I've problem while opening sd card or so. Like, in feem app, when I try to set the downloads folder, den it takes me to select a folder for that app, but what happens is that the screen goes black and it reverts me bck to the main app screen. Also happens with cc player, any other file managers or any other archivers. please help by replying. Thanks.

User the official Microsoft app 'files'. It worked for me. :)

The stock video folder won't show any of my own videos taken with my phone. Same goes with WhatsApp (sent/received). Why not? The stock "files" app doesn't either... That's not really helpful.

It's in: \pictures\camera roll

Uhh, I know where they are, thanks. Still, why are they not listed under videos? That's been annoying me ever since but I seem to be the only one...

Because the videos folder is for movies and TV shows and stuff

Try saving WhatsApp video in video folder in SD card.For me no problem with stock video player.

I have a Lumia 920. So no SD card...

I'm gonna get it because of the hidden folders thing, really would like to have that.

Yup I saw the post on Facebook earlier and downloaded already:D

Nice app very useful thanx :)

Great app!
عارف جان دمت گرم! پرچم ایران رو بالا بردی.

I wrote this for the developer of this app. I appreciated him.

Off topic this news throw light upon how developers suffer because of pirate apps
https://disqus.com/home/discussion/wmpoweruser/ustwogames_says_95_of_the...
See this guys

Off topic but piracy is the primary reason android is flourishing. You don't have to pay for a single launcher, game, live wallpaper, application on that platform if you don't want to. A google search will put you right on any app you want. But it also says that android programmers probably don't care about things like piracy since the only platform many of them build for is android. In short, cry me a river.

You can install pirated apps on both iOS and android, but not on WP. Once WP10 comes out, watch out. I bet it would give both platforms a run for their money

Pirated apps are also possible on WP.

No one says it can't happen. Which is what you're saying. I'm saying google android is the most pirated platform in mobile. THE MOST PIRATED platform.

I've tried to sideload pirated WP apps. They were always denied through the deployment tool

If google ever wanted to cut piracy, remove the option to sideload but they won't. It would normalize competition with Windows Phone and IOS. They are just as culpable with software piracy as those that pirate software.


Just because you gonna say "off topic" doesn't mean you can continue posting off topic things here and expect for us to be cool with that. Someone above already told you there is forum for that. Stop posting comments not related to the article by saying "off topic", sorry but it's annoying, thank you :-)

Deal not available here yet...

Got it on my 1520 now. (I can't believe I am no longer saying my 920). :)

Got it on my 1520 now. (I can't believe I am no longer saying my 920). :)

is it better than pocket file manager?

mm i tried it out, but uninstalled. pocket seems to have more features (like id3 tag editing and what not). pocked looks ugly though, they atleast could bring the interface at par.

Got it for free. Quite good for a file manager.

i got it for free on my L1020... I am from India

Nice but Pocket Explorer is still tops for me.

There's a problem in this appfree deal. It seems like its not free for all. I have seen people posting about not able to install the app freely (require purchase) .I myself is facing the problem. Windows Central can you report the issue, so e could also take a look on the app.

It should be free for all. Can you please tell me what is region and language of your phone?

Thanks for your response. But now the app has become free for me. Don't know why their was a delay for it . I hope others who had the same issue had re checked the app in the store.

Windows Store is getting some bad troubles in these days.

It is not free for my 1520

Check on the store again. It should be free by now. I had same issue but now solved.

Is there any WP files app that allows full root access?

Costs ₹80 here in India for my Lumia 630

It's free for India/English Can you please check your region and language?

Thnks for tip
Got it free...

If can unzip files with password, this gonna be very useful for me

Off topic: But what happened to the denim update ?

Is it better than Microsoft's Files ?

I don't think so. It take a lot of time to hide any file since it encrypts the data first and there is no option for hiding alone without encryption . Therefor, I wouldn't recommend this app for hiding any thing. Files and advanced file manager are almost same with different UI and with an additional terrible file hiding mechanism.it took 15 min for me to hide 4mb file (It does depend on your Handset due to difference in processing.)

It has nice UI. I think it is better than files(App opening is lightly slow)

Thanks Massimo for your efforts ;)

I think I'll just stick with the official Files app, but thanks.

Dunno how to move file to a secured folder...keeps asking me to create new folder

Create a new folder, go to the file you want to move from there select move and come back to me secure folder and complete the move operation!!

sadly,you cant acces hd photos on 1020,i can see just 5mp ones

At last got a way to secure video files!!!

Region locked for PL,so I need to pass this one...

Well it isn't showing free for me as well.. :\

I think there is something wrong with myappfree app..this is happening for the second time that it isn't showing free of cost :|

AH, another free app I might need at some point, Download to my phone and uninstall, so if I ever need it, it's in my account and mine forever... Love free apps :)
Windows Central Newsletter
Thank you for signing up to Windows Central. You will receive a verification email shortly.
There was a problem. Please refresh the page and try again.