Forthcoming Surface Pro 3 patch prevents accidental wake up from sleep, improves Wi-Fi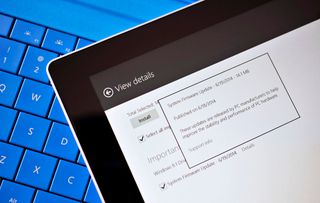 Microsoft is set to publish a new update for the Surface Pro 3 that will address some lingering issues with the hybrid device and make it less likely to wake up accidentally while being carried or stowed.
In a blog post on TechNet, Microsoft's J.C. Hornbeck details the upcoming update. Previously, Microsoft would announce the changes after the update has gone live, usually Tuesdays every few weeks. This change is in response to organizations who deploy fleets of Surfaces and where the IT team would like to know before the updates get pushed to their employees.
The changelog for the Surface Pro 3 update is significant, with more effort on Wi-Fi and a few other usage scenarios that could result in the device turning on.
Surface Pro UEFI update (v3.11.350.0)
Resolves scenarios where the device will boot to a black screen if McAfee Defense Encryption 7.1.1 is installed.
Optimizes the FWPOST time to 3.7 seconds with the fast boot enabled.
Prevents situations where system clock loses time when battery falls below 3%.
Surface Home Button driver update (v2.0.1174.0)
Along with the pen update below, this helps prevent scenarios where device may accidentally wake up from sleep while being stored or carried.
Surface Pen Settings driver update (v2.5.14.0)
Along with the home button driver update above, this helps to prevent scenarios where the device may accidentally wake up from sleep while being stored or carried.
Wireless Network Controller and Bluetooth driver update (v15.68.3066.135)
Enables better throughput after waking from sleep and connecting to an 802.11AC network.
Ensures Infra scan list is not empty while connected to a wireless display adapter.
Resolves an issue connecting to Cisco 1242 access points.
Ensures device reconnects properly to a hidden SSID using a 5Ghz DFS channel after waking from sleep.
Adds customer-requested functionality to prefer 5Ghz connections when both a 2.4ghz and 5ghz connection are present with the same SSID.
As usual, those finicky 5 GHz Wi-Fi channels are still causing some issues for some users. The other fixes, including an optimized FWPOST time, should continue to refine the Surface Pro 3 for many users.
No exact time was given for the update, but since it is Monday, there is a likely chance that the update will go out tomorrow afternoon. We will, of course, let you know when that happens. The last firmware update for the Surface Pro 3 occurred nearly three weeks ago on October 28.
From your experience, has Microsoft successfully improved the Surface Pro 3 since its release or is it still not enough?
Source: Blog Technet (opens in new tab); Thanks, John H., for the tip!
Get the Windows Central Newsletter
All the latest news, reviews, and guides for Windows and Xbox diehards.
Daniel Rubino is the Editor-in-chief of Windows Central, head reviewer, podcast co-host, and analyst. He has been covering Microsoft since 2007 when this site was called WMExperts (and later Windows Phone Central). His interests include Windows, laptops, next-gen computing, and for some reason, watches. Before all this tech stuff, he worked on a Ph.D. in linguistics, watched people sleep (for medical purposes!), and ran the projectors at movie theaters because it was fun.
Never has their been a device with more wifi issues than the Surface Pro 3. An awesome device in every other way. I have come to live with its crazy Wi-Fi performance. I hope this latest patch finally fixed the bugs

Let me introduce you to a Sony Vaio....

Really? This sounds like an epidemic. Funny how I don't have any issues with my other Windows 8.1 hardware, Just the surface

Even Apple's laptops have had Wi-Fi issues, it's just the nature of the business and a half dozen standards/variations. Toss in interference due to all of the networks and it gets messy.

No less than 10 devices in my household in a rural setting with only 2 other wifi networks within range of me and the only device with an issue is the surface pro 3. Mac, Windows, Android, doesn't matter. The ONLY issue is with the Surface Pro 3. Sorry, but the issue has nothing to do with standards or operating systems in my situation. Even my Surface RT works better.

Yes same here. After wake up I have to wait about a minute before I can get a connection.

It is usually a combination of hardware, firmware and drivers for the OS and obviously your router/AP and as people said before it happens to all manufacturers... some more than others.

My son's IMac pro is always dropping it connection, Must be the side of the world you guys live on. On the other hand my wives SP3 has been rock solid unlike my first gen Surface RT.

It may be I am lucky with hardware compatibility but I can say after uses since launch I have not had a single wifi related issue.

I havent had a single issue with WIFI on my SP3.

My Surface RT got about 20 updates for Wi-Fi before it stabilized. I'm amazed they did learn from that.

Haaaaaave you used an iPad? They are notorious for WiFi issues after updates. Also, SP3 is quirky/annoying not flat out unusable.

Yes, as a matter of fact, I haaaaaave. I'm hoilding one right now. It works fine. The issue with Surface Pro 3 is when the device goes into sleep mode then you wake it up. Even if its for a second, you will lose wifi connectivity and most times have to reboot the device to establish a connection again. Like I said, I've learned to live with it but if I was the only one experiencing this problem Microsoft wouldn't have multiple patch updates trying to address the issue. Obviously its an issue. Thank God Microsoft chooses to address their problems instead of getting defensive and saying "Other devices do it to" when it fact most don't.

I haven't experienced wifi issues with my sp3. It runs rings around my wife's Lenovo Yoga Pro 2. That device loses connection all the time.

And just to illustrate that everything is relative, my Yoga 2 Pro has never had a WiFi issue from day 1 and I bought mine when they first released even.

Dude... The new iPad (3rd Gen/first with Retina), the iPad Mini (original), several Macbook models, TONS of Macs are having Wifi troubles after installing Yosemite, lots of iOS devices lots Wifi completely during an iOS 7 update (could only be fixed with hard reset), all kinds of Windows manufacturers, etc. I don't know why, but WiFi seems like something that's really difficult for manufactures to get right. (I only focus on Apple because those are the ones I know most about, because people flip out the most when "perfect" Apple has WiFi issues, so they get the most coverage). And for what it's worth: I've yet to have a single WiFi issue with my Surface Pro 3.

Likewise... the only problem I have is that I always must type password after sleep, even if everything is set not to require wake-up password. This seems to be Win 10 related and not just on Surface...

oddly i have never and i litterally mean never had any wifi issues with my surface, the only ive had is some random rampant processes going off the reels and taking like 80% of the cpu when it should be idle, and also definately some thermal throttling while programming or playing games.

I've personally not had any issues at all with my SP3 so far, certainly no weird WiFi activity. For point of reference, I have the i5 128GB version.

"Adds customer-requested functionality to prefer 5Ghz connections when both a 2.4ghz and 5ghz connection are present with the same SSID." YESSSSSSSS!!!!!!!!!!

Yeah I was pleased when I saw this. Disappointed that my Xbox 360 needs an additional antenna to do this. I'm still mulling over the ROI of buying one used or whether I should just leave on 2.4Ghz..

The accidental wakeup fix is good. I find that happens to me from time to time. I open the cover only to see it already on.

Yes, and the surface is burning hot if its in a sleeve. I really hope this is the patch to fix all sleep and Wi-Fi issues

Ya, I can see huge problems if you put it in the sleeve. I haven't done so, so I've never had any huge problems. And the surface should still put itself back to sleep automatically after a few mins.

Never had any problems with the Wi-Fi connection.

Oh, magic conch, will Microsoft ever fix the wifi issue with the Surface line?
...
...
...
Maybe someday

I travel a ton with my SP3, using lots of Wifi networks along the way, and to chime in, yes, I do have Wifi issues with some frequency. Here's hoping Microsoft fixes most of the Wifi issues and uses more reliable wifi hardware in the future.

I have to say my SP3 Wi-Fi issues have been pretty much resolved after the last firmware updates last month. Either way, keep on improving my favorite portable computer. Posted via the Windows Central App for Android

Hopefully they will fix the issue with Hyper-V and WiFi at some stage. After installing Visual Studio, WiFi always drops out after power resume. Disabling Hyper-V solves that issue, but then you can't run any emulators while developing.

I'm hoping 10 solves these issues. It'd be great if they fixed them in 8.1, but I doubt it. HyperV and connected standby don't mix.

I'd be happy if I could switch Hyper-V on/off without a reboot. Then I could start it before I launch VS and turn it off afterwards. Crossing fingers.

Let me use my wifi card on hyper-V properly!!! So unreliable.


As long as I remember to go into network connections, disable and enable the wifi adapter each and every time it wakes up, I have no issues! No idea why people are complaining. /s

If that worked everytime it would be an improvement but folks like me have to keep rebooting and that's a bit annoying. Since when has it become acceptable to ask customers to disable/enable their wireless adapter every time a device goes to sleep and wakes up? Microsoft doesn't think that's acceptable which is why they keep trying to address the issue that's been going on since July. I love my Surface Pro 3 and because I took the time to report the WiFi issue, along with many others, they are able to find and address the issues. That's not complaining, that's supporting a platform I love and want to see improve; to be the best in the world.

Just give me a firmware update so I can disable connected standby and restore the old style sleep so I can use Hyper V. Or make Hyper V work with connected standby. I have a couple of VM I use to test various scenarios under and the current state is very akward.

Mine wakes up when I rotate it. Very annoying.

Hey Cortana, who will win... Surface Pro 3 vs. Wi-Fi

One is a protocol, another is a full blown tablet PC!

I hope they have fixed the WiFi issues with routers which are running DD-WRT OS! Now, the max, throughput is about 3.8Mbits of 450Mbits

They keep "fixing" WiFi yet WiFi keeps giving problems...I start to suspect these "fixes" don't actually exist.

They are fixing specific issues not claiming to fix all at once.

I was going to say that this is funny, not in a good way, how every firmware for SP3 "improves WiFi", but then I read some of the comments, and realize it really is the nature of the beast. I have terrible WiFi stability on my iPad. I have a Lenovo 8" terrible WiFi behavior, etc...and actually I have almost no issues with my SP3. So I guess I'm glad they keep working on improving it, and glad I'm not having issues.

Man they really screwed up with that Marvell wifi chip. Hoping THIS update will fix it...but I have a feeling the hardware just really sucks.

My surface pro 3 tells me plugged in, but not charging after 85% ... I'm hoping this update fixes that. Anyone having this issue?

I have no issues with my sp3. Only thing I wish for is that all the MS apps would load faster. It is faster to go to the marketplace via IE than using the App.

I must be one of the few people with no issues on my SP3

no issues here. had early wifi issue...uninstalled hyper-v....never a problem since. best computer i ever owned

Upgraded my wireless router to a better unit. I paid $50 for my old one and my wife and kids ipads keep failing. I always connected via wire. Paid over $200 for my new one and all is well. So could the problem be with cheap wifi routers?

Never had wifi issues. Lucky I guess. SP3 is the best machine I've ever owned by a long way. I wouldn't trade it for anything. I retired my iPad and my desktop after getting this and the docking station of course.

Now if only they would release a patch to help ME wake up.

I live in Malaysia and don't have any issues with WiFi. So I guess I'm one of the lucky ones.

I'd like to see them fix my dock issue. Getting it to recognize my external monitors is hit and miss.

I have the Surface 3 and I've had to buy a WiFi range increasing dongle just to get the WiFi that sits on my kitchen bench approximately 5 metres away to work, not a problem I ever had with my RT. Hopefully this new update will fix things.