Forza Motorsport 6: Apex beta known launch issues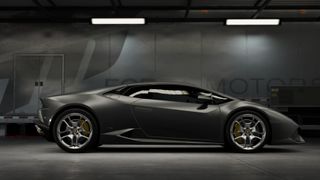 Microsoft has just launched the first beta of Forza Motorsport 6: Apex into the Windows Store, and there are some known issues with it. Some we've experienced ourselves during initial testing, some will only hit a very small group of gamers.
In any case, Turn 10 has been incredibly forthright with what's currently an issue that they're aware of. The following list has been provided by the developers for the launch of the game.
Check it out in full below.
Swipe to scroll horizontally
| Category | Specification |
| --- | --- |
| Some graphics cards may be blocked by driver version | Some graphics cards may not have supported drivers released that meet the game's minimum driver version. If you have the latest driver version available from your graphics card manufacturer but are still blocked from launching the game with an "AP301" error, you can attempt to bypass this block by holding "Page Up" while selecting the Quit button. Be advised that bypassing this pop-up may result in game instability and / or poor performance. |
| Crashes can occur when maximizing settings on low end machines | Players can manually customize visual settings above the capacity of their available hardware in some scenarios. This can cause poor performance and instability when settings exceed the available video and system memory. |
| Crashes can occur after repeated races on low memory machines | Some machines at the minimum memory specification (2 GB of video memory + 8 GB of system memory) may encounter a crash loading into events. This most often occurs after 5 to 7 consecutive races. |
| Cars unlocked on car select don't refresh. | When unlocking a car from the car select screen, either via Forza HUB unlock or paid early unlock, the player must leave and re-enter the car select screen to see the car properly unlock. |
| Multi-GPU scenarios are not supported | The title does not support multi-GPU scenarios, such as multiple physical graphics cards or cards with multiple integrated GPUs. In these scenarios only one of the available GPUs will be leveraged by the title. |
| Low Memory warnings can occur with default settings | In some hardware scenarios near / at minimum requirements, players may experience low memory warnings with default settings. |
| V-Sync cannot be disabled | There is currently no option to disable V-sync, which would allow tearing and smoother framerates on some systems. This feature is targeted for an update soon after launch. |
| Hybrid GPU laptops may experience tearing | Laptops equipped with both an integrated GPU and a dedicated GPU may experience significant screen tearing / corruption when playing the game in full screen. |
| Unable to disable anisotropic filtering | The Anisotropic filtering option currently has no "off" setting. |
| Unable to manually disable MSAA | The MSAA custom setting currently has a lower limit of 2x, with no option to disable anti-aliasing. Anti-aliasing is disabled by default as part of the "Low" dynamic quality setting. |
| Dynamic render quality may be set incorrectly | Some machines may be placed in a dynamic render quality setting that isn't optimal for their system capabilities. These settings will be profiled and optimized throughout the beta period. |
| Fury X + 16 GB machines unable to select "Ultra" | Machines equipped with an AMD Fury X that also have 16 GB of system memory will be unable to select "Ultra" dynamic render quality with 4K resolution. To work around this issue: 1) Ensure the system display resolution is set to 4K (3840 x 2160 - requires 4k monitor / display adapter) 2) Launch the game and go to fullscreen model (Alt-Enter) 3) Go to Options->Video 4) Set "Dynamic Render Quality" to "Ultra" 5) Set "Force Resolution" to "Off" |
| Some performance dips may occur | In some race / track scenarios players may encounter momentary dips in performance below our target framerate goals for default settings. Game optimization will be ongoing throughout the beta period. |
| All in-app purchases will be charged to the user signed into the Windows Store. | If the user signed into the windows store is not the same as the user signed into the Xbox App/Apex, the user's in-game purchases will be charged to the user signed into the MS store. |
| Racing wheels are not supported | Race wheels are not currently supported in Forza Motorsport 6: Apex. Adding wheel support will be a focus of the development team during the beta period. |
| Some controllers may not function as intended | Some third party game controllers may not have full functionality in Forza Motorsport 6: Apex. Recommended controllers include the Xbox One Controller and Xbox 360 Controller. |
| Multi-monitor scenarios are not supported | Forza Motorsport 6: Apex currently only supports full screen in single screen scenarios at 16:9 and 16:10 aspect ratios. |
| Car Bowling pins don't count after rewind. | In the Raptor Bowling event, any pins knocked over and subsequently reset by use of rewind will no longer count towards a player's bowling score if knocked over again. |
| Drivatar Badges flicker during race | During some tracks / races, Drivatar names and badges will flicker in and out of view. |
| Intro video audio is out of sync | The audio that introduces the Ford GT on Rio is out of sync with the video it accompanies by up to a few seconds. |
| Some badges may appear locked after unlocking | After unlocking during post-race, some badges may appear locked when the user returns to the Badges Menu. |
| Plane disappears on Rio | At times the plane on the Rio track will disappear for a short period of time. |
| Saved photos cannot be shared | There is currently no way to share a photo once it has been saved. Photos can only be shared by selecting "Save and share" when they are first captured. |
| Restarting races can cause the track to disappear | When restarting races in some select locations, the track can fail to stream / load. Exiting and re-launching the race should resolve the issue. |
| Closed Spotlight events still retain "New" tag | When Spotlight events close that the player has never played, they retain the "New" tag and are counted in the available medals total for the Spotlight Series. |
Windows Central Newsletter
Get the best of Windows Central in in your inbox, every day!
Managing Editor - Tech, Reviews
Richard Devine is a Managing Editor at Windows Central with over a decade of experience. A former Project Manager and long-term tech addict, he joined Mobile Nations in 2011 and has been found on Android Central and iMore as well as Windows Central. Currently, you'll find him steering the site's coverage of all manner of PC hardware and reviews. Find him on Mastodon at mstdn.social/@richdevine
Good lord. I'll still give it a shot after work. It's free so no biggie

Don't forget, not all of the people will hit all of the things. And some of those aren't bugs, they're just things that aren't included.

That is how i feel too, I think it will run fine on my 980ti anyway. looking forward to giving it a go.

I haven't noticed any issues yet other than having to update my driver (GTX 970)

Hopefully these are fixed before launch. Not holding my breath for the UWP specific issues though. Quantum Break still seems like a mess on PC performance wise, can't even get a consistent framerate with a 980Ti.

Apex is a rolling project. Expecting several updates but for the most part it's been pretty smooth for me. But with some of it, Microsoft needs to get a hurry up.

So there's no 'official' release date? Makes sense. Gives them time to iron out these issues without giving the expectation that it's fully polished release. I have Forza 6 for Xbox, but I'll give this a shot.

I think today is the official launch. No word on if or when the beta tag will go away. The next full Forza is supposed to launch on PC, though.

I think that the word "beta" has become meaningless now. I can't think of any recent software that didn't have issues at launch. So, "release" is the new "beta".

"Race wheels are not currently supported in Forza Motorsport 6: Apex." Well, time to cancel the download. That and not being able to selectively choose where the installation location is, for just this one Store download, are dealbreakers.

Yeah, they need to allow us to choose the install location for UWP apps, especially games. I don't have much space left on my primary SSD, all of my games are installed on different drives.

Turns out you can move apps from the Store. Settings > System > Apps & Features > find the app you want to move > Move

Go to Settings > System > Storage and set where "New apps will save to"

But that affects where future apps are installed. Bettter to just move them.

Depends on your scenario, if like @Darkness690 and your primary SSD is low on space then you'll want to set this rather than keeping moving each individual one when you install something new

Definitely depends on the scenario. I only use small Store apps. I'd have plenty of space if it wasn't for Forza. Just glad you can move them.

That just changes the default install location going forward? Good to know. That's better than nothing, but I still wish you could choose the location directly from the store where you download the app. A minor annoyance, but I'll deal with it.

Speaking of that 1st time the other day ive seen a xb1 supported Logi

A pain to not be able to choose, but I just download it and move it on some systems. On my desktop it just goes to my HDD by default, but I can move certain apps to SSD if I want to. I do need to buy a second SSD at some point, my System Drive isn't really large enough

"Race wheels are not currently supported in Forza Motorsport 6: Apex." Well, time to cancel the download. That and not being able to selectively choose where the installation location is, for just this one Store download, are dealbreakers.

Set where the installation drive is in Settings > System > Storage

But that affects future apps, too. It turns out you can move apps after they're downloaded.

Sure but who wants to move a 2
30+gb game

Who wouldn't? A few clicks and it's moved, freeing up space for a device that wants it.

It lasted just a couple minutes for me to move it from my (now-not-so) virgin SSD into my other drive. Should not be a problem for anyone. By the way.... played my first race already... even if I had been unable to move it, I would have kept it in my SSD. So goddamn worth!!

Download is super slow from the store

I bypassed the AP301 error, by using page-up and pressing quit.
But further in when it want's me to log into Xbox live i got a new message that my computer does not meet minimum requirements.
I get that it's a bug, but it feels like an insult, I have a gtx970 so im pretty sure it meets the minimum requirements. :(

the game does not proceed from the start screen.its tells to press enter but nothing happens.what to do please help

stuck with that issue too...damnit :D

Samething is happening to me. The load icon quickly flashes and disappears. I've even let it sit there for a few minutes but nothing ever happened. Sad, so many problems. You'd think they would have a grasp on this kind of thing.

Would be nice to have PS4 controller support. Not working now.

2 Logitech and one Saitek controllers... none is working

Known Issue: Not available on Windows 10 Mobile. Posted with Windows Central for Windows 10

Not really an issue. You think a console class AAA title is going to run on a phone?

I want forza 6 on my 512MB phone (sarcasm alert)

Well.. typical microsoft thing... and it not the first time microsoft think that we speak Dutch in Denmark...
​The system menu in apex is by default Dutch if your machine is setup ad Danish.
​Well we do reinventet the windturbine that better that Siemens windturbines and we dont walk arrond i woodenblock shooes, ​We are descendant from Vikings and not Gardengnomes. But we're talking certainly not Dutch

my pc i7 3770 8 ram hd7870 sapphire 2gb and have problems game says that gpu driver is not okay. I reinstall the driver same ****. try with pageup and quit work but after 10 min of playing says gpu driver has stopped.

I had to do the Page Up override on my R9 390X. It ran great even after I bumped up the settings to 1080. The only time I had any trouble at all was in advancing to the next track. The screen would go white for a few seconds and then return me to the Start Screen. After restarting the game, it ran fine until the next track. The download took forever but I figured it was because everyone else was doing it too. Overall, a very enjoyable experience.

Good game.But i will start playing it when the wheel suport comes out.Make it fast please :D.btw verry good looking even on low on my gt740,and i think the game already destroys other pc simulators ,but yeah bugs are here for the moment.

The bad driver issue can be fixed with beta driver updating. Before it was stuttering, but on the newest AMD beta it's running just fine on my 260x

I wonder what the reason is for not being able to turn V-Sync off. It's not down to UWP AFAICT, so maybe something specific to the game/engine

Already having a problem just trying to even play. First tour for sebring national raceway pony race wont even load, loading whirlybob just sits there won't spin and annoying music... Horrible so far game won't even play

That is odd, what specs are you running? I have had one crash on the 5th race so far. The computer reset itself halfway through a race which was annoying. Also getting weird framerate issues on 980ti on just this track regardless of whether there is alot of detail or not. Maybe it's just a buggy track.

I had this exact issue with Pony race not loading. I have two GTX980 in SLI. Just saw in the issues list above that Apex doesn't work with multiple Graphics cards so I disabled SLI in nVidia control panel. Presto, Pony race loaded fine and I got first place my first try. So if you have multiple nVidia in SLI maybe this Could help...

Started playing today, I have a lot of screen tearing and flickering. I'm using a gaming laptop (Lenovo Y50: Intel Core i7-4710HQ, 8GB DDR3, GTX 860M 4GB). Hope this issue will be fixed soon. Tried a clean install of the latest driver, no improvement whatsoever.

Im running Windows 10 LTSR - long term service release but when I try to download the game through the store I am just directed to a completely different version of Windows 10 to 'upgrade' to. Any suggestions?

Anyone knows how to change the language? Frakking console ports not allowing you to change basic stuff like this, sigh.

You have to add English to your languages and move it to top. It's stupid, if it doesn't support my native language, then install it in english not where my location is.

I can not understand, I have a radeon r9 270x 4GB.
With older drivers the game works well enough, when I try to update new drivers Crimson Edition 16.5.3 the game does not work anymore, crashes on boot
Someone else encountered this problem?

when I try to download Forza 6 Apex, I get :- You need to upgrade Wondows 10. I have Windows 10- 64, the current issue, tried to upgrade but there is no upgrade :- HELP Please

manually install the November update from Microsoft

its says doesn't work on this device even thought my pc's spec is better than the recommended system requirement for 1080p60fps

i just tried to download it from store and i cant download it
says "doesn't work on this device" but how my pc is new.
my specs
*intel 6500 i5 3.2
*16 gb ram
*Nvidia GTX1070

I know this sounds stupid, but do you have a usb game controler plugged in? It doesn't have to be an xbox controller. Weird thing is that you can only use xbox controller to play game even though you don't need one to download the game.
Windows Central Newsletter
Thank you for signing up to Windows Central. You will receive a verification email shortly.
There was a problem. Please refresh the page and try again.