FOX NOW, HERE Explore, SophieLens HD and more are your app highlights of the week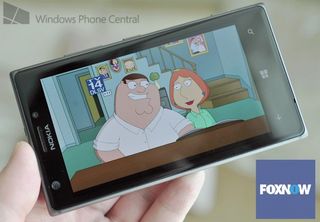 Every week we strive to bring you the latest when it comes to new apps and app updates in the Windows Phone Store. But no matter how hard you try, you might miss out on some cool apps. A lot can happen in a week, so we're going to start taking Saturdays to sit back, relax, and go over some of the highlights when it comes to the weekly changes in the Windows Phone Store.
We're going to highlight noteworthy apps that are either new or received a new update during the week. We'll work on tweaking this column based on your feedback. Either way, let's look at this past week in apps.
New apps
FOX NOW – Fox has finally produced an app for Windows Phone that gives you access to their television shows. If you're an AT&T U-Verse, Mediacom, or Verizon FIOS customer you'll get access to full episodes of episodes like Family Guy, The Simpsons, Bob's Burgers, American Idol, and more by using FOX NOW. If you're not a customer of those services, you'll get clips of those shows. The app is free in the Windows Phone Store.
LockMapper –Here's a fun app that's just hit the Store. Unfortunately, it's only available in India at the moment, but worth highlighting. LockMapper is an app that sets a map as your lockscreen. You have a huge amount of control over what the lockscreen actually looks like. Again, if you're in India go check it out in the Windows Phone Store.
HERE Explore –Nokia had a busy week, between launching some new handsets and announcing new apps, they had time to produce a new app you can download immediately for Windows Phone. HERE Explore is the latest way for you to find the nearest restaurants, attractions, and more around you. It's free and currently in the Windows Phone Store for Nokia handsets.
Updated apps
TuneIn Radio – As if you needed another music service, in comes TuneIn Radio with another update to bring you back. But why did you ever leave? TuneIn Radio is different than other music apps by focusing on connecting you to local stations around the world. The new update brings a fresh paint of coat to the app. It's free and worth downloading to get your favorite stations no matter where you are. Grab it in the Windows Phone Store.
6tag –Instagram may have officially been announced this week at Nokia World, but it came without a launch date for Windows Phone. Until then, 6tag is your best bet for Instagram on Windows Phone. The latest update isn't bug, but does make it the first app on Windows Phone to come with custom tones for Toast Notifications. Grab it from the Windows Phone Store.
Nokia Camera – Does this count as a new app? I'm going to go with no, feel free to argue all you want in the comments. But you can think of Nokia Camera as the combination of Nokia Pro Cam and Smart Cam, because that's exactly what it is. Nokia Camera combines those two apps into one clean interface. It's fast and works well. You'll need a Lumia 92x or higher device to get it now. Otherwise it will come to all Lumias with the Lumia Black update. Grab it in the Windows Phone Store.
HERE Maps – Busy week for Nokia right? HERE Maps picks up a new logo, the ability to save and group favorite places, and access those groupings across the HERE network. Grab it in the Windows Phone Store.
HERE Transit –Nokia again? Yup. HERE Transit picks up a new logo and much more. You're also getting things like custom walking speeds, preferred walking distance, and more. You can view your favorites in one tap, turn-by-turn walking directions, and more. Grab that in the Windows Phone Store.
SophieLens HD– Fun fact, we updated this app while in Abu Dhabi and could not stop playing with all the filters. Normally you need to pay for these, but they're free until November 22nd. That alone is worth downloading this app and playing with it. It's a fun camera app with unique filters you won't find elsewhere. It's also snappy. Grab the app in the Windows Phone Store.
Betas
Weave – One of our favorite news apps on Windows Phone is getting ready to launch their next version. Weave has been on Windows Phone for a very long time and many of you love it. It recently launched on Windows 8. This beta version will give you a preview of how their new syncing service (powered by Azure) keeps your content in sync between Windows 8 and Windows Phone. Want to join the beta? Read our post for more details.
And there you have it. A big overview of this past week in apps. Again, this column is for you guys and gals, so leave feedback to help us shape it to be useful for you.
Bonus. Follow us on Nokia's App Social and you'll see these lists before others. Search for wpcentral on there.
Get the Windows Central Newsletter
All the latest news, reviews, and guides for Windows and Xbox diehards.