2013 Unity3D game winner Freddy now available for Windows Phone 8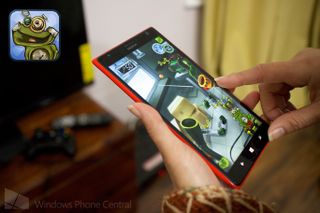 Recently winning the $30,000 First Prize from the 2013 Unity3D game contest in the Windows Store category, Freddy from MobiTouch is now available for Windows Phone 8. Freddy is a physics-based arcade game with great graphics and fun gameplay.
Head past the break to watch our gameplay footage with the Nokia Lumia 1520.
The goal is to keep the poisonous balls from falling down to the frog named Freddy. He likes to eat them and gets sick when he eats too much. To keep the balls from reaching Freddy, you have to make sure they drop into the flasks or tubes. Draw lines on the screen to make the balls bounce or roll towards the flasks.
There are things you can let Freddy have, like clocks to increase time. There also bonuses for hitting other items like flying nuts or windows. You get more points for matching the color of the balls with the flasks.
The first few levels are easy, but it becomes more difficult right away. Flasks start moving around and balls drop faster. Fortunately, the upper right corner lets you know what's about to drop down. You have to be on your toes, because you're calculating a lot of things at the same time. You're trying to figure out the perfect angles for your lines while trying to match colors, too.
The initial release for Freddy is labeled as beta in the splash screen. We're a little surprised by that because it doesn't feel like a game in beta. The developers promise to bring a lot more stuff by the end of this month for the full version. According to MobiTouch, you'll get:
much more addictive levels!
great achievements!
daily bonuses!
Christmas bonus pack!
many improvements!
more languages!
and much, much more!
You can download Freddy from the Windows Phone Store for 99 cents. There is also a free trial available. Check it out and let us know what you think in the comments!
Get the Windows Central Newsletter
All the latest news, reviews, and guides for Windows and Xbox diehards.