Free-to-play MOBA game AirMech Arena released for Xbox 360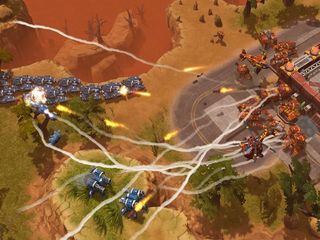 AirMech Arena, a new sci-fi themed free-to-play MOBA game has now made its official public debut on Microsoft's Xbox 360 console, after a week of closed beta testing.
AirMech Arena comes from developer Carbon Games and publisher Ubisoft and was previously released for the PC. Ubisoft says:
While you can play AirMech Arena for free, Ubisoft also offers a Starter pack for the game that costs $9.99 and gives players "Lifetime Silver VIP, unlimited solo rewards and more!" There's also AirMech Arena Prime, which offers access to all the game's AirMech classes, a larger selection of units, and more benefits for $19.99. If you own an Xbox 360, will you be checking AirMech Arena out today?
Source: Xbox.com (opens in new tab)
Windows Central Newsletter
Get the best of Windows Central in your inbox, every day!
Seriously....please...launch it here in India.....ps4 is a hit here...i am sure it can do with some competition...a good one from xbone...and this game looks good...

No one understands Xbox in India. If I talk about Xbox here its question mark to ppl. So if a here person wants to buy a console he thinks only gaming and not a entertainment media hub which Xbox is as a whole. Here no one uses Netflix and obviously accept fact that India 95% pays for tangible products. When it comes to software and services everyone wants free. Even less ppl here pay for original pc games from the original shop. All use torrent download games few movies. So they should sell limited Xbox consoles here

I really don't know this much Xbox lovers exists in India.....

Well MSFT will have to start somewhere..just like Sony did ...i still remember those games on ps1 ...spiderman, Jurassic park, fifa harry potter and the sorcerer's stone...medal of honour...oh those days....

Yes. Been bored with my game selection lately, especially since beating LR: FFXIII

Paying for any content in the game does not make it free then

Its a free-but game (free, but you have to pay).

Free to play is a business model. I don't know about this game in particular, but MOBAs are usually quite fairly monetized compared to other free to play genres. The purchases tend to be cosmetic, character unlocks, or early unlocks of stuff that everyone would eventually get.

First of all it's a free game and it's not like you Have to pay for stuff it's optional

UNRELATED SIDE NOTE: Video Trimmer from Microsoft Mobile has been updated and now actually works.

Why all the Xbox One/360 articles on WindowsPHONE Central...?

A majority of Windows Phone users have Xbox consoles and it is a Microsoft site per se. I personally like that I can get my Windows Phone news and Xbox news on this great site.

Me too, people need to quit complaining, if its an Xbox article then don't read it

UNRELATED SIDE NOTE #2: Is anyone in the Xbox One preview program that could send me an invite please... GamerTag: ABG ENT

Is there a game like this for windows phone?
Please PM me if so

Heroes of Order & Chaos for Windows Phone and Windows 8 is the same type of game, although it has a fantasy theme instead of sci-fi.

If this were on xb1 I think it'd literally be the only game I played for a couple months

This isn't MOBA. This is RTS, like Halo Wars. Nvm I stand corrected haha

I wish this was on the XBOne. It looks really fun.

MOBA is just not my style

Herzog Zwei! I need this on Xbox One.

That would be awesome. :)