A fresh Xbox One Preview build is bringing fixes for sign-in, start-up and more
A new Xbox One Preview build is on the way to deliver some much-needed fixes.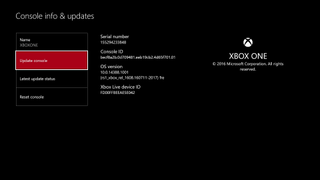 The Xbox One Preview continues to be updated frequently ahead of the public roll-out of Arena, Clubs, Looking For Group, and various other features contained in this update wave. Most of the updates now simply contain fixes, and today's build will polish up the start-up experience, fix issues with signing-in and a bug with the friends list.
You can trigger the update manually via the System settings, otherwise the new build will roll out at 2 PM PDT.
DETAILS
OS version released: rs1_xbox_rel_1610.161026-1900
Available: 2:00PM PDT 10/29 (9:00PM GMT 29/10) FIXES:
Power & Start up
Resolved an issue which could cause system updates to stop at 91%, and the console to boot to a green screen for several minutes after attempting to restart. Sign-in
Fixed an issue which sometimes prevented certain users from signing in with their profile. Friends
Resolved an issue which could sometimes cause online friends to appear under the Offline list in the Guide. KNOWN ISSUES:
Clubs
In order to continue developing new features and fixing issues with Clubs, over the last 24 hours all existing content in Club chat channels was cleared; this includes all conversations and text.
Keep it locked to Windows Central for all the latest Xbox One Preview coverage.
Jez Corden is the Managing Editor for Windows Central, focusing primarily on all things Xbox and gaming. Jez is known for breaking exclusive news and analysis as relates to the Microsoft ecosystem while being powered by caffeine. Follow on Twitter @JezCorden and listen to his Xbox Two podcast, all about, you guessed it, Xbox!
Been 3-4 months and the public is yet to experience any of this.

Yeah, it is taking quite a while, but there are quite a few bugs across the new features tbh, better it gets polished up first.

Well guess I prime myself for a december release then. Holiday update

Yeah, I guess we should really be grateful that we get as many updates on XB1 that we do. I remember the 360 being only twice a year (not quite sure if that is still the plans on this generation).

Last time I said that I wish we would get at least one of the updates I got downvoted. So here is an upvote for you!

If you could send an invatation to the preview program: TheMightyTRex10​ that would be awesome.

I'll see if I can do it later tonight when I get on the Xbox :-)

If you could send me one too that'd be awesome! GT: JoeGould

I want bitstream support nooooow

I wish they had a Slow Ring on Xbox One Preview too, because this current trend of at least two updates per week is starting to become "a little too much"...

Can someone invite me please. Gamertag: Dubsmachine
I was in the original preview but never got this latest set for some reason. Appreciate it.

Do they still have the preview program split into two groups with no way to choose? I got stuck in the "slow" group for some reason, even though I am fairly active, submit feedback, complete surveys/quests, etc. for my Xbox One, Windows 10 desktop, Surface Pro 3, Lumia 950XL, and now my HP Elite X3. If MS's own employees aren't pasionate about the ecosystem and able to test the full breadth of the consumer experience across all devices, they need people like us who continue investing our money and time in the platform to test the latest builds.

You have to send a private messgage to Work Wombat on Reddit. He got me transfered from recieving the 1608 builds to 1610.

Did this roll-out affect the new AirServer app?? It worked like a charm all day yesterday, background music from spotify on my phone, it was honestly awesome. And then, all of a sudden, it stopped working. Paid $17 for the app too! Not too happy at the current moment. Hopefully it gets fixed soon.

Has anybody else been having issues with their Kinect in the last few preview builds? My Xbox doesn't detect it until I unplug it and plug it back in.

Sounds like what happened to my kinect within the past month and it died. I've verified using another xbox. Hopefully it's the fuse but I haven't taken it apart yet to find out.

Well that's disappointing. I wish they'd have kept pushing kinect. It's a great system even if it has room for improvement hardware-wise.

I'm having issues. My Kinect is now off and my Xbox seems to be running better now as a result. It doesn't make any sense. But, my system seemed to come to a crawl whenever i tried switching between different apps/games. Sometimes everything would just crash and take me back to the home screen. On top of that, I would also get random pop ups asking me to finish configuring my Kinect setup, which I've done multiple times. I thought maybe my hard drive was going up, basically that would make sense for all the slow downs I've been experiencing. But to have everything running almost back to normal, after turning off the Kinect, seems to indicate that the system was busy waiting for a response that never came. Are you having similar problems by any chance?

I wonder if they're ever going to fix the external hard drive issue that many people have been experiencing with updates for the past 3 months.

I think I have been recommended twice now for the preview program but still havent received an invitation
Are they full at the minute I wonder not taking anymore people in..
Windows 10 preview seems easy to get I thought this would be the same...
Windows Central Newsletter
Thank you for signing up to Windows Central. You will receive a verification email shortly.
There was a problem. Please refresh the page and try again.