Full House Poker and Hexic Rush receive minor updates, but we cheer them on anyway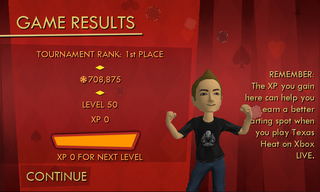 Two Microsoft Game Studios titles recently received software updates – Full House Poker (review) and Hexic Rush (review). We've worked tirelessly from the moment they were updated to find out just what was changed, and it has finally paid off. Don't say we never did anything for you!
The following issues were fixed in the Full House Poker version 1.1 update:
It's great to have both of these issues fixed. However, Our own George Ponder has recently experienced a separate problem with his temporary save game (not the permanent one) disappearing, so we hope to see that tackled in the future.
Hexic Rush version 2.3 update:
What's that, you want more details? It's pretty technical … Microsoft XNA developer Nick Gravelyn's blog (opens in new tab) explains that post NoDo update, Windows Phone applications and games are no longer able to mute or alter the volume of the Zune media player, should audio files be presently active. Not a very exciting title update, but it's nice to see that Microsoft hasn't forgotten about Hexic Rush.
There you have it! You can get Full House Poker here (opens in new tab) and Hexic Rush here (opens in new tab). Both games cost $2.99 and have free trials.
Thanks to WPCentral's Richard Edmonds for help in deciphering the XNA blog post.
Windows Central Newsletter
Get the best of Windows Central in your inbox, every day!
Paul Acevedo is the Games Editor at Windows Central. A lifelong gamer, he has written about videogames for over 15 years and reviewed over 350 games for our site. Follow him on Twitter @PaulRAcevedo. Don't hate. Appreciate!
Kudos for you doing the testing-work to find out the changes!But it amazes me that so many developers do not make this "what is new info" super easily available to the customers.Big companies like HTC are often worst, HTC often just come with some fuzzy comment like "Your camera is wonderful, and this update makes it even more wonderful"...uuuh say what!? :DIn my apps (are a WP7 developer) I always provide a version history with info about what is new. I have taken it one step further and also show info about what I "plan/hope" to bring in the next 2-3 releases.And I make it easily accessible from both the applications "official" web page and from inside the applications itself.For example like this, which is the release plan for Trine's Hangman; http://www.trineseries.com/versionhistory.aspx?aid=HMI think more developers should do the same. When I, a hobby developer can do this...why can't the big companies with full time developers do this? It only takes ONE developer maybe 1-3 days to make a robust and easy system for doing this with zero effort in the future. It took me maybe 2 days of work, and now it takes me literally 2 minutes to publish and updated version history for any of my apps.If I can, they sure can!...sorry the rant here :D

Agreed, the information should always be made available to the public. I do enjoy the opportunity to discover this stuff for our readers though!