Future Factory - a Windows Phone game with plenty of targets to blow up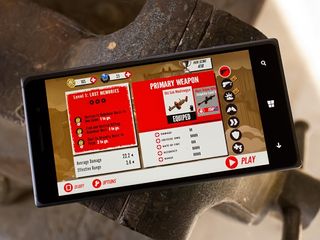 Future Factory is a new Windows Phone game that hit Store shelves last week. This arcade styled shooter provides you with plenty of robot targets to blow up and shoot up.
The story line has you battling your way out of a secret factory where robots rule and humans are not allowed. The game has appealing graphics, challenging game play and plenty of weapons to buy and upgrade.
While the game is not available for low-memory devices (the developers are working on it though), it is another quality product from the AppCampus project and well worth a try.
The main menu for Future Factory covers a lot of options that include:
Jumping into game play
Accessing the game's options (sound/music levels, push notifications and resetting the game)
Store options to upgrade or buy gear
View your level progress
Across the top of the main menu you will find your coin and spiritum counts (in-game currency) that is earned during game play or through in-app purchases. Store options will run down the right side of the main menu and allow you to toggle between weapon, explosives, gadgets, boost and armor purchase opportunities.
I like the condensed feel Future Factory's main menu offers. It reduces the amount of bouncing around you have to do while managing things. The only nit I have with the main menu is that an ad banner pops up periodically at the bottom of the screen. The positioning is not very flattering and you will have to close out the banner to access some game controls.
Game play has a series of objectives to pursue with each level such as picking up a set number of coins, destroy a number of robots, etc. When you tap Play from the main menu, you will be sent directly to the gaming screen where you left game play. Additionally, the factory is divided into sections that will establish your starting point for each gaming session.
The gaming screen will have your health meter, spiritum count, coin count and score running across the top of the screen. A map of the factory area you are currently exploring is also at the top of the screen.
Gaming controls are rather simple with virtual joysticks appearing as you touch the screen. Touching the left side of the screen controls movement and the right side controls your weapons fire. Movement is fluid but weapons aim could use a little fine-tuning. I found myself all too often spraying and praying that I hit my targets.
Movement throughout the factory often triggers barricades that prevent you from retreating and at times will push you into the next area. Crates are present that can be shot to reveal bonus items and the factory is full of robot targets, traps and defensive turrets that will ruin your day.
Periodically, you will also face bosses to battle that are more challenging to dispatch than your average robot. Speaking of which, these robots are no push over. Future Factory really isn't a game where you can go toe-to-toe with your enemies trading shots. It won't take many hits from enemy fire to send your character to his knees, ending the game. The best strategy I have discovered in playing Future Factory is to keep your player moving while firing at your targets. If the robots have any weakness, it is their movements are a little slow and they aren't very quick in adjusting their aim. With tower defenses, it is just a matter of taking a few shots at the target in between the tower cannon's salvo of shots and ducking for cover.
When you find your character go down in flames, you can spend some of the spiritum to revive him. Otherwise, you will be sent back to the starting point of the factory section you are trying to escape from.
Overall Impression
Future Factory made a nice first impression when it first launched and after spending several days with the Windows Phone game, it still comes across as an entertaining title for your gaming library.
Graphics are well done and game play is challenging enough to keep you on your toes. I like the simple layout of the menu and design of the gaming controls. I think the ad banners can be frustrating and wouldn't mind seeing the gaming character shoot with a little more accuracy.
Nonetheless, if you are in the market for an arcade styled shooter Future Factory is worth a try. The game is currently free in the Windows Phone Store (for a limited time) and if you try Future Factory, let us know what you think of the game in the comments below.
Also, please note that the initial launch of the game is a soft launch. That is more features are on the way and fine-tuning is still being done under the hood. We have already seen one update push out to deal with a performance issue and I suspect the developer will remain proactive until everything on the drawing board is complete.
Download Future Factory for Windows Phone (Free)
George is the Reviews Editor at Windows Central, concentrating on Windows 10 PC and Mobile apps. He's been a supporter of the platform since the days of Windows CE and uses his current Windows 10 Mobile phone daily to keep up with life and enjoy a game during down time.
Whiners who whine about 512mb whiners incoming.... Oh it already happened. :P

I'm not whining. I'm saying facts

And I was making a joke. Loosen up jeez.

If I'm not mistaking ,the game is already available for 512mb of ram.
If u go to the store and swipe to the details page you will find under the "what's new in this update" that the developer says its supported for the 512 Mb now!. Confusing.

Damn, looks fun, wish it was 512mb ram supported tho, but ah, well, you can't have everything that you want. Btw, George, typo in third last line : "We('ve or 'we have') already seen one update" Cheers. :)

Street language man.
"we out" etc

Thanks and corrected. It seems as if my life is incompete without at least one typo a week.

And here I thought that "George Ponder" was the name of a news-article-generating robot. The typos either prove that George is human or a very crafty AI!

This is a roguelike, right?

Best thing is, it's coming soon for 512 mb ram devices. Developer Rocks!!

Wow! Hey, that's pretty awesome that they are taking the time to optimize it for 512MB devices. Totally rocks! Once out, I'll have to check it out.

Consumes a lot of battery, heats up phone and is difficult! But makes u cm back for more! Awesome game!

I tried it last week, and my 1520 went really hot after 1-2 min. So it looks ok, but not for me. Uninstalled.

as it is right now, it has great graphics and atmosphere, but is overly difficult and it basically requires you to pay for "spritum" to keep playing call me old-fashioned, but i don't support this "pay-to-keep-playing" crap - with Asphalt 8 being the worst offender the Halo Spartan Assault or Snowboard Party model is much better, IMHO: the upfront cost allowed me to finish the game, some optional purchases just improved the experience

Seconded. I was really enjoying it until I kept dying because it's so damn difficult to control. Even the winged boots with the little boost (which is awesome btw) aren't helping. Those flying robots are a real pain in the ass. And how, I mean how, are you meant to kill things in under 10 seconds like the achievements require? You know, I did it a couple of times but it was blind luck. I think there are critical spots you can aim for with the enemies but as it's been stated: the controls are horrendous. I'm waiting for the next update before I brave it again.

Hi guys, Fun 2 Robots here :). Thank you very much for the feedback. We also feel the game is too hard right now and a lot more "grindy" then we would like it to be. We have big tweaks planned in the next update in regards of difficulty. Stay with us, we believe that with your feedback we can polish the hell out of it :) <3

Agree with you. Been trying for days. Still having hard time playing .

Does this game start from level one each time you play it?

If you never get beyond level one...yeah.

... you made our day... :)

Oh no! No 512mb support? It looks cool, I want to play it.
Windows Central Newsletter
Thank you for signing up to Windows Central. You will receive a verification email shortly.
There was a problem. Please refresh the page and try again.