Gaming on an Ultrabook: here are some games that actually run well
My trusty Acer Aspire S7. An ultrabook that was sometimes deployed as a mobile gaming machine for lightweight titles. Here are a few games I managed to enjoy.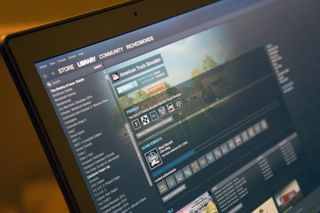 Ultrabooks are designed and built to be lightweight, portable machines for those who seek a capable PC that can be packed away and pulled out when on the move. They're not technically gaming platforms and won't enable you to install Cities Skylines and enjoy maximum quality at 60 frames-per-second (let alone far heavier games). That said, it's possible to enjoy some titles if you keep your expectations in check.
Here are the specifications of the Aspire S7 I own:
Swipe to scroll horizontally
| Category | Specification |
| --- | --- |
| Display | 13.3 inch 1440p touchscreen |
| CPU | Intel Core i5 4200U 1.6GHz |
| HDD | 128GB SSD |
| RAM | 8GB |
Newer ultrabooks (like the Razer Blade Stealth for example) will of course sport more advanced and recent components. You'll get better battery life and increased power for installed titles. However, you'll still be unable to take full advantage of modern games without turning down quality settings — and you'll have to avoid games that require dedicated graphics processing.
My Aspire S7 struggled with many titles, even when turning down the resolution from 1440p to 1080p. (Trying to game at 1440p on an ultrabook, ha!) Even the likes of Terraria had lag and input issues that I struggled to overcome. Taking note of some of the more popular titles that I managed to get running, here are some games that should work acceptably on an ultrabook:
Minecraft

(opens in new tab)

Tomb Raider (the classic trilogy)
You'll note that none of these are particularly heavy games when it comes to graphics.
The main games I enjoyed at Insomnia 59 were League of Legends and Rocket League, at least before the poor laptop neared the end of its life. Everything was absolutely fine until the second day in when the entire PC encountered a BSOD and then a missing system disk error upon reboot (and subsequent boots thereafter). While it eventually passed POST and hit the Windows login screen, I'm unable to use the laptop for more than around 5 or 10 minutes before it crashes. Did I push it too hard and ruin it forever? It's hard to say.
My next purchase will be yet another ultrabook, but it shall have the means to battle through intensive workloads like blockbuster titles. I'll be looking to pick up the Blade Stealth, which can be used alongside Razer's Core. This combination will allow me to take advantage of not only the Core i7-7500U processor, but also a dedicated GPU inside the Razer Core.
While they're certainly not made for gaming, you definitely can boot up a title or two on an ultrabook. Shout out in the comments with some of the games you managed to get working!
Windows Central Newsletter
Get the best of Windows Central in in your inbox, every day!
Rich Edmonds was formerly a Senior Editor of PC hardware at Windows Central, covering everything related to PC components and NAS. He's been involved in technology for more than a decade and knows a thing or two about the magic inside a PC chassis. You can follow him on Twitter at @RichEdmonds.
Ori and the Blind Forest on SP4...deserves being mentioned. I also play King's Quest reboot.

I also play street fighter on the SP4. It works great & without lag.

Would love to see a similar article about games suitable for Surface Pro 4. Especially the m3 model which I got recently.

I have the M3 and I have been able to play Civ 6 on it. Everything on low, and I am able to get about 20-30fps. If I switch to strategic mode I can get 60fps for the first 100-200 turns and then it begins to gradually go down to 20-30 by the end game. M3 gets pretty hot, one time the touchscreen stopped working and I had to reboot the computer, everything was fine after. So, I would say you could game on an M3, but there are some limitations. That being said, playing Civ 6 with touch controls is a great experience.

More games that works in SP4 i5 4Gb: Battlefield 4, world of tanks, skyrim (special edition don't), stellaris, Civilization VI, Diablo 3, Team Fortress 2... some games like WoT or stellaris can be play without hearing the fan (or just a bit) and very low heat if you use a custom power settings with processor running about 30-35%

XPS 15 9560 is a great future contender (2017) for a cheap, powerful, portable, gaming capable machine. I have the current 9550 and would love the upgraded 1050 GPU.

I'm waiting to hear about the SP5. I'm typically pushing my i5 SP3 to its limits often times. I don't game much but some newer CPU power and GPU improvements would be nice.

I've played very nicely with Fallout 3 @ 1080 medium detail with nice fps.
Also played Elite Dangerous @ 1600*900 mid detail with satisfactory 20-35 fps.
I'm on Spectre x360 i7 skylake with 8gb ram on a QHD display.

Call of duty: modern warfare, company of heroes , SP4

I used to play Minecraft 1.8 on low/medium settings on an HP Pavilion g6 laptop (4 GB RAM/AMD Phenom II dual-core CPU) at 30 FPS and didn't know I was missing anything until my current computer which ran it at 60 FPS with the original specs of 4 GB RAM and an Intel Core i3-4130 CPU. I think I was running Minecraft at medium settings at that point.

I call BS on that playing rocket league, it's unplayable on the surface pro 3, I've tried. Everything runs smooth until you turbo, than the screen freezes, made it unplayable for me.

I was sat next to him. It played fine. Low graphics but fine.
Windows Central Newsletter
Thank you for signing up to Windows Central. You will receive a verification email shortly.
There was a problem. Please refresh the page and try again.