As Halo Infinite finds its stride, celebrate with these awesome Halo-themed PC accessories
The Halo-themed Razer accessories are still awesome pick-ups to revel in the glory of Halo Infinite.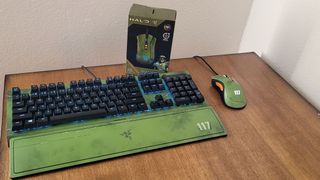 (Image credit: Future)
Halo fans are excited about the prospects of the recently released Season 5. Halo Infinite is seeing a resurgence of players as developer 343i finally figures out the balance of fun and content delivery. To celebrate Halo Infinite finally delivering on the live-service promise Xbox made to us during its reveal, it's the perfect time to pick up the same beautiful Halo-themed products from my desk.
Razer offers a Halo-themed BlackWidow V3 mechanical keyboard, DeathAdder V2 mouse, Goliathus Chroma mouse pad, and Kaira Pro wireless headset to make sure you're performing your best in-game.
WAY bigger of a spike than I expected. Probably 60k concurrent players including xbox currently. Halo is recovering at last. pic.twitter.com/eIvgj0b6AAOctober 18, 2023
If you haven't jumped back into Halo Infinite yet, check out all of the great new content that was added for season 5. Some of the most exciting updates for the game are coming out later in the season, like the anticipated firefight mode. If you're looking to make the move to PC, need to upgrade your mouse and keyboard, or want to play mouse and keyboard on your Xbox Series X or S, these accessories are great options.
Are these Halo-themed accessories any good?
I decided to pick up the Razer BlackWidow V3 Mechanical Gaming Keyboard and the Razer DeathAdder V2 Gaming Mouse to add some green and black flair to my gaming setup, as well as display my long-time love for Halo. Because I haven't used the Razer Goliathus Extended Chroma Gaming Mousepad or the Razer Kaira Pro Wireless Gaming Headset, I can't give my thoughts on those, but they both received great reviews and would complete the ensemble for the ultimate Halo fan.
That being said, I have used both the Razer BlackWidow V3 Mechanical Gaming Keyboard and the Razer DeathAdder V2 Gaming Mouse extensively and can't wait to share my thoughts on these functional and aesthetically pleasing accessories.
BlackWidow V3 keyboard
The Razer BlackWidow V3 has an amazing 4.7 stars out of over 4,000 reviews on Amazon. In my humble opinion, putting the halo skin on gives it at least 0.3 points, giving it a perfect score. We gave the wireless BlackWidow V3 mini a great review and the new BlackWidow v4 has so much RGB, God may complain. I have thoroughly enjoyed using the BlackWidow V3. The keys are tactile and responsive. The switches aren't so loud that they go over my microphone while on Zoom calls or gaming. The RGB options are great, and it's all supported through Razer Synapse 3.
It boasts some great features and while now a generation old, it's still a great pickup. Take a look at some of these top-tier selling points.
In my personal experience with the keyboard, I don't have any complaints. I personally like having the full-sized keyboard with the number pad. While playing Halo on it, I don't have issues with accidental inputs or anything else you might experience with non-mechanical keyboards. Most of all, there is nothing like looking down and seeing the green and black Halo colorway with that infamous number, 117, pushing me to play just one more game.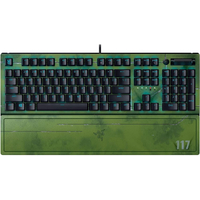 Razer BlackWidow V3 | Halo Infinite
The Halo-themed Razer BlackWidow V3 is a nearly perfect keyboard. The wristpad adds comfortability and longevity to my play or work sessions, and the green mechanical switches feel great for typing and gaming.
DeathAdder V2 mouse
I know, a wired mouse in 2023, but don't overlook the Razer DeathAdder V2 Gaming Mouse. It has a 20K DPI Optical Sensor and 8 programmable buttons, so you can custom-tune it to fit perfectly with your gameplay style.
I haven't had any issues with it while playing Halo, COD Warzone, or any other game I've tried. It is super smooth, and it has a drag-free braided cord that does its best to stay out of the way. It's a great introductory mouse and has all of the best gaming features for a wired mouse.
With all of these great features, the Razer DeathAdder V2 Gaming Mouse is a great option, and one of my favorite purchases this year. It feels great, is light, and the RGB looks great as well.
Razer DeathAdder V2 | Halo Infinite
Rocking 20K DPI Optical Sensor and 8 programmable buttons the Razer DeathAdder V2 has all the performance where it matters, and the Halo theme just makes it more awesome.
Razer Goliathus Chroma mousepad
While I haven't been able to test the Halo Razer Goliathus Extended Chroma Gaming Mousepad, if you want to have the entire Halo-themed offering from Razer, then it's definitely not going to let you down.
If you haven't used a full desk mousepad before, you definitely need to pick one up. The convenience of never having to worry about your mouse slipping off of the edge of a smaller mousepad, plus your keyboard being slide-proof makes a huge difference in gaming. Here are some of the features you get with this custom mousepad.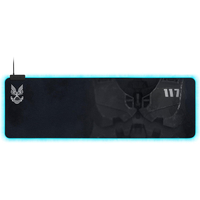 Razer Goliathus Extended Chroma | Halo Infinite
Offering great RGB and a lot of surface area, the Razer Goliathus Extended Chroma promises to be a great mousepad to perfectly house your Halo keyboard and mouse. Complete the full Halo desktop setup with this awesome mousepad.
Kaira Pro wireless headset
The Razer Kaira Pro Wireless Gaming Headset was released after the other items discussed here today. We covered its announcement back when it was set to launch.
Overall, it looks like a great headset, and while I don't have this exact Razer headset, I do have a different Razer headset that I like quite a lot. The headset comes in at the highest price and there might be other headsets that have some better features for around the same price, but nothing beats being able to complete the full Halo-themed ensemble and truly celebrate Halo Infinite coming into its own.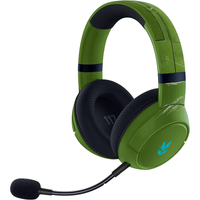 Razer Kaira Pro Wireless | Halo Infinite
The Razer Kaira Pro wireless headset has Bluetooth but can also be used on Xbox. The headset has Memory Foam Ear Cushions promising comfort for those long Big Team Battle play sessions.
Something for console gamers
If using a keyboard and mouse is not your thing, the Numskull Official Halo Gaming Locker is a great addition to your gaming room. It holds 4 controllers, 10 games, and your headset, all with a great Halo theme.
I have one, and it's super convenient to grab my headset, and my controller and sit down and relax. I also like that it can store physical games, as I am starting to run out of room on my shelves. It isn't very expensive and the build quality isn't that great, but it is functional and looks great on my shelf.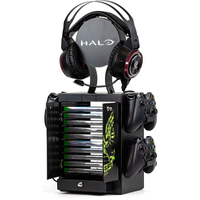 The Numskull Gaming locker is an inexpensive functional controller, headset, and game holder. It is Halo branded and with the ability to hold 4 controllers and 10 games, it's an easy pickup to celebrate Halo Infinite's comeback for Xbox gamers.
Get the Windows Central Newsletter
All the latest news, reviews, and guides for Windows and Xbox diehards.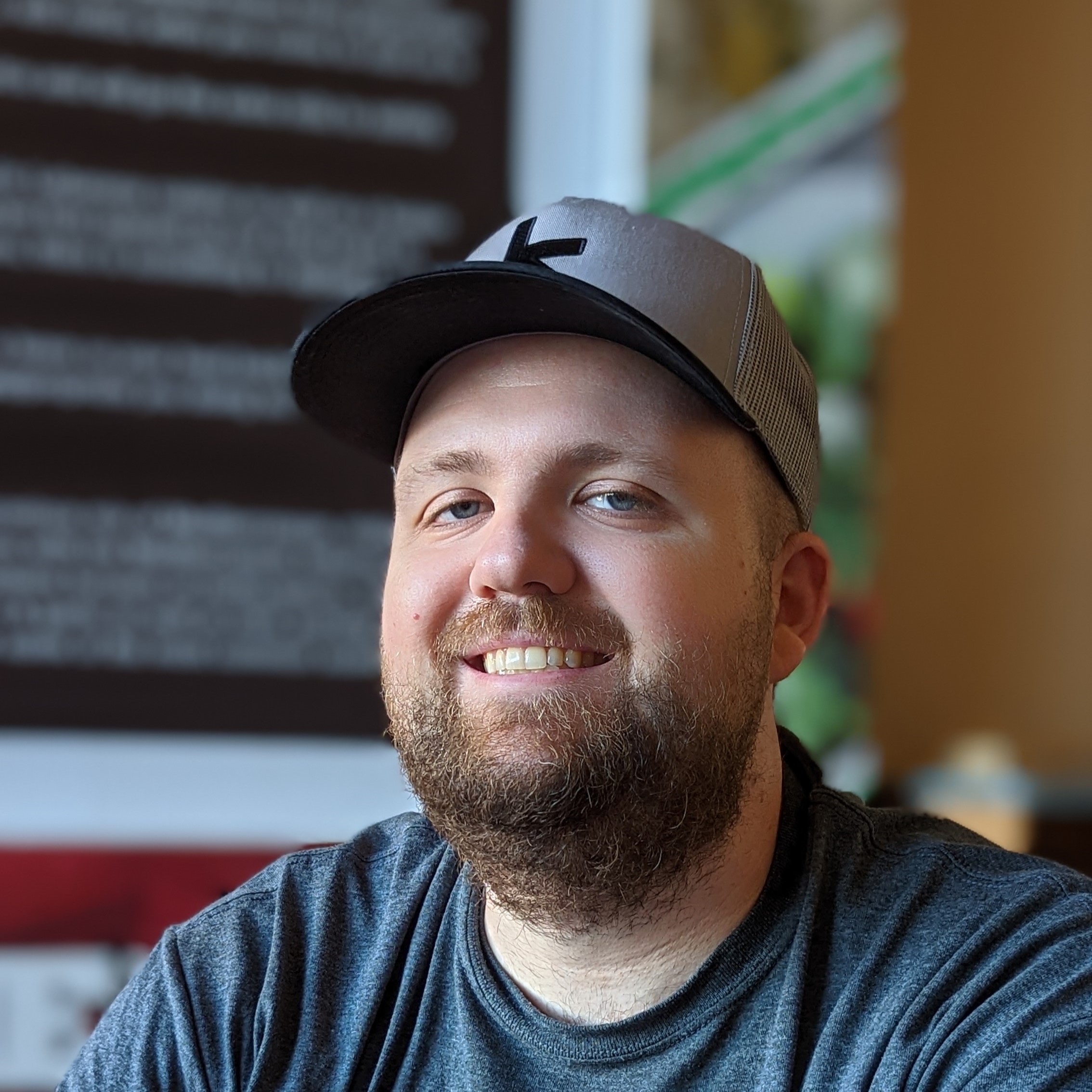 Colton is a seasoned cybersecurity professional that wants to share his love of technology with the Windows Central audience. When he isn't assisting in defending companies from the newest zero-days or sharing his thoughts through his articles, he loves to spend time with his family and play video games on PC and Xbox. Colton focuses on buying guides, PCs, and devices and is always happy to have a conversation about emerging tech and gaming news.