World of Warcraft Frostmourne Sword Ice Pedestal only $600 — supplementary sword $1500
Wield the ultimate symbol... of bankruptcy cuz you're gonna be broke af after buying this.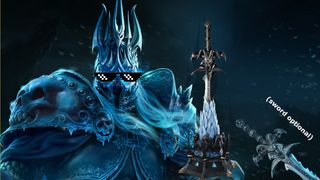 (Image credit: Future)
Have a Frostmourne Sword just lying around and nowhere to display it? Is it gathering dust propped up the side of your desk? Sick of tripping over it and nearly slicing off a toe? If you answered yes to any of these questions, your prayers have been answered. The Frostmourne Sword Ice Pedastal is a display unit perfect for mounting your blade with pride.
Image 1 of 3
Forstmourne Sword Ice Pedastal
This purchase isn't for the faint-hearted of fans, as the pedestal is $600, but we're sure your landlord will understand you skipping on the rent when you show them your badass World of Warcraft merch.
The ice pedestal is made of resin and has remote-controlled LED lights, so it glows a cool blue in the dark, perhaps the only light you'll be able to afford to turn on in your home. It measures 18 inches tall and 12 inches wide and can hold the sword securely in place.
Speaking of the sword, that's an optional extra purchase of $1500. A small price to pay for the safety of your family, as nobody is going to mess with a wielder of the Lich King's famous weapon. Picture it now, thugs break into your home, see you've spent over $2000 on a sword and stand? They'll know for sure that you're insane and leave before facing the wrath of the Scourge.
If $1500 is too much in one instalment, and you'd rather go for the pedastal alone, we have some suggestions for it's use until you've saved for that sword.
a coat rack, hang hats, scarves and gloves from the pedestal and pretend they are trophies from your battles.
a lamp, a remote-controlled ICE lamp no less.
a kitchen utensil holder, wield your kitchen knives and implements in style.
a memo clip, you won't forget that important note you left if it's held in this beast of a pedestal.
a cake stand for a Lich-King themed birthday party, all the rage in Azeroth.
a cup holder for your hot chocolate, nothing like a sip of warmth to counter the chill of the Frozen Throne.
a candle holder for a romantic meal, set the mood with some icy ambiance and a hint of necromancy.
In all seriousness, Blizzard does make some incredible quality merchandise and replicas, and while I'd rather keep the roof over my head and the heating on, if I had money to burn I'd love a cool piece like this at home, though I doubt it's child safe. I'll leave this one to Jez Corden who purchased the Lilith statue, perhaps he'll take one for the team and get us one of these to review?

The Blizzard World of Warcraft Frostmourne Sword Ice Pedastal is available to order now direct from Blizzard Gear Store for dispatch in November 2023.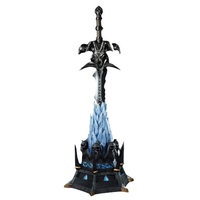 World of Warcraft Frostmourne Sword Ice Pedestal

A stunning display stand inspired by the iconic World of Warcraft weapon, Frostmourne. The most powerful runeblade currently known to exist. Showcase your most prized possession with a remote-controlled LED lighted stand.

Pre-Order: Blizzard Gear
Get the Windows Central Newsletter
All the latest news, reviews, and guides for Windows and Xbox diehards.
Jen is a News Writer for Windows Central, focused on all things gaming and Microsoft. Anything slaying monsters with magical weapons will get a thumbs up such as Dark Souls, Dragon Age, Diablo, and Monster Hunter. When not playing games, she'll be watching a horror or trash reality TV show, she hasn't decided which of those categories the Kardashians fit into. You can follow Jen on Twitter @Jenbox360 for more Diablo fangirling and general moaning about British weather.