Dell XPS 17 (9730): Is it the ultimate gaming laptop?
With its powerful CPU and NVIDIA GPU, the Dell XPS 17 isn't built for gaming, but that doesn't mean it can't hit some serious FPS, either.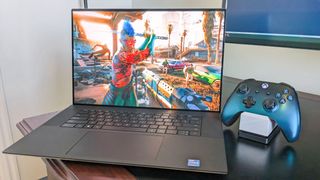 (Image credit: Rebecca Spear / Windows Central)
With the XPS 17 (9730), it seems like Dell has made an all-purpose computer that doubles as a gaming laptop. That's especially true when looking at the Intel Core i7-13700H configuration that is backed with the processing power of the powerful Nvidia GeForce RTX 4070 GPU (which is one of the best graphics cards for gaming right now).
But is the XPS 17 (9730) actually the ultimate gaming laptop?
The quick answer is no, but it is a reliable device that can handle plenty of games better than many other laptops. In that way, it is the perfect all-purpose laptop that is great for work or school use but can also handle some gaming.
Our own Richard Devine agrees as he wrote an earlier piece reaching the same conclusion as me, noting:
"Personally, if I were spending this type of money, the XPS 15 or XPS 17 would be far more attractive [than the ASUS ROG or MSI GT77]. They're designed to be powerful and compromises aside, still built to tear into the latest games. Even the entry-level XPS 15 with the Intel Arc A370M won't be terrible for gaming, as I know firsthand from using the same GPU in my Acer Swift X 16."
All work and some play
As I explained in my Dell XPS 17 (9730) review, at its core, this laptop is the perfect device for creatives since it offers excellent processing power and reliable graphics abilities. For these same reasons, this laptop is more than equipped to handle less demanding video games such as Vampire Survivor, Fortnite, Diablo 4, or Among Us. But then, thanks to the Nvidia GeForce RTX 4070 GPU, it can run far more rigorous programs like Cyberpunk 2077, Final Fantasy 7 Remake, or Resident Evil Village and supports ray tracing in games. However, this laptop isn't as efficient or built for gaming as the best gaming laptops out there, so gameplay won't be as smooth as it could be. Go figure.
Image 1 of 4
Before playing any games, I made sure to download and update the Nvidia graphics drivers and restart the XPS 17. During my Time Spy stress testing (which I ran a few times), the XPS 17 (9730) consistently scored a 98.2%. This passing score shows that Dell's behemoth laptop can repeatedly play on a loop without it encountering any cooling or stability problems, which are often the cause of frustrating gaming sessions.
Despite this good Time Spy stress test score, I got a wide performance range when playing Cyberpunk 2077. Things started nicely when I first booted up the game and ran an in-game benchmark, which showed the game was averaging 54 FPS. However, after a few hours of playing, I experienced a lot of stuttering. When I ran another in-game benchmark, I was not surprised to discover that it was averaging 22.4 FPS when on high texture and with ray tracing turned on. This isn't ideal. I improved the frame rate at this point by turning off ray tracing and lowering other graphics options, but it's just not as pretty of an experience. Not to mention, the fans came on full blast almost immediately and ran very loudly throughout any gaming session I had, which was rather distracting.
On top of all that, unless you have the latest modern PC gaming accessories that use Bluetooth or USB-C connections, you'll likely find the XPS 17 (9730)'s lack of ports frustrating. While it does feature four Thunderbolt 4 ports and a 3.5mm headphone jack, the singular HDMI and solo USB-A ports are only accessible via an included adapter. So you might not be able to hook up all of your favorite gaming accessories like a gaming mouse, gaming headset, controller, or other accessory without using the adapter. Even then, you'll only be able to plug in one USB-A device unless you have a USB-C to USB-A adapter handy.
So, while the XPS 17 (9730) can play more graphically demanding games, you'll have a better experience playing those same games and more ports for PC gaming accessories if you get a dedicated gaming laptop.
What is the ultimate gaming laptop then?
I absolutely love the XPS 17 (9730) for work and digital drawing purposes, but if you think you'll want to play the latest and greatest PC games, I recommend you get one of the best gaming laptops available right now. But which one should you go for? If you want something powerful with a big display, check out the Razer Blade line of gaming laptops. These come in various configurations and display sizes to suit a variety of gaming needs.
I specifically recommend the Razer Blade 18 if you want a laptop with a large panel. As our own Ben Wilson said in our Razer Blade 18 review, it manages to be super slim while also packing in Intel's 13th Gen Core processors and NVIDIA's RTX 40-series mobile GPUs. "How a skinny laptop can harness all that power in such a tight space comes down to an ingenious combination of cooling solutions and intelligent design choices." It will run your games smoothly and keep everything plenty cool so you can play your favorite games without issue. Plus, it offers three USB-A ports, a USB-C port, and a Thunderbolt port for all your accessory needs.
Razer Blade 18: desktop power in laptop form. NVIDIA RTX 4090, Intel i9 HX, QHD+ 18" screen, 5 MP webcam, 6 speakers. The ultimate gaming laptop.
Get the Windows Central Newsletter
All the latest news, reviews, and guides for Windows and Xbox diehards.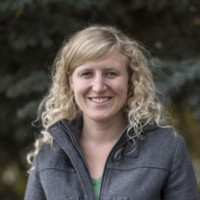 Self-professed gaming geek, Rebecca Spear, is one of Windows Central's gaming editors with a focus on Xbox and PC gaming. When she isn't checking out the latest games on Xbox Game Pass, PC, or Steam Deck; she can be found digital drawing with a Wacom tablet. She's written thousands of game guides, previews, features, and hardware reviews over the last few years. If you need information about anything gaming related, her articles can help you out. She also loves testing game accessories and any new tech on the market.