Diablo 4 Ashava boss guide: How to beat and spawn location
Here's how to take down Diablo 4's Ashava the Pestilent world boss.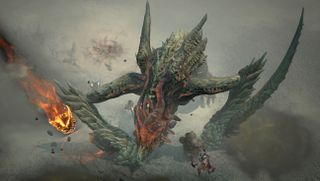 (Image credit: Activision Blizzard)
One of the deadliest enemies you could challenge during Diablo 4's betas was Ashava the Pestilent, a massive demonic creature with an extremely thick HP bar and devastating area-of-effect and poison attacks. She's one of Diablo 4's world bosses — gigantic foes that you'll need to team up with 11 other players in order to take down.
In this guide, we'll go over everything you need to know about finding and fighting Ashava, including where you can find her, tips for fighting her, and an overview of the rewards you'll earn when your group lands the killing blow.
Diablo 4: Ashava spawn location
As you play Diablo 4, Ashava will occasionally appear at her designated spawn location in The Crucible, a small area on the southeastern edge of the Fractured Peaks. If you're having trouble finding it, go directly east from Kyovashad, the Fractured Peaks' main hub area, until you come across it.
Note that 30 minutes before Ashava is slated to spawn, a large quest marker and a countdown timer will appear on your map that shows you where to go and how long you have to get to The Crucible before she appears.
Diablo 4: How to beat Ashava, the Pestilent
Even with a full 12-man raiding party, the battle against Ashava will be a difficult one due to her extremely high health pool and damage. However, as long as you have decent players at your side and you know how to avoid her attacks, you shouldn't have too much trouble taking her down before the fight's 15-minute time limit runs out. Here are some tips, tricks, and valuable pieces of information that will make defeating Ashava much easier.
NOTE: If you set your game to World Tier 1, Ashava will be far more manageable to beat. You can change World Tiers in Kyovashad, at the Inarius statue that looks like a sun icon on the map.
Don't bother fighting Ashava if you're underleveled. Your health and damage simply won't be good enough and you'll end up hindering your group's chances of success.
Before the fight begins, leave the area and come back if you notice multiple underleveled players. Each time you come back to The Crucible you'll load into a different instance, so do so until you find a group of players at the proper level.
Wear poison-resistant gear if you have any. Several of Ashava's attacks can melt your health away instantly with vicious poison, but you might survive with some form of poison resistance active.
After Ashava raises one of her arms into the air, she'll perform a pair of consecutive sweeps with her arm blades that inflict heavy poison damage; stay very close to and behind her to avoid this attack. Ranged classes can hit her from outside the range of this attack, but ideally, everyone should stick close to Ashava's flanks since she doesn't have a way to deal with this.
Note that the initial sweep in her combo will be clockwise if Ashava raises her right arm, and counter-clockwise if she raises her left one. Use this information to choose which way to move behind Ashava and avoid the sweep if you're not already close to her.
If you're going to be hit by one of Ashava's sweeps, you might be able to survive if you use a barrier of some kind. You'll still probably take a big chunk of damage, but that's better than dying.
If you're in front of Ashava and notice her rear back, this means she's about to bite at you; dash to the side or behind her to avoid the attack. She might still hit you if you try to dash directly away from her, so don't try to dodge the bite this way.
If you see a circle appear on the ground, move away from it. This indicates that Ashava is about to pound this spot with her arms.
If you notice Ashava squatting down, she's about to leap at someone or to the side; be ready to dodge if you're in her path. The telegraph is a little harder to see when she's going to dodge to the side, so throughout the fight, make sure you keep a close eye on her legs.
Throughout the fight, watch out for poison clouds that Ashava breathes. These will damage you severely if you touch them, and while they're pretty easy to see, it's easy to forget about them while you're trying to do as much damage as possible and avoid her other attacks. Make sure you don't.
As long as you keep close to Ashava and consistently dodge her attacks while laying into her with your best damage skills, your group will slay Ashava and emerge from the battle victorious with time to spare.
How to weaken Ashava in Diablo 4
Before the Diablo 4 betas began in March, Blizzard hinted to fans that there's a way to weaken Ashava and make her easier to defeat. After lots of testing, players have discovered that you can weaken Ashava by hitting her with skills that inflict Crowd Control effects such as Slow, Chill, Daze, Stun, Freeze, Immobilize, Taunt, and Knock Down.
By damaging her with enough of these, your group will eventually fill up the yellow meter under Ashava's health bar and stagger her, giving you 12 seconds of free uninterrupted damage time. One of Ashava's arm blades will also get shattered, though this doesn't seem to have an effect on her sweep attacks.
Diablo 4: Ashava rewards and loot
If you and your allies manage to defeat Ashava, she'll drop three pieces of Legendary gear for each player present, making the fight a great way to earn some powerful top-tier gear. Additionally, Ashava will also drop a special reward called Ashava's Spoils that gives players additional pieces of Legendary loot and other items. If you're particularly lucky with these, you could walk away from this fight with several Legendaries, along with plenty of Gold and several gems.
Notably, Blizzard confirmed that the Diablo 4 beta had increased Legendary drop rates, so don't expect the fight against Ashava or other world bosses to be quite as rewarding as it was during these tests. Still, taking Ashava down is definitely worth doing.
---
Diablo 4 is slated to fully launch on June 6, 2023 on Xbox Series X|S, Xbox One consoles, Windows PC, PS5, and PS4, with Early Access available to fans that preorder the Digital Deluxe or Ultimate Edition. It's one of the best Xbox games for fans of dungeon crawlers and hack-and-slash combat, and we've been having an absolute blast with it.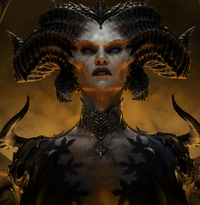 Diablo 4: Ultimate Edition
The Ultimate Sacrifice from your wallet to our Blessed Mother, the Ultimate Edition of Diablo 4 comes with a bunch of cosmetics, the Premium Battle Pass and 20 tier skips for you to enjoy.
Buy on: Xbox | PC (Battle.net)
Get the Windows Central Newsletter
All the latest news, reviews, and guides for Windows and Xbox diehards.
Brendan Lowry is a Windows Central writer and Oakland University graduate with a burning passion for video games, of which he's been an avid fan since childhood. You'll find him doing reviews, editorials, and general coverage on everything Xbox and PC. Follow him on Twitter.