The full story of Diablo: Timeline, lore, and history summarized
Everything you need to know about the world of Sanctuary.
Diablo Lore: Further Reading, Listening and Viewing
As of Diablo 4, we don't know where the story will take us. All we know so far is that Lilith is back, but for what purpose? What became of the Nephalem from Diablo 3?

While this has been a long read, I've only provided a brief overview of the world of Sanctuary, there's more to discover if you have fallen in love with the series. There are also way better sources out there for your Diablo fix than I, and I want to credit those amazing creators and hopefully send more recruits their way. Whether you want to watch, listen, or read more Diablo content, here are my recommendations.
Youtubers
Rhykker is one of the most respected Diablo content creators, and has even most recently appeared on the Developer panel to discuss endgame content for Diablo 4. If you want a more entertaining overview of Diablo lore, that doesn't require so much reading, he has a fantastic playlist here you can watch at your leisure.

DarkLoreDash is another great source for Diablo content and has some longer videos where you can enjoy the entire story of the games without actually having to play them yourself. Who has time for that when you want to play Diablo 4?

The official Diablo Youtube account now has some epic videos, narrated by Lorath himself that have since been released as part of the marketing for Diablo 4. They cover a lot of what I have here, and are accompanied by some impressive artwork, well worth a watch.
Podcasts
Pure Diablo are a great combination of Diablo knowledge and genuine passion for the series and they have a wide range of guests on the show from streamers, and former Blizzard employees. They have a couple of episodes already going over the lore in a much quicker summary, and speculating over future events that may come to pass in Diablo 4 and its expansions.

Shattered Soulstone are a weekly podcast hosted by Jen (great name) who covers all the news surrounding the Diablo series, as well as other Blizzard games and relevant news.
Books
There are ten novels to read in total, including the Sin War Trilogy I mentioned earlier which is your best starting point and has the most relevance to Diablo 4. If novels aren't your thing and you just want a brief overview with some cool art, then I recommend The Book of Cain, but this is currently out of stock at Amazon so you'll have to go searching via second-hand sources.

The novels themselves are hard to get hold of too, but most can be listened to on Audible, or purchased in a Kindle format. The chronological reading order is:
The Sin War Trilogy (Birthright, Scales of the Serpent, The Veiled Prophet)
Demonsbane
The Black Road
Legacy of Blood
The Kingdom of Shadow
Moon of the Spider
The Order
Storm of Light
Lucky for us, there is a new hardcover being released in time for Diablo 4, which you can pre-order now. The Book of Lorath is a new compendium of illustrations and notes on the events preceding Diablo 4, as told from the perspective of the last Horadrim.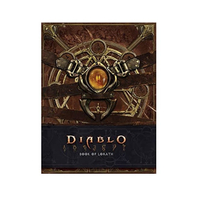 Diablo: Book of Lorath
Available to pre-order now for release on the same day as Diablo 4, June 6. A sourcebook revealing more about the nature of Angels and Demons, and the prophecy of the End of Days.
Buy at Amazon
Diablo 4 arrives on June 6 to Windows PC, Xbox and Playstation consoles. Having played through Act 1 in the Open Beta, I can already say with confidence we are in for a good follow-up to the Diablo stories told so far, and now when someone says "What? Diablo has a story?" you can refer them to this article.
Get the Windows Central Newsletter
All the latest news, reviews, and guides for Windows and Xbox diehards.
Jen is a News Writer for Windows Central, focused on all things gaming and Microsoft. Anything slaying monsters with magical weapons will get a thumbs up such as Dark Souls, Dragon Age, Diablo, and Monster Hunter. When not playing games, she'll be watching a horror or trash reality TV show, she hasn't decided which of those categories the Kardashians fit into. You can follow Jen on Twitter @Jenbox360 for more Diablo fangirling and general moaning about British weather.