GameSir launches the first Xbox controller with Hall Effect sticks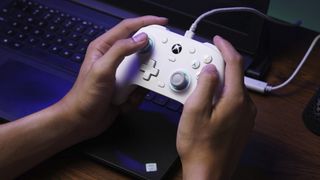 (Image credit: GameSir)
What you need to know
The GameSir G7 SE Controller is a licensed Xbox controller featuring Hall Effect sticks, which are non-contact magnetic sensors that prevent stick drift and wear down.
The controller is compatible with Xbox Series X|S, Xbox One, and Windows 10/11, and is available for purchase for $44.99/£49.99/€59.99.
This is the first controller for the Xbox Series X|S that features Hall Effect sticks.
---
GameSir, a leading provider of high-quality and affordable gaming peripherals, has just released the G7 SE wired controller for Xbox, the first Xbox controller to feature Hall Effect sticks.
The G7 SE wired controller promises to deliver unparalleled precision, durability, and customization at a value-driven price point, now at a special introductory price of $44.99.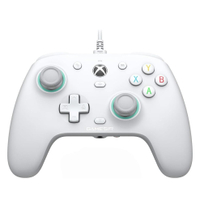 GameSir G7 SE Wired Controller | $44.99

Potentially another slam dunk for GameSir, the G7 SE is the first controller for Xbox to feature Hall Effect sticks, so this controller should last the journey no matter what you want to play. Compatible with Xbox Series X|S, Xbox One, and Windows 10/11.

Buy from: Amazon | GameSir
We previously gave the G7 wired controller a glowing review, and we are glad to see GameSir is not only sticking with the range but actively improving its features. Though personally, I'm disappointed that this controller doesn't offer the mechanical ABXY buttons of its predecessor and the GameSir T4 Kaleid that I also recently reviewed favorably.

Packing all the features this $44.99 controller boasts is seriously impressive though, and GameSir is well known for its wallet-friendly products so we've high hopes for this controller, let's take a look at the specs.
Swipe to scroll horizontally
| Category | GameSir G7 SE Wired Controller for Xbox |
| --- | --- |
| Connectivity | Wired, USB Type-C to Type-A, 3m |
| Controls | ABXY face buttons (membrane) |
| Row 2 - Cell 0 | Hall Effect joysticks |
| Row 3 - Cell 0 | Dual analog, hall effect magnetic triggers |
| Row 4 - Cell 0 | Dual bumpers |
| Row 5 - Cell 0 | D-Pad with audio controls |
| Row 6 - Cell 0 | Xbox, Share, View, Menu buttons |
| Row 7 - Cell 0 | Rear M1 and M2 remappable buttons |
| Row 8 - Cell 0 | Master "M" button for on-device control |
| Features | Four rumble motors, one in each grip and trigger |
| Row 10 - Cell 0 | GameSir Nexus Xbox & PC app |
| Row 11 - Cell 0 | Optional "hair trigger" setting |
| Row 12 - Cell 0 | Instant remapping via the "M" button |
| Platforms | Xbox Series X|S & Xbox One |
| Row 14 - Cell 0 | Windows 10 & Windows 11 |
| Audio | 3.5mm headphone jack |
| Row 16 - Cell 0 | Built-in audio controls with D-Pad and "M" button |
Image 1 of 2
One of the most exciting features of the GameSir G7 controller is the Hall Effect sticks. But what are they, and why should you care? If you have ever experienced stick drift on a controller, you know how frustrating and game-breaking it can be. Stick drift happens when the joysticks start to register false inputs and move on their own, making some games, especially FPS, unplayable.

The cause of stick drift is usually the wear and tear of the analog joysticks, which use contact to measure position. Over time, the contact points can degrade or get dirty, leading to inaccurate readings. The solution to this problem is Hall Effect. Instead of contact, Hall Effect joysticks use magnets to measure position. The magnets never touch each other, so they don't wear out or get affected by dust or dirt. This means Hall Effect joysticks should never develop stick drift and should last much longer than analog joysticks.
Until now, there hasn't been an Xbox controller with Hall Effect sticks, only triggers. The Xbox Elite Controller Series 2 and the GameSir G7 both have Hall Effect triggers, which offer more precision and durability for the triggers specifically. But only the GameSir G7 has Hall Effect sticks.
Like the G7 that came before it, the G7 SE is customizable with swappable faceplates. A nifty design choice that means you can change its appearance at will, they attach magnetically, and you can use any paint or stickers to create your own.
If you grew up in the '90s, you might remember Doodle Bears, the plush toys that you could draw on with markers and then wash them to start over. Well, this is the controller equivalent of that. You can easily remove and replace the faceplate with a magnetic attachment and create different looks for different occasions. Unlike Doodle Bears, you can't wash the faceplate in the machine, so make sure you're happy with your design before applying it. Either way, it's certainly a cheaper option than the Xbox Design Lab.

We will have our hands on this new controller soon and be able to fully test it and compare it to the G7 that came before it. Stay tuned!
Get the Windows Central Newsletter
All the latest news, reviews, and guides for Windows and Xbox diehards.
Jen is a News Writer for Windows Central, focused on all things gaming and Microsoft. Anything slaying monsters with magical weapons will get a thumbs up such as Dark Souls, Dragon Age, Diablo, and Monster Hunter. When not playing games, she'll be watching a horror or trash reality TV show, she hasn't decided which of those categories the Kardashians fit into. You can follow Jen on Twitter @Jenbox360 for more Diablo fangirling and general moaning about British weather.