Hogwarts Legacy Phoenix location: Where to find the magical bird
You can only get one Phoenix in Hogwarts Legacy.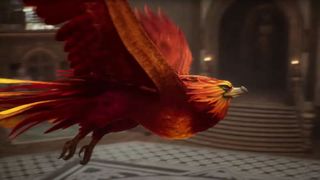 (Image credit: Windows Central)
While there are 13 different species of magical beasts to collect in Hogwarts Legacy, the rarest among all of them is by far the phoenix. This fiery bird cannot be caught the typical way other creatures can be since there are technically no phoenix dens on the map.
So how do you get a phoenix? After making your way through House-Elf Deek's sidequests, you'll eventually come upon one called "Phoenix Rising," which has you travel to the top of a mountain via a cave entrance in order to look for this rarest of birds. I'll step you through how to unlock this quest and then give a detailed Phoenix Rising walkthrough so you can capture your own phoenix.
Hogwarts Legacy: Is there a Phoenix Den?
Unlike the other magical beasts that you can capture in Hogwarts Legacy, the phoenix cannot be found out in the wild. There is no phoenix Den location on the map.
Hogwarts Legacy: How to unlock the Phoenix
You'll get a phoenix after completing House-Elf Deek's sidequest entitled, "Phoenix Rising." However, you'll need to have done quite a bit before that to unlock this quest. Here are the things you'll need to do in order to unlock Phoenix Rising:
Take Beasts Class
Take Astronomy Class
Unlock Room of Requirement
Complete The High Keep
Complete The Plight of the House-Elf
Complete Charles Rookwood's Trial
Complete Foal of the Dead
Complete Niamh Fitzgerald's Trial
There are dozens of quests to complete in Hogwarts Legacy. Their varied range and scope are part of what makes this one of the best PC games and best Xbox games out there.
Hogwarts Legacy: How to complete the Phoenix Rising quest
To starting things off, you'll need to speak with Deek the House-Elf in the Room of Requirement. Deek will tell you about a phoenix nest he knows about. Since poachers might pose a threat, he'll send you out to check on the fiery bird.
You'll need to travel to World Map → Poidsear Coast → Phoenix Mountain Cave Floo Flame. Then enter the cave right next to the floo flame. Just blast aside the wooden blockade and then continue down.
Just after the strange wooden barrier that you have to hop over, you'll find a giant spiderweb on the right that is covering some rubble. Blast it with Confringo to uncover a tunnel. Now head inside.
Continue your way through the tunnel getting rid of spiderwebs and spiders with Confringo. You'll find a treasure chest down here. Grab your reward and then head back to the start of the tunnel.
Scramble up and over the stone ledge on the right and then turn and get ready to fight some poachers. You can either make yourself invisible with Disillusionment and try to use stealthy Petrificus Totalus takedowns or you can attack them head-on. When they are defeated continue through the tunnel ahead.
When you get to the small square opening that the path leads to, you can either crawl through it or you can jump over to the stone platform on your right for a better entrance. I prefer the second option since it gives you a better advantage against the enemies in the next room.
There are a few Ashwinders in the next room so you can either get stealthy with Disillusionment once again or take them down head-on with your best attacks. Either way, defeat all the Ashwinders in the room.
Head through the circular metal door on the other side of the room and get rid of the lock. A Phoenix will land on the metal railing before you and then fly off. Now it's time to chase it.
Head up the wood ladder to your right and you'll see another Ashwinder. You can fight them the usual way or get rid of him easily by using Accio and making them fall to their death. Then continue on up the metal ladder behind where they showed up.
If you have already unlocked Alohomora Level 3 you can unlock the Level 3 lock on the gate here and grab some treasure. If not, continue on and jump over the broken bridge before jumping over a partial gateway and ducking over another partial gate after that.
In this next cave area, jump over the gap in the rickety wooden bridge and continue forward. (Don't worry if you fall. You'll land in water and a convenient ladder will bring you back to where you were.) Scrabble over a stone ledge and continue forward.
Head up the wooden ladder that has beware signs on either side of it and destroy the spiders that appear in the next area before continuing forward.
Jump over the cliff gaps while continuing to make your way upward. When you come to a stone ledge climb up over it then hop over the wooden planks and head through the tunnel into the large cavern. There are several Ashwinders in here so defeat the enemies that appear.
When they're all defeated, continue through the most well-lit tunnel and keep scrambling over ledges until you come to an open area with a phoenix in its nest. Pull out your Nab-sack and catch the phoenix.
You can leave the mountain quickly by heading through the cave on the right side of the nest.
You'll come out into the fresh air, but be ready to fight. A large Acromantula spider and its posse of smaller spiders are waiting for you once you slide down the hill. Defeat the spiders.
You'll want to head back to Hogwarts, if you're flying or walking back, you'll need to burn away the massive spiderweb that surrounds this area.
Now return to Deek in the Room of Requirement and release the phoenix.
A brand new Vivarium will appear on the second floor of The Room of Requirement just for the phoenix. You can visit your rare bird by going inside it.
The one and only phoenix
It's kind of disappointing that there is only one phoenix in Hogwarts Legacy, but then at the same time, it makes for a fun quest reward since it is so rare. It takes a bit of work to get through the Phoenix Mountain Cave in order to capture your fiery bird, but there aren't really any challenging puzzles to work through. You'll just need to platform around a bit and defeat a few enemies on your way to the top of the mountain where the phoenix nests.
Of course, once you get the phoenix, you'll have one less magical beast to collect to gather them all. Remember there are 13 magical beasts in total. Aside from the phoenix, other rare creatures are the Unicorn or the Graphorn. Make your way to the proper dens to catch each species.
Windows Central Newsletter
Get the best of Windows Central in your inbox, every day!
Self-professed gaming geek, Rebecca Spear, is one of Windows Central's gaming editors with a focus on Xbox and PC gaming. When she isn't checking out the latest games on Xbox Game Pass, PC, or Steam Deck; she can be found digital drawing with a Wacom tablet. She's written thousands of game guides, previews, features, and hardware reviews over the last few years. If you need information about anything gaming related, her articles can help you out. She also loves testing game accessories and any new tech on the market.