Overwatch 2 Season 7: Patch notes, release date, Battle Pass, Mythic skin, and more
A Diablo 4 crossover, Halloween modes, and more await.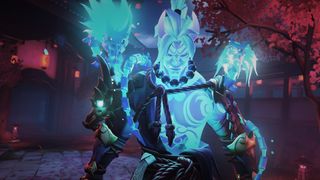 (Image credit: Activision Blizzard)
Overwatch 2's sixth season that added three story-driven PvE missions and the new Flashpoint PvP game mode may have come to an end, but the fun doesn't stop there for fans of Blizzard's popular hero shooter. Season 7 has officially kicked off, and has brought a brand new limited-time game mode, returning events, fresh cosmetic rewards, exciting reworks and balance changes, and more to players over its nine-week runtime.
Ahead of the arrival of Season 7 — officially titled "Rise of Darkness" — the developers revealed everything fans need to know about its release, content additions, Battle Pass, and more. Below, you'll find a complete overview of all those details broken down into individual sections. For quick reference, these can be jumped to with the navigation menu on the side of this article.
Overwatch 2 Season 7: Release date and launch time
While Overwatch 2 Season 6's launch date was a bit of an odd one since it was on a Thursday instead of a Tuesday, things went back to normal with Rise of Darkness. Season 7 went live on Tuesday, Oct. 10, 2023. At this time, the Season 6 Battle Pass officially became unavailable, and was replaced by Season 7's.
Most Overwatch 2 patches roll out at 12 p.m. PT / 3 p.m. ET, but the Season 7 update came out about an hour earlier than this. We're not sure why, but hey — we're not complaining!
Note that because Overwatch 2 updates are deployed at the same time globally, the update came out earlier or later in the day for folks living in time zones other than the two mentioned above. We've listed all of Season 7's release times in each major time zone in the table below.
Swipe to scroll horizontally
| Time zone | Release time |
| --- | --- |
| Pacific Time (PT) | October 10, 12:00 p.m. |
| Mountain Time (MT) | October 10, 1:00 p.m. |
| Central Time (CT) | October 10, 2:00 p.m. |
| Eastern Time (ET) | October 10, 3:00 p.m. |
| Brasilia Time (BRT) | October 10, 4:00 p.m. |
| Universal Time Coordinated (UTC) | October 10, 5:00 p.m. |
| British Summer Time (BST) | October 10, 6:00 p.m. |
| Central European Summer Time (CEST) | October 10, 9:00 p.m. |
| Moscow Time (MSK) | October 10, 10:00 p.m. |
| Gulf Standard Time (GST) | October 10, 11:00 p.m. |
| Indian Standard Time (IST) | October 11, 12:30 a.m. |
| Singapore Standard Time (SNST) | October 11, 3:00 a.m. |
| China Standard Time (CST) | October 11, 3:00 a.m. |
| Japan Standard Time (JST) | October 11, 4:00 a.m. |
| Australian Eastern Standard Time (AEST) | October 11, 5:00 a.m. |
| New Zealand Standard Time (NZST) | October 11, 8:00 a.m. |
Overwatch 2 Season 7: Roadmap
The sections below go into significantly more detail about what Season 7 has in store for Overwatch 2 fans, but if all you're looking for is a quick run-through of its content, this official roadmap is pretty handy. Here's a look at everything on it:
New Diablo-themed co-op game mode

Trials of Sanctuary

Play as Demon Hunter Sombra, Barbarian Zarya, Night Raven Illari, Cleric Lifeweaver, Imperious Reinhardt, or Inarius Pharah
Fight against PvE enemies and bosses, including Azmodan Wrecking Ball, Butcher Roadhog, and Lilith Moira
Empower your abilities with pickups

Halloween Terror modes return Oct. 10 — Nov. 1

Junkenstein's Revenge
Junkenstein's Revenge: Wrath of the Bride

Complete challenges to earn Battle Pass XP, Overwatch Credits, and themed cosmetics

Get 3,000 Overwatch Credits when you log in Oct. 10 — 16

Apology due to a bug with Season 6 Anniversary Event challenges

Halloween Terror Credits Shop Oct. 10 — Nov. 7

Use Overwatch Credits to purchase legacy Halloween skins
New Gilded Hunter Sombra Legendary Skin

A "remix" of Demon Hunter Sombra

Use Overwatch Credits to unlock Overwatch 2 heroes Oct. 10 — 17

Sojourn, Junker Queen, Kiriko, Ramattra, and Lifeweaver

New Control map: Samoa

Available immediately in Arcade and Quick Play
Coming to Competitive later in Season 7
Three points

Sombra rework

Opportunist passive removed
Stealth is now a passive
Translocator instantly teleports
New DOT ability: Virus

New Battle Pass

Premium for 1,000 Overwatch Coins
80 Tiers of rewards
Includes new Halloween-themed skins
Includes new Mythic skin: Onryō Hanzo
Season 7's biggest addition to Overwatch 2 is the new Trials of Sanctuary co-op game mode, as it crosses over Blizzard's Diablo series with its hero shooter and brings extra PvE content to players. The returning Halloween Terror modes and challenges as well as the Halloween Terror Credits Shop also gives fans a chance to earn and buy both old and new Halloween cosmetics with their Overwatch Credits. For the first week of the season, you'll be able to use them to buy Overwatch 2 heroes you don't have access to as well (notably, Illari will not be available).
Overwatch 2 Season 7: Battle Pass
Each new season since Overwatch 2's launch last year has been accompanied by a new battle pass, and that's not changing with Season 7. Its battle pass is now available, giving players a chance to progress through 80 new tiers and earn a wide variety of skins, emotes, voice lines, sprays, and other exclusive cosmetic items. Rewards from the Free reward track of the pass are available to all Overwatch 2 players, but those on the Premium track are only accessible to folks that purchase the Premium Battle Pass with 1,000 Overwatch Coins ($10 worth).
The theme of the battle pass is Halloween, which matches the theme of Rise of Darkness itself and is quite fitting for a season that started in October. As a result, many of its rewards are quite spooky in nature, though there are several off-theme unlocks on offer as well for the sake of variety. 2,000 Overwatch Credits are on the pass, too — 1,500 from the Free reward track, and 500 from the Premium one.
Season 7 brought 17 new Halloween skins to Overwatch 2 in total, including new looks for Ashe, Genji, Mercy, Bastion, Zenyatta, Soldier: 76, Lifeweaver, Ramattra, Lucio, Echo, Widowmaker, and others. Many of these can be seen in Rise of Darkness' official trailer (you can watch it in the trailer section at the end of the article), and a number of them are on the Season 7 Battle Pass. The rest can be purchased from the in-game microtransactions shop.
Season 7 Mythic skin: Onryō Hanzo
The premier reward in the Overwatch 2 Season 7 Battle Pass is the customizable Onryō Hanzo Mythic skin. Inspired by the vengeful spirits of the same name in Japanese folklore, this skin is a perfect fit for the seasonal theme (and one of the best Mythics Blizzard has made yet, if you ask us). Players are able to earn the skin and all of its various personalization options by reaching Tier 80 on the Premium Battle Pass, which is its final level.
The standard variant of the skin sports a color combination of dark and spirit blue, though you can change it to a fiery red and orange or a spooky combination of bone white and ghastly green if you'd prefer something different. You can tweak the appearance of Hanzo's attire and bow as well, giving you additional customization options.
No matter how you make the skin look, it'll be accompanied by special exclusive sound effects for abilities like Sonic Arrow. It overhauls the Dragonstrike Ultimate with a new unique look and sound, too.
Overwatch 2 Season 7: Trials of Sanctuary
Overwatch 2 Season 7's biggest piece of new content is Trials of Sanctuary, a Diablo 4 crossover mode that features PvE co-op gameplay. While it's available for the duration of the season, four players will be able to play as Demon Hunter Sombra, Barbarian Zarya, Night Raven Illari, Cleric Lifeweaver, Imperious Reinhardt, or Inarius Pharah — the latter four of which are brand new skins.
As they battle through a Diablo-themed version of the Blizzard World map, they'll encounter various types of "zomnic" enemies as well as bosses like Azmodan Wrecking Ball and Butcher Roadhog. Lilith Moira will be fought as well, and based on what we've seen of the mode so far, it seems like she'll be the final boss.
Interestingly, you'll have the opportunity to empower your hero's abilities by acquiring pickups as you progress. For example, it's possible to buff Reinhardt's Fire Strike with a pickup that makes it trail pools of Torbjorn Molten Core-style lava as it travels.
Currently, it's not clear if players will be able to earn any of the aforementioned Diablo skins for use outside of the mode by playing it, if any of them will be available in the Season 7 Battle Pass, or if they'll be exclusive to Overwatch 2's microtransaction shop. When we know more, we'll be sure to post an update.
Overwatch 2 Season 7: Halloween Terror event
Overwatch 2's past Halloween Terror modes, Junkenstein's Revenge and Junkenstein's Revenge: Wrath of the Bride, is also available alongside Trials of Sanctuary from the start of the season until Nov. 1. The former is a wave-defense mode that features Cassidy, Soldier: 76, Hanzo, and Ana, while the latter is a horror-style PvE mission in which you can play as Junker Queen, Ashe, Sojourn, and Kiriko.
Both modes are set in Adlersbrunn, a fictional German town represented by a Halloween version of the Eichenwalde map. In Junkenstein's Revenge, you'll encounter boss versions of Reaper, Roadhog, Junkrat, Symmetra, and Mercy, while you'll face Moira, Winston, Echo, Symmetra, Bastion, and Sombra in Wrath of the Bride.
As you play these modes, you'll be able to complete challenges that reward you with battle pass XP, themed rewards, and Overwatch Credits. You can then take those Overwatch Credits and use them to acquire returning legacy Halloween cosmetics and a new Gilded Hunter Sombra Legendary skin from the Halloween Terror Credits Shop until Nov. 7.
From Oct. 10 — 17, Sojourn, Junker Queen, Kiriko, Ramattra, and Lifeweaver will also be available to unlock with Overwatch Credits if you don't already have these heroes yet.
Overwatch 2 Season 7: Is there a new hero?
Many Overwatch 2 seasons have added a new hero alongside maps and game modes, but one hasn't come in Season 7. This is because Overwatch 2 Season 6 introduced the support hero Illari, and since Blizzard only adds new character every other season, another new hero isn't coming until Season 8.
Overwatch 2 Season 7 new map: Samoa
Image 1 of 3
Overwatch 2 Season 7 also added new Control map to the game: Samoa. Set in the Polynesian island country of the same name, this tropical battleground has a trio of control points for players to capture split between three distinct arenas.
The first is Downtown, and is set in an urban landscape with lots of tall buildings and structures. Then, there's Beach, which is significantly more open with more of a flat layout. The final point is Volcano, which is — you guessed it — set within a volcano, with lots of lava-filled environmental hazards that players will have to be careful to avoid (or knock their enemies into).
Samoa is available to play in Arcade and Quick Play now, but won't be in Competitive play until later in the season. Presumably, this is to give the developers time to make balance adjustments or bugfixes if any are necessary.
Overwatch 2 Season 7: Patch notes and changes
Blizzard has also taken the opportunity to introduce some rather significant balance changes to Overwatch 2 with Rise of Darkness, and while we don't have official patch notes yet, we do have a clear idea of what's been tweaked thanks to a recent Director's Take blog post.
We've listed everything gleaned from that post about what hero changes have come below, and will update this section with the complete patch notes once Blizzard publishes them. Note that Sombra and Roadhog are also getting some sizable reworks in Season 7, which we cover in more detail in the next section.
Mei

Removal of the Deep Chill passive that gave her bonus secondary fire damage against targets she slowed

Zarya

Partial reversion of Season 6 Particle Barrier size and health buffs so that she can't get energy too quickly, but has a faster cooldown for protecting allies

Bastion

Removal of armor repair when using Configuration: Assault

Orisa

Nerf to Fortify damage reduction

Torbjorn

Reversion of primary fire recovery time buff

Illari

Adjustment to secondary fire healing

Additional tweaks

Ramattra
Wrecking Ball
Cassidy
Brigitte
Some changes have also been made to Route 66, a Payload map that's been in Overwatch since it first launched in 2016 (wow, it's been a long time). Specifically, Blizzard added more cover to the attacking team's first spawn to make it harder for defenders to spawncamp, made the first checkpoint's doors only close partially after it's reached so that attackers have more options for pushing into the following chokepoints, and removed some cover from the final point to make it a little easier for defenders to ward off offensive pushes.
Overwatch 2 Season 7: Sombra rework
Perhaps the largest balance change that came with Rise of Darkness is its rework to Sombra. Many players find her frustrating to fight due to how slippery she can be with her on-demand Translocator escapes, so to address this, Blizzard reworked her kit with the listed goals of making her feel more active and committal without compromising on the identity of her "hacker" gameplay.
Here's a quick overview of everything that came with the rework, including each change and the introduction of a new ability:
Opportunist (Passive)
Stealth

Is now a Passive (was an active ability)
Sombra automatically goes invisible and moves faster whenever she's not dealing or taking damage

Translocator

Now teleports Sombra as soon as it lands
Reduces Sombra's Stealth cooldown after she teleports to it

New ability: Virus

Projectile that damages enemies over time
Damages hacked enemies at a faster rate
Roadhog is getting a rework in a Season 7 mid-season patch, with Blizzard aiming to improve his ability to protect allies and take space while removing emphasis on his Chain Hook/Scrap Gun one-shot potential. More details about it are sure to come soon, and when we get them, we'll put together a dedicated section for his rework here.
Overwatch 2 Season 7: Trailer
Season 7's official trailer is now available to watch. For your convenience, we've embedded it below for easy viewing.
---
Overwatch 2 is one of the best Xbox games on the market for fans of multiplayer shooters, and it's available now for free on Xbox Series X|S, Xbox One, Windows PC, PS5, and PS4. The Overwatch 2: Complete Hero Collection costs $20, and gives you instant access to every hero in the game along with three Epic skins, three Legendary skins, 1,000 Overwatch Coins, and 1,500 Overwatch Credits.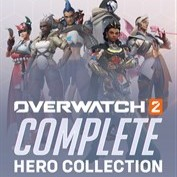 Overwatch 2: Complete Hero Collection
This $20 bundle gives you instant access to every hero in Overwatch 2, along with three Epic skins, three Legendary skins, 1,000 Overwatch Coins, and 1,500 Overwatch Credits.
See at: Xbox | Battle.net
Get the Windows Central Newsletter
All the latest news, reviews, and guides for Windows and Xbox diehards.
Brendan Lowry is a Windows Central writer and Oakland University graduate with a burning passion for video games, of which he's been an avid fan since childhood. You'll find him doing reviews, editorials, and general coverage on everything Xbox and PC. Follow him on Twitter.