Diablo 3 (yes 3) is getting a new feature after years of fan demand
While Diablo 3 gets a whole new leaderboard, Diablo 4 fans wait in vain for any leaderboards at all.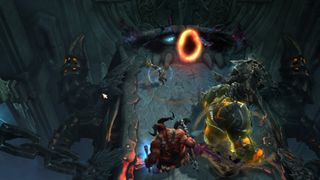 (Image credit: Blizzard Entertainment)
What you need to know
Blizzard has announced Season 29 will be called 'Visions of Enmity' and the player test realm (PTR) for the new season and mechanics will be live from August 15 to August 29.
PTR 2.7.6 will introduce a long-requested Solo Self Found (SSF) mode, with its own leaderboard and Hardcore option.
Also being added is a Paragon Ceiling, class balance changes and increase to drop rates of Primal Ancient items.
This will be the final season of Diablo 3 that will receive new content, from Season 30 onwards the seasons will repeat previous content, themes, cosmetics and rewards.
---
Despite the majority of the Diablo fanbase playing Diablo 4, it seems that Diablo 3 isn't giving up the ghost just yet. In a surprise announcement today with details of what to expect from Season 29 of the game, Blizzard has surprised and delighted fans with the addition of a Solo Self Found mode and leaderboard. A feature fans have been requesting for years, and had long thought we would never see.
What is Solo Self Found (SSF)?
SSF is a method of playing action role-playing games (aRPGs) that has been popular among hardcore fans for years. It is a self-imposed challenge that requires players to create a character and play the game using only the items and resources that they find or craft themselves. They cannot trade with other players, join multiplayer games or benefit from boosted XP in lobbies. This mode is meant for players who want a more challenging and rewarding experience, where they have more control over their character's progression and find more satisfaction in completing the game.

However, until now, SSF has never been an official mode in Diablo 3. Players who wanted to play SSF had to rely on their own honesty and discipline to follow the rules. That is about to change with the new update. Blizzard has decided to add SSF as an official mode in Diablo 3, with its own leaderboards and a hardcore option. Players who choose to play SSF will be able to create a character that is separate from the normal mode, and compete with other SSF players on a dedicated leaderboard based on their highest Greater Rift level or fastest time.

Other aRPGs already have SSF implemented, Last Epoch and Wolcen to name a few, but Blizzard have always been cagey when asked about SSF for Diablo, so the announcement today has been a pleasant surprise. On the other hand, Diablo 4 fans are still waiting for any leaderboards to be implemented at all.
Season 29 - Visions of Emnity
Season 29 will be the final Diablo 3 season that is receiving new content, as the game prepares to wind down into maintenance mode. From Season 30 onwards, the game will still be supported and run regular seasons however content will be repeated from previous seasons.

Blizzard has also confirmed that the Altar of Rites that was implemented in Season 28 that gave players an insane power jump and quality of life improvements, will be a permanent feature from Season 30 onwards.
We know the community enjoyed the Season 28 mechanic but did want to note that the Altar of Rites from S28 will return permanently beginning in Season 30 (after this new season).August 11, 2023
Visions of Emnity, the season name for Season 29, refers to a new mechanic for players to enjoy. Players from level 1 will have a chance encounter with a Fissure, a portal into another realm where untold horrors await. And loot of course.

These Fissures once stepped inside have the potential to produce additional Fissures upon killing enemies, and with them more opportunity to earn treasures and XP.

All enemies inside the visions have new monster affixes, making them deadlier than ever.
Enervating - reduces players movespeed by 65% and cooldown reduction by 50% within the vicinity of the monster.
Necrotic - players healing is reduced by 65%. Monsters have a damage-over-time effect that deals 180% of the player's max health over 30 seconds. This effect is removed if the player is healed above 95%.
Resource Leech - hitting a player removes 65% of their maximum resource.
Paragon Ceiling
In addition to the new Season 29 theme, and SSF modes, Blizzard are introducing changes to the Paragon Point system. You can now distribute a maximum of 800 Paragon Points across your character's attributes. Instead of being limited to 50 Paragon Points per attribute in each of the four categories (Core, Defense, Offense, and Utility), you can now allocate up to 200 Paragon Points per attribute. However, you still have to keep each category within the 200 Paragon Point limit.
The goal with these changes are to make Paragon Points less dominant in terms of character power, and make gameplay knowledge and gear hunting more important. 800 is being set as the initial cap but Blizzard are using the Player Test Realm to gather feedback on this number and will adjust if needed.

They have also reduced the Movement Speed bonus to 0.125% per point, because the previous value would have given players 100% Movement Speed, which was too much. Now you can choose to invest points in this stat, and go beyond 25% Movement Speed from item bonuses. Area Damage should perform the same or better than before, and with significant improvements to performance.
Community requested improvements
As well as all of the above changes, Blizzard is adding some quality-of-life improvements that have been requested by the community. These include monster changes in Greater Rifts, fixes to some class mechanics, and my favorite change of the entire patch notes — mastering a set dungeon has been removed as a prerequisite to completing the Champion step of the journey.

Players rejoice. If you want to read the patch notes in full, you can find them here on Blizzards official website.
How to take part in PTR 2.7.6
The PTR is accessed through the Battle.net launcher on PC, and will be available from August 15 to August 29. Navigate to the Diablo 3 tab, and in the drop-down menu above "Play" select the PTR option.

During the PTR all testers receive increased experience and double blood shard drops to speed up progression and enable testing of all features. There will also be a PTR-specific vendor named Djank Mi'em who will exchange your blood shards for class-specific bundles of legendary items.

Meanwhile, we still hold out hope that Diablo 4 will implement its own PTR to avoid the dramas around its controversial patch drops. Who knew that Diablo 3 would be leading the way when it came to satisfying its players?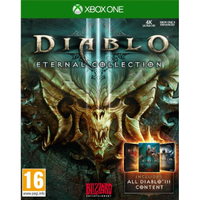 Diablo 3: Eternal Collection
It's not too late to familiarize yourself with Blizzard's flagship ARPG ahead of the next big launch. Fight in the Eternal Conflict with the Eternal Collection which includes the base Diablo 3 game, Reaper of Souls expansion and the Necromancer DLC.
Buy on: Xbox|PC(Battle.net)
Get the Windows Central Newsletter
All the latest news, reviews, and guides for Windows and Xbox diehards.
Jen is a News Writer for Windows Central, focused on all things gaming and Microsoft. Anything slaying monsters with magical weapons will get a thumbs up such as Dark Souls, Dragon Age, Diablo, and Monster Hunter. When not playing games, she'll be watching a horror or trash reality TV show, she hasn't decided which of those categories the Kardashians fit into. You can follow Jen on Twitter @Jenbox360 for more Diablo fangirling and general moaning about British weather.