I'm sticking with my Steam Deck over the ASUS ROG Ally — and not just for its battery life
The ASUS ROG Ally gets some stuff really wrong.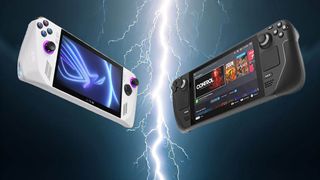 (Image credit: Windows Central)
The ASUS ROG Ally has now been revealed in full, and reviews have been quite mixed.
While Windows handhelds have been around for quite a long time at this point, it's only since the Steam Deck that they've been getting mainstream, serious attention. The quality of low-voltage chips has improved leaps and bounds over the years, opening up PC gaming to all new paradigms that were previously simply not possible.
Powered by AMD tech, both the Steam Deck and its latest competitor, the ASUS ROG Ally have essentially created a brand new market out of thin air. The potential to bring PC gaming to a whole new audience is truly staggering, as these devices aren't necessarily cost-prohibitive, and are often powerful enough to run the latest games, pending optimizations. Both devices also come with all the bells and whistles of PC, with versatile operating systems that can incorporate standardized apps, peripherals, and much more — going far beyond the closed ecosystems of typical consoles.
We have a full post detailing the main differences between the Steam Deck vs. the ASUS ROG Ally, and there are surely pros and cons to both. On paper, the ASUS ROG Ally is more powerful, with a superior display. The Steam Deck runs a more optimized operating system in SteamOS, designed fully for handhelds, and thus can boast better battery life in many situations.
When I first heard of the ASUS ROG Ally I was fully on board. I expected that I would preorder the ASUS ROG Ally outright. But after reading the reviews, I've decided to stick with my Windows 11-powered Steam Deck for the foreseeable. Here's why.
The subjective reasons
My favorite review was from Retro Game Corps, who offered an incredibly detailed look at the device overall, complete with benchmarks, hands-on from every angle, and more. This was overall a very positive review in general, and really gave us a deep look at the device and the quality of the experience ASUS has put together.
Right now, RGC review almost sold me on the device, but a couple of small issues helped me save my £700 for another rainy day.
Even before the reviews dropped, I wasn't a fan of the ASUS ROG Ally's design. What devices look like isn't a particularly big deal, but I find the aggressive angles, heavy "ROG" iconography, and odd color accents to be offensive on the eyes. After using the functional, but pretty Steam Deck, Xbox Series X, and Razer Blade 17 Pro as my primary gaming machines for the past few years, the ASUS ROG Ally's white toy-like design is a bit jarring. At least it's comfortable to hold, reportedly.
Another issue I have with the design is the placement of the back buttons. This is a pretty important one too, since we don't have Steam Deck-like touchpads for controlling Windows on this one. The ASUS ROG Ally software allows you to customize the back buttons so you can launch the Start Menu, hide to Desktop, or open the touch keyboard, but most reports suggest they're too easy to press by accident. At least you can map them to combination presses to avoid mistakes, but it seems like a needless design oversight in what is a fairly expensive device.
This touches on the main issue with the ASUS ROG Ally, and it's sadly Windows itself.
The main problem is Windows 11
I say this as someone who is actively using Windows 11 on my Steam Deck right now, too, but Windows just isn't a great experience on devices like this.
Windows 11 doesn't conform very well to small devices, and that's ultimately because it's not designed to. It's designed for larger devices, scaled for larger displays, and optimized for mouse and keyboard. It can do touch, and it can run on 7-inch displays, but Microsoft has backpedaled hard on Windows' capabilities as a tablet-first OS since the Windows 8.1 days. However, I find that the Steam Deck will probably, overall, provide a better experience than the ASUS ROG Ally. Without the Steam Deck touchpads, the ASUS ROG Ally brand of Windows will be generally irritating to navigate.
ASUS has its Armory Crate app, which comprises multiple game launchers into a single platform. It's a full-screen app that can be opened with a dedicated button and navigated with the joysticks like a natural console interface. There's also a control center, similar to SteamOS, which lets you manage power profiles, resolution, and other hardware features with a simple tap. However, reports suggest that both of these platforms are buggy and crashy, and sometimes fail when games are running.
Windows doesn't have strong features to support devices like the Steam Deck or ASUS ROG Ally built-in, leaving it to OEMs or independent developers to fill in the gaps. I use Steam Deck Tools from ayufan, and have been blown away by how stable they are, and how fully-featured they are. I'm sure ASUS will update its software over time to improve things, but my confidence in the firm has been shaken by recent controversies. A recent ASUS expose suggested that the firm overvolted some of its products, and then asked users to download a warranty-violating update to fix it.
Using Windows 11 with the Steam Deck, I get many of the same features ASUS is offering with third-party tools, and I can fill in the gaps using the Steam Deck's surprisingly useful touchpads. I can't imagine using Windows 11 with a joystick for those times you absolutely need a mouse cursor, and touch on a small screen is almost always a pain.
Either way, the competition in this space is heating up, and Microsoft is potentially missing an opportunity to properly cater to a new paradigm.
Hopefully, this will give Microsoft a kick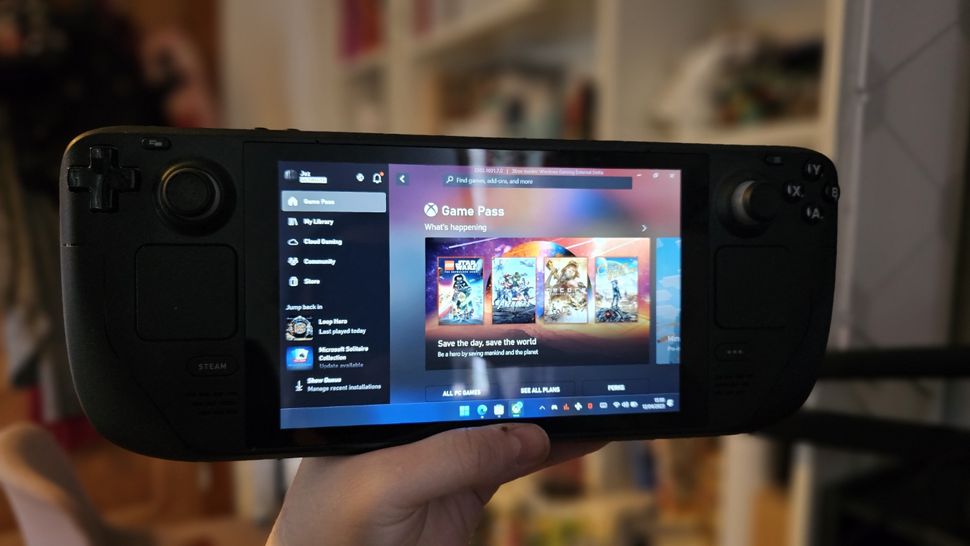 Once upon a time, Microsoft was a pioneer in new Windows form factors. The Surface Pro design was balked at initially but later adopted by every OEM out there, including Apple itself. Windows handhelds have been around for a few years, in spite of Windows, rather than in support of Windows. The fact is, Windows is its own worst enemy, with a vast entrenched monopoly that allows for a degree of complacency.
The PC market is down 30% year over year, due to excess stock and waning work-from-home requirements. In a world where the Nintendo Switch has sold well over 100 million units, the form factor is absolutely proven. It was only until relatively recently, though, that chips became optimal enough to run the bulk of full Windows 11 on something resembling moderately acceptable battery life. The benefit is thousands upon thousands of games, but the downside is, well, Windows. Devices like the ASUS ROG Ally could open up a whole new market for OEMs, but the mass marketability and simplicity of the Nintendo Switch is a far, far cry from what Windows is capable of right now.
Microsoft has teased in hackathons and at the ASUS ROG Ally event itself that it plans to make the OS more friendly for these types of devices, but I highly doubt it's a priority for the company. The PC Game Pass app is notoriously rough, and the Xbox Game Bar barely functions on my Steam Deck, given scaling problems and strangely restrictive hardware requirements.
Microsoft's goal is to bring its gaming platform to more devices and paradigms. Whether it's launching its games on Steam with cross-play, or pushing Xbox Game Pass on phones via cloud gaming in a web browser, Microsoft wants its platform to be in as many places as possible. The opportunity for PC Game Pass on a device like the ASUS ROG Ally cannot be overstated. The promise of native gaming will always trump cloud gaming, and devices like the Steam Deck and ASUS ROG Ally are presenting a vision of what that might look like. The problem for Microsoft, however, is that the Steam Deck doesn't run Windows out of the box.
If Microsoft wants OEMs to build these types of devices for Windows, it needs to offer out-of-the-box and more optimized tools so that we don't need to rely on buggy OEM software to achieve what SteamOS has achieved so well. It was encouraging to see some Xbox presence on stage at the ASUS ROG Ally event, but it remains to be seen what kind of commitment we'll actually get from the world's biggest gaming OS.
Get the Windows Central Newsletter
All the latest news, reviews, and guides for Windows and Xbox diehards.
Jez Corden a Managing Editor at Windows Central, focusing primarily on all things Xbox and gaming. Jez is known for breaking exclusive news and analysis as relates to the Microsoft ecosystem while being powered by caffeine. Follow on Twitter @JezCorden and listen to his Xbox Two podcast, all about, you guessed it, Xbox!
Most of the concerns here could pretty quickly be resolved by the user.

Enable tablet mode for fullscreen navigation & single application focus (like an Android tablet).

Use Steam Big Picture for Game Launching. I won't be surprised if Steam Big Pictures controller mapping will work with the Ally pretty quickly as well.

In return for those two changes you get to completely avoid the will it won't it work of SteamOS with a device thats vastly more powerful.

The elephant in the room is people expect a console like experience with these handhelds whilst also wanting the flexibility of PC, which isn't going to happen until Microsoft drops a Xbox Series S Handheld (which it almost certainly will IMO). One does feel like a decent SOE Architect at ASUS could get the OoBE to achieve most of what I listed.

Now of course we get to Armoury Crate, ASUS software sucks, and for anyone not savvy enough to completely bypass it, will be like an Achilles heel.

Reply