It's time to Double Down on Diablo 4 hype with this tasty KFC collab
Because demons don't eat salad.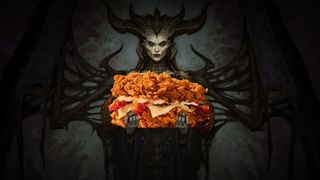 (Image credit: Windows Central)
What you need to know
Blizzard is collaborating with Kentucky Fried Chicken (KFC) to give away Early Access Open Beta keys for Diablo 4 with the purchase of the Double Down sandwich.
The promotion runs from today through till March 18 in U.S. only.
The Early Access Open Beta runs from March 17-19 and will offer three playable classes, Rogue, Sorcerer and Barbarian.
---
The Diablo 4 marketing train continues. Just days after the epic reveal of a mural devoted to Lilith on a French Cathedral roof, we've now received news of a tasty Kentucky-fried collaboration. It's no Horadric Hamburger but it's as close as Diablo fans will get.

Rumors initially surfaced on Reddit in February of the Double Down returning to KFC menus following a 10-year hiatus, and that it would be accompanied by a Diablo 4 promotion. The Double Down did in fact return from March 6 but only today have we had confirmation that the Diablo 4 collab is fact. The Early Access Open Beta of Diablo 4 runs from March 17-19 and is reserved for fans who have pre-ordered the game, but now if you wish to sacrifice your arteries to Lilith, you too can have access.

The Double Down sandwich is a truly sinful affair, having no need for a bread bun. Melted cheese and hickory smoked bacon are sandwiched between two fried chicken breasts. It's not a meal for the faint-hearted, but demons need their protein and a Caesar salad just isn't going to cut it.
US KFC customers will need to order their Double Down via the KFC website or app, and collect from the restaurant, then await the arrival of their beta code via email. The promotion runs from today until March 18 and whilst the Double Down is the marketed offering to the Prime Evils, there are other eligible sandwiches available.
This isn't the first time the worlds of gaming and tasty treats have met, only recently Xbox had their own Oreo cookie collaboration giving away in-game content for Forza, Sea of Thieves and Halo Infinite.
When is the Diablo 4 Open Beta?
March 17-19 for players who have pre-ordered Diablo 4, or taken part in the KFC Double Down promo.
March 24-26 for everyone else, and vegetarians.

The Open Beta will be available on Windows PC, Xbox Series X|S, Xbox One, PlayStation 5, and PlayStation 4.

So far the Diablo 4 marketing campaign has included the Hells Ink Tattoo Tour, a Halsey tribute at the Game Awards, Diablo-inspired fashion at Milan Fashion week and the incredible Cathedral mural in Cambrai, France. We're sure this KFC promo isn't the last we will see of the Diablo 4 hype train, and can't wait to see what else Blizzard has in store before release on June 6.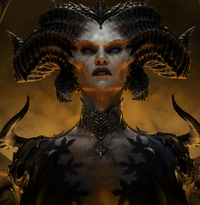 (opens in new tab)
Diablo 4: Ultimate Edition
The Ultimate Sacrifice from your wallet to our Blessed Mother, the Ultimate Edition of Diablo 4 comes with a bunch of cosmetics, the Premium Battle Pass, and 20 tier skips.
Buy on: Xbox (opens in new tab)|PC (Battle.net) (opens in new tab)
Windows Central Newsletter
Get the best of Windows Central in your inbox, every day!
Jen is a News Writer for Windows Central, focused on all things gaming and Microsoft. Anything slaying monsters with magical weapons will get a thumbs up such as Dark Souls, Dragon Age, Diablo, and Monster Hunter. When not playing games, she'll be watching a horror or trash reality TV show, she hasn't decided which of those categories the Kardashians fit into. You can follow Jen on Twitter @Jenbox360 for more Diablo fangirling and general moaning about British weather.