PSA: You can get Diablo 4 battle passes for free with Microsoft Rewards, here's how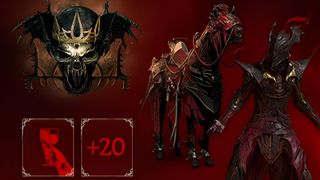 (Image credit: Blizzard Entertainment)
What you need to know
Diablo 4 launched it's second season, the Season of Blood on October 17 with a new Battle Pass and Seasonal Rewards.
The Premium Battle Pass is optional, but you can get one for free as well as 20 tier skips through Microsoft Rewards.
If you've jumped back into Diablo 4 for the second season, Season of Blood, you may be feeling a bit cautious about purchasing the Battle Pass, given that Season of the Malignant wasn't received too well. I know I regret using my free pass from the Diable 4 Ultimate Edition as I 'ultimately' never completed it, so I'm exercising more caution this time around.

If you do want to purchase, there is a way to get it completely free if you have enough Microsoft Reward points. Simply head on over to Microsoft Rewards and you can bag the accelerated pass for 22,500 points. The accelerated pass costs $25 normally, and this adds up considerably if you want to buy each season.
The accelerated pass comes with 20 tier skips to speed up your journey through the Diablo 4 Season and a 'Vampire's Repose' emote.
PSA: We've seen some reports that the code for tier skips doesn't work for some people at the moment. We've reached out to Microsoft to comment.

If you don't have the points for the Accelerated Pass, you can get the Premium Battle Pass for only 9000 points, saving you $10 in 'real money'. This gets you the 90 tiers but no skips, and no fancy emote. This would be my choice for the best value.

If you already have the Battle Pass, you can still get 20 tier skips for the lowly fee of 1700 reward points, which should shave off a fair amount of time it will take you to complete your Season of Blood pass. Normally skipping a tier costs 200 Platinum in game, or $1.99 in real money terms.
Once you have redeemed, you'll receive an email with a code. Use this code on battle.net, as explained in the email, rather than on your Xbox or on Steam.
What are Microsoft Reward points?
Microsoft Reward points can be exchanged for gift cards, movies, games, nonprofit donations, and more. They can be earnt simply by interacting with Microsoft's eco system like Xbox and Bing.
How do I earn Microsoft Reward points?
Searching with Bing on your browser nets you up to 5 points per search, and up to 150 points per day.
Purchases from the Microsoft store will reward 1 point per dollar spent.
Downloading the Rewards app on your Xbox will give you simple activities to complete to earn points daily, weekly and monthly.
Playing games on Xbox or watching movies and TV shows as indicated on your Xbox dashboard.
Downloading the Microsoft Rewards browser extension on Google Chrome will set your default search engine to Bing and track your point balance if you prefer this browser.
If you play games on Xbox, it's ridiculously easy to build up reward points; in fact I can quickly get 2-3k a month with very little effort and simply completing dashboard quests. Reward points have funded many of my Xbox controller purchases over the years and I'm sure they will now be financing my Diablo 4 Battle Passes.
Is Diablo 4 Season 2 Battle Pass worth purchasing?
I'm still very early into the season and gathering my thoughts, but what I do know is that the cosmetics on the Battle Pass for Season of Blood are a lot more covetable than they were for Season 1, because who doesn't want to be a blood soaked vampire? Levelling feels a lot easier too, as promised in the Season of Blood Developer Update, so I'm confident I'll actually finish this pass.

I'm still being cautious with spending real money though, I've been burnt before, and Microsoft Rewards is here to save the day!
Get the Windows Central Newsletter
All the latest news, reviews, and guides for Windows and Xbox diehards.
Jen is a News Writer for Windows Central, focused on all things gaming and Microsoft. Anything slaying monsters with magical weapons will get a thumbs up such as Dark Souls, Dragon Age, Diablo, and Monster Hunter. When not playing games, she'll be watching a horror or trash reality TV show, she hasn't decided which of those categories the Kardashians fit into. You can follow Jen on Twitter @Jenbox360 for more Diablo fangirling and general moaning about British weather.