The best kids TV show right now is getting a video game, and it's out in November
We can't wait to go on an adventure with Bluey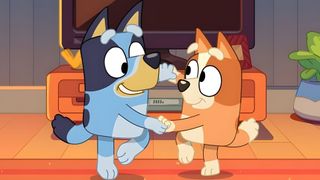 (Image credit: Ludo Studio)
What you need to know
Bluey is an animated kid tv show about the Heeler family, produced in Australia but popular around the world on ABC Kids, BBC and Disney+.
The show has inspired a video game, published by Outright games who have worked on Peppa Pig and Paw Patrol games.
Bluey: The Video Game comes to Xbox, Playstation and Windows PC on November 17 2023.
---
Parents rejoice, the show you can actually tolerate watching with your children, and even want to watch when they've gone to bed, is about to launch as a video game! That's right, Bluey is arriving on our consoles and PC on November 17 and I for one can't wait. Here's the adorable trailer.
Bluey is a wholesome Emmy award-winning show about a family of dogs. Whilst the premise is simple, the show has buckets of charm, belly-laugh-inducing scenes and often raw perceptiveness about the realities of parenting. The cross-generational appeal has made it a surefire hit with parents the world over, and it's easy to see why Outright Games has picked up this franchise for a video game adaptation.

Outright Games are known for delivering other family-friendly games such as My Friend Peppa Pig and Paw Patrol, both of which are on Xbox Game Pass right now. The game will let you roam Bluey's home and iconic areas from the show, as well as include mini-games straight out of the most memorable episodes like Keepy Uppy and Magix Xylophone. You'll get to follow a new four-part adventure voiced by the original cast and earn rewards in the game like outfits, stickers and new places to play.

The game will be suitable for both young and older fans of the animated series, as it has different difficulty options that can be adjusted. These include turning the UI on or off, having simple written instructions on the screen, and having full voice-over for extra accessibility.
I'm always happy to see more family-orientated games come to Xbox, and hope this will be a new addition to our list of Best Xbox Games for Kids. The best thing about Bluey: The Video Game, though, is that it supports 4-player co-op. That means you can pick your character and play with the whole family. I can't decide if I want to be Bingo or the coolest dad ever, Bandit. Either way, this will be a great game to play with my son who's just getting into video games. He already has his own mini Xbox controller in the PowerA Nano Enhanced, so my Player 2 is ready to go.

But those who watch Bluey know that it's not just a kids show. It's the kind of show that you keep watching even when the kids are not around, because it's so funny and heartwarming. So I might have to resist the temptation to play this game by myself for the achievements.
Bluey: The Video Game will be available on Xbox consoles, Playstation consoles and PC on November 17.
Get the Windows Central Newsletter
All the latest news, reviews, and guides for Windows and Xbox diehards.
Jen is a News Writer for Windows Central, focused on all things gaming and Microsoft. Anything slaying monsters with magical weapons will get a thumbs up such as Dark Souls, Dragon Age, Diablo, and Monster Hunter. When not playing games, she'll be watching a horror or trash reality TV show, she hasn't decided which of those categories the Kardashians fit into. You can follow Jen on Twitter @Jenbox360 for more Diablo fangirling and general moaning about British weather.