Best Xbox kids games May 2022
Xbox makes no exceptions when it comes to gaming for all ages!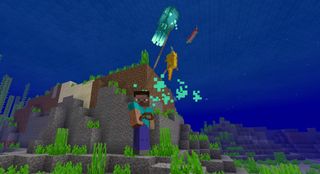 (Image credit: Mojang Studios | Twitter)
The Xbox has an extensive library of games that can satisfy gamers of all ages. These include AAA blockbuster adventures or charming little indie darlings that can teach us meaningful life lessons. And if a child somehow comes across a violent title without your notice, you can use the Xbox's parental controls to protect them. However, since there are so many video games to choose from it can be difficult as a parent to determine which game is right for your kid. But don't worry, we're here to help.
We have rounded up all the best Xbox games you can buy for kids of any age in 2022. While most of our picks cater to younger children, we have included some titles for the older kids. These are family-friendly joyrides that prove that video games can be made for everyone. Here are the best kids games for Xbox One, Xbox Series X, Xbox Series S, PC, and Xbox Cloud Gaming.
1. Minecraft
Minecraft (Xbox)
Reasons to buy
+
In-depth crafting system
+
Huge, charming world to explore
+
Memorable monsters to fight
+
Cross-platform and multiplayer support
Reasons to avoid
-
Steep learning curve for beginners
Available on: Xbox One, Xbox Series X|S, PC, Android
Who would've thought this humble, charming game about building blocks by Mojang Games would become one of the biggest video game franchises on the planet? Minecraft is a 3D survival game where you can do whatever you want, thanks to this game's procedurally generated maps.
You can craft weapons and armor to fight your way through the Nether and slay the Nether Dragon in survival mode. Or you can kick back and relax in passive creative mode to build whatever your mind can conjure up. Towns, castles, mountains, monuments, you name it, you can create it. The sky is the literal limit.
2. Minecraft Dungeons
Minecraft Dungeons (Xbox)
Reasons to buy
+
Endlessly satisfying, polished combat
+
Great performance and optimization
+
Tons of possible gear combinations
+
Great art and music
+
Great price
Reasons to avoid
-
Some minor bugs in the PC client, with disconnects and memory drain
-
Barebones story treatment is a missed opportunity
Available on: Xbox One, Xbox Series X|S, PC, Android
Minecraft Dungeons is an unexpected, action RPG take on the Minecraft universe. Shifting the focus from peaceful crafting and building to dungeon crawling for powerful loot and stopping the evil Arch-Illager from conquering the world.
While Minecraft Dungeons takes inspiration from popular dungeon crawlers like Diablo, it manages to stand on its own merits with great presentation, polished combat, and a character development system that will keep you and your kids busy for hours.
3. Kingdom Hearts III
Kingdom Hearts III (Xbox)
Reasons to buy
+
Streamlined combat that is easy to learn for beginners
+
Lots of Disney and Final Fantasy references
+
Excellent music and vibrant visuals
Reasons to avoid
-
The plot can be confusing to follow, especially if you haven't played the previous games
-
Cutscenes can drag on for a bit too long
Available on: Xbox One, Xbox Series X|S
The Kingdom Hearts series is a wild and epic crossover that combines the worlds of Square Enix's Final Fantasy series with that Disney's most popular movie franchises. These games have you assume the role of Sora, a young boy that has been gifted with a magical weapon called the Keyblade. With this weapon and aid from Donald and Goofy, Sora travels to each of the Disney Worlds and defends them from the wrath of evil creatures known as the Heartless.
Kingdom Hearts 3 is the epic conclusion to a storyline that has been in the making for over a decade across the entire franchise. The staple hack-and-slash gameplay has been refined and improved to extraordinary levels — allowing players to pull off attacks that are a grand spectacle to behold. And the game is complemented with an extensive roster of Heartless monsters and classic Disney villains.
If you and your kid are Disney fans, you will love the representation of the Disney worlds on display, from classic worlds such as Hercules, Pirates of the Caribbean, and Toy Story to modern Disney favorites like Tangled, Big Hero 6, and Frozen. Each world is so well designed and faithful to the source material — it makes you feel that you jumped into your TV screen and became part of your favorite Disney movies.
4. Spyro Reignited Trilogy
Spyro Reignited Trilogy (Xbox)
Reasons to buy
+
Beautiful art design
+
Tight platforming gameplay
+
Fun story
+
A huge variety of unique levels
Reasons to avoid
-
Occasional camera issues
-
Questionable Xbox One X support
Available on: Xbox One, Xbox Series X|S
Spyro the Dragon was a series of 3D platformers that debuted back on the original PlayStation. They were fun adventures filled with memorable characters, brain-teasing puzzles, and vibrant, magical locales that were a delight to explore.
Many years later, a new generation would get to experience Spyro's adventures with a fresh new coat of scales in the Spyro Reignited Trilogy. This collection contains the original PlayStation trilogy of Spyro games: Spyro the Dragon, Spyro 2: Ripto's Rage, and Spyro 3: Year of the Dragon. But all three games have now received visual HD upgrades, re-recorded voicework, and a redone soundtrack.
The gameplay, however, was left unchanged because it still holds up even after 20 years. If you're an old fan looking for a nostalgia trip back to the 1990s, or you want a light-hearted romp to introduce your kids to the platforming genre, look no further than the Spyro Reignited Trilogy.
5. Sonic Mania Plus
Sonic Mania Plus (Xbox)
Reasons to buy
+
A true return to form for Sonic
+
Excellent and creative levels to race through
+
Beautiful graphics that mimic the original 16-bit games
Reasons to avoid
-
The bonus stages can be tough for younger kids
-
Many gameplay features would benefit from an in-depth tutorial for new players
Available on: Xbox One, Xbox Series X|S
There was a time when the Sonic the Hedgehog franchise was the hottest series of platformers on the market. The original trilogy of SEGA Genesis Sonic games was so polished and well received that they rivaled the Super Mario Brothers during the height of the '90s console wars between Nintendo and SEGA. But ever since the Sonic series made the transition to 3D, the quality and focus of the games have radically fluctuated with each new entry.
Fans of the older games had wanted a return to 2D for the blue speed demon because they believe that's when Sonic was at his best. They would get their wish with Sonic Mania, a Sonic the Hedgehog game that feels like a long-lost sequel to the classic SEGA Genesis Sonic games.
It features everything that made the classic Sonic games great. A gorgeous art style that mimics the 16-bit graphics of the Genesis era. Tons of well-designed and creative levels to blaze a trail through. And challenging boss fights that will surprise even veteran Sonic fans. Not only is this game great for Sonic fans, but it's also great for kids too. Not to mention this game has a co-op mode where you and your kid can join forces to defeat the evil Dr. Eggman.
6. Stardew Valley
Stardew Valley (Xbox)
Reasons to buy
+
Open-ended gameplay
+
Detailed pixel art
+
Tangible goals
+
Relationship options
Reasons to avoid
-
Lack of NPC diversity
-
Short days
Available on: Xbox One, Xbox Series X|S
If you're looking for a title that will teach your older kids the values of hard work and resource management while also being fun, give Stardew Valley a try. Stardew Valley is a farming simulator where you play as a farmer who has inherited a farm from your grandfather. It is up to you to restore the farm to its former glory and help the nearby community of Stardew Valley prosper.
This is a laidback and relaxing game where you can cultivate crops, raise cute farm animals, and explore caves filled with treasure and monsters to slay. You can also interact with the nearby town's locals and help out by selling your crops or doing them a favor. The best part is this game has cooperative multiplayer, so you can help your kid create the best farm in the land.
7. New Super Lucky's Tale
New Super Lucky's Tale (Xbox)
Reasons to buy
+
Gorgeous visuals
+
Addictive gameplay
+
Collectibles and secrets that offer lots of replay value
+
Relationship options
Available on: Xbox One, Xbox Series X|S, PC
New Super Lucky's Tale is an indie platformer that follows the adventures of Lucky Swiftail. He is an optimistic fox on a journey to help his sister Lyra retrieve the Book of Ages from the evil cat wizard, Jinx. If Jinx isn't stopped, he will use the power of the Book of Ages to reshape the world to his liking.
This is a fun and jovial platformer where you will hop and dig your way through colorful and wacky worlds within the Book of Ages. This journey is jam-packed with addictive gameplay, funny characters, delightful visuals, and hidden collectibles that will keep your kids busy for hours on end.
8. Slime Rancher
Slime Rancher (Xbox)
Reasons to buy
+
Dozens of hours of content
+
Relaxing and fun simulation experience
+
Rewarding exploration
+
Cute slimes
Reasons to avoid
-
Lacks decent "endgame" content
-
Unengaging story
Available on: Xbox One, Xbox Series X|S, PC
Ever wanted to raise a farm of adorable slimes? Have your kids try out the light-hearted, sci-fi farming simulator, Slime Rancher. In this game, you play as Beatrix LeBeau, a young rancher who ventures off into space to start her own farm on the "Far, Far Range." With her trusty vacpac, you will help Beatrix explore wild, untamed lands and gather resources to build your ranch where you will raise your slimes.
Slime Rancher is an incredibly adorable farming simulator that will teach your kid resource management skills while putting a big smile on their face. With Slime Rancher 2 on the horizon, now is the perfect time to jump in and learn what it takes to be a Slime Rancher.
9. Unravel Two
Unravel Two
Reasons to buy
+
Strong gameplay
+
Amazing level design
+
Excellent presentation
Reasons to avoid
-
Bizarre lack of online co-op
-
The story feels really short
Available on: Xbox One, Xbox Series X|S
Unravel Two is a whimsical and heart-warming platformer where you play as living creatures made of string called Yarnys. On this adventure, you have been separated from your owner after a terrible storm. With the help of another Yarny, you two will work together to solve puzzles and traverse precarious obstacles to find your way back home.
While this game has a strong singleplayer campaign, Unravel Two is best experienced playing with your kid in its split-screen co-op mode. In this mode, you and your child can experience the engaging gameplay and a stunning presentation of this larger-than-life world together.
10. Roblox
Roblox
Reasons to buy
+
Create and play your own games or games created by others
+
A large, passionate, and positive community of players
+
Numerous parental settings that can safeguard your children
Reasons to avoid
-
Younger children may need parental guidance when navigating menus and certain games
Available on: Xbox One, Xbox Series X|S, PC
Roblox is a creative platform developed and published by the Roblox Corporation that allows gamers to craft their own video games. Create your personal avatar and set yourself loose in a giant virtual playground filled with millions of players around the world to hang out and play with.
What kind of games can you create in Roblox? Anything your mind can come up with. Such fine examples include Jailbreak, an action game where you can either play as criminals escaping prison or police officers trying to arrest the escapees. There's also Theme Park Tycoon 2, a theme park building simulator where you can construct your own amusement park for your friends to have fun in. And there's Adopt Me, a social roleplay game where you build a house, raise adorable pets, or go camping and partying with your pals.
These are only a few out of hundreds of games you can create and play in Roblox. If your kid's not the creative type, they can still play enjoy the games created by the community, and chat with their friends. This game also features extensive parental settings that can determine what games are suitable for your child to play and with whom they are allowed to socialize.
11. The Gunk
The Gunk
Reasons to buy
+
Breathtaking alien environments to explore
+
Intricate and well-designed puzzles to solve
+
Intriguing narrative and well-written characters
Reasons to avoid
-
Combat can be too simplistic
-
Finite options for accessibility
Available on: Xbox One, Xbox Series X|S, PC
The Gunk is an action-adventure platformer where you play as a young spacefarer named Rani. Along with her partner, Beck, they travel the universe together to find valuable resources that can help them survive. One day, they come across a planet containing tons of resources, but it is infested with a parasite sludge called "Gunk" that is ruining the ecosystem and killing off all life on the planet. Armed with your prosthetic hand that can suck up the Gunk, it's up to you to save this world and discover the origins of this mysterious substance.
This game is a wonderful indie adventure filled with brain-teasing puzzles and gorgeous environments that truly shine once you clean up the Gunk infesting them. The story is also a big selling point as it features endearing characters and an engaging plot that teaches important life lessons about caring for your world.
Disclaimer: Be warned. Parents should be aware this game contains a few scenes of mild swearing that may be offensive to younger audiences.
12. Lego Star Wars: The Skywalker Saga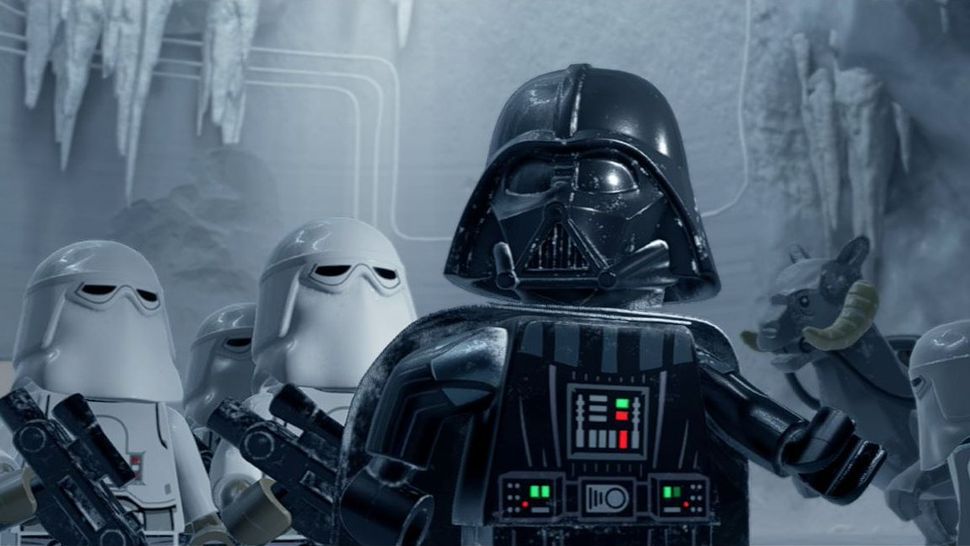 Lego Star Wars: The Skywalker Saga
Reasons to buy
+
A hilarious and charming take on Star Wars
+
Large areas filled with secrets to explore
+
Split-screen, 2-player co-op
+
A massive abundance of characters and ships to unlock
+
Tons of replay value
Reasons to avoid
-
Some minor glitches
-
Inconsistent tutorials
Available on: Xbox One, Xbox Series X|S
The Lego Star Wars games are a series of action-adventure games based on the Star Wars movie franchise. These games have brought joy to Star Wars fans worldwide for their light-hearted and comedic retellings that poke fun at and celebrate the iconic space opera series.
The games' developer, Traveller's Tales, continues to uphold the series' pedigree of quality with its biggest Lego Star Wars game released to date — Lego Star Wars: The Skywalker Saga. This game will let you experience all nine mainline Star Wars movies, reimagined with the signature Lego-themed humor that fans have come to love the Lego Star Wars games for.
On top of great writing and humor, Lego Star Wars: The Skywalker Saga is a fantastic game in its own right. It features hundreds of unlockable characters and ships to play as, huge levels filled with secret collectibles to find, and a 2-player co-op mode where you and a friend can play together to save the galaxy. And thanks to its simplistic yet fun combat system and laid-back difficulty, anyone of any skill can enjoy it, including younger kids.
What are the best games for my kids?
What's great about the Xbox's huge library of games is that many of the most popular games are non-violent and appropriate for children. Not to mention many of the best games on Xbox are available at cheap prices on Xbox Game Pass. So if you have a subscription, you can take advantage of the best deals on Xbox Game Pass for your kid's gaming experience.
Take Minecraft for instance. Minecraft has been one of the best games to introduce your kids to gaming for over a decade. It is a charming and fun sandbox game where you can build anything your heart desires. The levels of creativity this game's building system provides is on par with that of Lego. The cherry on top of this blocky cake is that this game has online multiplayer and cross-platform support across all Microsoft platforms. This means that you can play Minecraft together with your kids anytime and anywhere.
If your child likes Minecraft but prefers fighting instead of crafting, check out Minecraft Dungeons. This spinoff title has all the charm and creativity of traditional Minecraft, except now you get to fight hordes of enemies with magical powers and weapons. This game also features cross-platform support and multiplayer (both local and online), so you can save the world from the evil Illager together with your kids. Plus, if it gets too challenging for your child, you can adjust the difficulty setting to their liking until they're ready to take on bigger challenges.
We will update this list with more games as time passes. So keep this page bookmarked to stay up to date with the best Xbox games for kids.
Xbox Game Pass Ultimate (1-month or 3-month subscription)
All of Xbox gaming's greatest hits for a low price