Best Xbox kids games 2023
These are our top picks for the best Xbox kids games, suitable for families and children of all ages!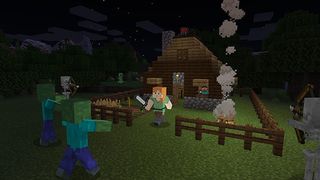 (Image credit: Microsoft Studios)
Since its inception, the Xbox platform has featured an extraordinary library of videogames catering to gamers of any age. They can range from big-budgeted AAA action game thrillers or humble and charming indie games that can teach the player valuable lessons in life. Plus, if a young child stumbles upon a violent game meant for older audiences, you can use the Xbox's parental controls to safeguard them from mental harm.
Unfortunately, since the Xbox's library is so massive, it can be difficult for a parent to pick which game is appropriate for their kid and one they will enjoy. So, we have rounded up all the best Xbox games for kids that are family-friendly and fun to play. We have also included some games meant for older kids, but younger kids can still play so long as they have adult supervision.
Now, without further delay, here is our list of the best Xbox kids games available now for purchase on Xbox One, Xbox Series X|S, and Xbox Game Pass.
Minecraft
When Minecraft was first released in 2011, no one could have predicted it would become one of the best-selling videogame franchises of all time. This survival adventure game captured the imagination of gamers across the globe by allowing them to play however they desired in a massive, procedurally-generated world.
You can journey into the wilderness and delve into the dangerous realm of the Nether to slay the Nether Dragon in survival mode. Or enjoy some relaxation in creative mode and build whatever you want, whether cities, statues, houses, mountains, farms, and much more. You can partake in both modes, solo or with your friends and family, as Minecraft features online multiplayer and cross-platform support across Xbox consoles, PC, and Xbox Cloud Gaming.
While the learning curve can be daunting for beginners, it is well worth the effort as the sheer amount of creativity you can get away with building structures is virtually limitless.
Minecraft Dungeons
If you and your kids like the world of Minecraft but prefer combating its rogue's gallery of villains and beasts instead of crafting, look no further than Minecraft Dungeons. This game is an action-RPG spin-off of Minecraft where you must save the world from being taken over by the evil Arch-Illager.
Inspired by classic dungeon crawlers like Diablo, Minecraft Dungeons stands on its two blocky feet with superb presentation, an easy-to-learn and polished combat system, and tons of gear and loot to collect and power up your character with. What's even better is that Minecraft Dungeons features offline and online multiplayer with cross-platform support so you and your kids can team up to bring down the Arch-Illager together.
Kingdom Hearts III
Kingdom Hearts III is the third mainline entry of Kingdom Hearts. This long-running video game franchise blends together the fantastical worlds of Square Enix's Final Fantasy series with that of iconic Disney and Pixar movies. The story of Kingdom Hearts follows Sora, a boy traveling with Donald Duck and Goofy on a quest to save the Disney Worlds from demonic monsters called the Heartless, notorious Disney villains, and mysterious masterminds such as Organization XIII and Master Xehanort.
Kingdom Hearts III is the long-awaited conclusion of an ongoing story arc that has been building up for decades, where all the major heroes and villains come together for one epic final battle. This game features a beginner-friendly yet in-depth combat system where you use the power of Sora's Keyblade to unleash a grand spectacle of magical attacks to lay waste on the hordes of Heartless.
Disney fans, both young and old-school, will love how their favorite Disney and Pixar movies are presented in this game. Exploring worlds based on Toy Story, Monsters Inc., Pirates of the Caribbean, Hercules, Tangled, Big Hero 6, and Frozen will invoke nostalgic memories and make you feel like you have been transported into your favorite Disney films.
Among Us
Among Us is a trendy social deduction game that took the internet by storm for its addicting gameplay, somewhat dark humor, and engaging social interactions with players online. The premise is that the crew of a spaceship is trying to repair their vessel, but two members of their group are imposters who intend to murder everyone on board. The crew members must repair the ship and oust the imposters during board meetings before the imposters destroy the boat or kill everybody off.
Among Us is a great hit with both older kids and adults alike. Getting a group of up to 15 players together online and deducing who is lying or telling the truth is a fantastic experience you won't find anywhere else. And if you feel like giving your kids extra protection online, Among Us has parental control features to filter chat rooms of inappropriate words.
Spyro Reignited Trilogy
The Spyro Reignited Trilogy is a collection of remastered editions of the Spyro the Dragon trilogy, a series of classic platformers initially released for the PlayStation 1. In these games, you play Spyro the Dragon, a wise-cracking dragon who goes on adventures with his best friend, Sparx the Dragonfly, to explore magical kingdoms, meet quirky characters, and battle evil-doers.
The Reignited Trilogy takes the presentation of the original games and gives them a shiny new coat of paint with overhauled HD graphics, new voicework, and a revamped soundtrack. The gameplay remains unchanged, yet it still holds up to this day with tight controls, engaging platforming levels, fun boss battles, and gorgeous worlds to explore that look better than ever, thanks to the remastered graphics.
If you were a fan of the original Spyro the Dragon games back in the 1990s or if you're looking for a good gateway game to introduce your kids to the platforming genre, you can't go wrong with the Spyro Reignited Trilogy.
Sonic Mania
Long ago, there was a time when SEGA's Sonic the Hedgehog franchise was on top of the world. The original Sonic games on the SEGA Genesis gave Nintendo's Mario series a run for its money. They led the charge of the console wars between SEGA and Nintendo during the 1990s. However, when Sonic shifted from 2D to 3D on the Dreamcast, the games wildly shifted in terms of quality, and fans felt they lost what made the original Genesis games special.
Fortunately, their wish to return to Sonic's roots would eventually be granted in Sonic Mania. This 2D platformer pays homage to the retro 2D Sonic games while standing on its own merits. It has a beautiful 2D art style that replicates the 16-bit graphics of the Genesis, a cast of fun playable characters, each with unique playstyles, superbly designed platforming levels that reward speed and patience, and challenging boss fights that will test your mettle. On top of that, this game features a two-player co-op mode where you and your kid can play together and save the world from the evil Dr. Eggman.
If you're a long-time Sonic fan pining for the good old days of the SEGA Genesis games, or you are looking for an excellent platformer to introduce your kids to Sonic the Hedgehog, then Sonic Mania Plus is a no-brainer.
Stardew Valley
Stardew Valley is a charming farming simulator game with gorgeous 2D pixel artwork that will teach your kids how to manage resources while making learning fun. You play as a farmer who has just moved into the peaceful town of Stardew Valley to inherit a farm from his grandfather. However, this land has seen better days, so it is up to you to revitalize the farm and aid the community of Stardew Valley to help the town become a prosperous and wonderful place to live in.
The open-ended gameplay of Stardew Valley is relaxing and engaging as your tasks range from cultivating crops and livestock to exploring monster-infested caves for long-lost treasures. You can also go to the town to sell your wares and crops and interact with the townsfolk to develop relationships with them. If you feel your kid might struggle to build a farm on their own, you can help them through the game's online co-op multiplayer feature, where you can work together to make Stardew Valley a better place.
New Super Lucky's Tale
New Super Lucky's Tale is a 3D platformer where you play as Lucky Swiftail, a fox on a quest to stop the evil cat wizard Jinx from using the power of the Book of Ages to take over the world. This game is a short but sweet adventure where you jump and dig through a wacky and vibrant world filled with hijinks, danger, and wonder.
New Super Lucky's Tale's platforming gameplay is polished and satisfying, it has a cast of funny characters to meet, eye-catching visuals, and tons of interesting hidden collectibles to find that will keep your kids occupied for hours.
Slime Rancher 2
Slime Rancher 2 is the sequel to the award-winning indie adventure game Slime Rancher. You play as Beatrix LeBeau, a space rancher who travels across the stars to wrangle in cute alien slimes and raise them on her ranch. Continuing her adventures from the previous game, Beatrix journeys to a new frontier called Rainbow Island, where ancient technology, unidentified energy sources, and new slime species are waiting to be discovered.
This game builds upon the gameplay foundations set by its predecessor by having more varied slimes to catch, a new land with many mysteries to solve, and new facilities and tools that will aid your sliming farming efforts. Moreover, Slime Rancher 2 is continually being supported with free updates, adding more slimes, new areas to explore, and new gameplay mechanics to enrich the slime-catching experience.
Unravel Two
Unravel Two is a heart-warming platformer that tells the tale of tiny creatures made of string called Yarnys. You play as one of these Yarny who is on a journey to find their way back home after they have been swept away by a terrible storm. Aided by another Yarny, you will traverse through a precarious land where you will have to work together to overcome obstacles and solve puzzles to find your home.
Unravel Two features intense platforming and puzzle-solving gameplay with tight controls, well-executed level design, and an excellent presentation. While your kids will enjoy the single-player campaign, this game shines in its split-screen, two-player co-op mode, where you and your child can play together and have more fun conquering the odds.
Roblox
Roblox is a popular creative platform where players can create an avatar, interact with millions of players in a virtual world, and craft their own video games which others can play. The games you can create in Roblox can be anything from action to social simulators.
Notable examples include the 'cops & robbers' style action game Jailbreak, where you can play as escaped convicts or as the police trying to apprehend the criminals. There's the theme park simulator, Theme Park Tycoon 2, where you build and manage an amusement park. And there's a social roleplaying game called Adopt Me! where you make a home, adopt and raise animals, and/or hang out with your friends by partying and going on camping trips.
If your child isn't into creating games, they can still enjoy playing hundreds of player-made games, as Roblox features a large and passionate community of players where everyone can create and share their fun ideas. It also features in-depth parental settings so you can set the parameters on what Roblox games are appropriate for your child and what kinds of people they're allowed to socialize with online.
The Gunk
The Gunk is an action-adventure game where you play as Rani, a space scavenger traveling the galaxy with her partner Beck, for resources to help them survive in the cold depths of space. During one of their expeditions, they discover a world rich with resources, but it is infested with Gunk - a parasite slime that devours anything it comes into contact with. It is up to you and Beck to use your advanced technology to clean this world of Gunk, extract the resources and find out where the Gunk initially came from.
The Gunk is a fantastic game featuring puzzles that will test your problem-solving skills and a strikingly beautiful world that becomes more gorgeous as you clear it of Gunk. The story is just as top-notch, with endearing characters you want to succeed and a memorable plot that will teach your children the importance of taking care of the environment and how precious life can be.
However, parents should be aware that this game is aimed at older kids and contains a few instances of mild swearing that may offend younger ears.
Lego Star Wars: The Skywalker Saga
The LEGO Star Wars games take the world-renowned Star Wars movies and retells them with a comedic twist that both pokes fun at and pays loving homage to the franchise. The latest game in the series, LEGO Star Wars: The Skywalker Saga, is the most significant entry to date as it takes players on a wild journey through every mainline Star Wars film reimagined through the charming lens of LEGO.
LEGO Star Wars: The Skywalker Saga is a fantastic game for Star Wars fans of any age. It is packed with stellar writing and humor, a simple yet satisfying combat system, and hundreds of unlockable characters and ships to find and play as. There is even a local, split-screen, 2-player co-op mode where you can team up with your kids and save the galaxy from the evil Empire.
Disney Dreamlight Valley
Disney Dreamlight Valley is an early-access life simulator where you can interact and go on adventures with your favorite Disney and Pixar characters. The game takes place in Dreamlight Valley, a peaceful land where everyone lived in tranquillity until an evil force known as the 'Forgetting' came and ruined everything. The 'Forgetting' has trapped the inhabitants inside the Dream Castle using Night Thorns and is sucking Dreamlight Valley of all life and magic. Now, it is up to you to free the Disney and Pixar characters, save Dreamlight Valley from the 'Forgetting,' and restore this idyllic land to its former glory.
This game is a surprise hit for farming simulator fans as it mixes elements of the genre, like farming, fishing, and town-building, with elements of adventure games, such as puzzle challenges and exploring lush locales for hidden secrets. It also features an in-depth narrative where you take on quests for various Disney/Pixar heroes and villains to stop the 'Forgetting.'
As an early-access title, this game is being updated regularly with new content bringing more characters to converse with and new lands to journey through. If you and your kids are Disney/Pixar fans and want a game where you can kick back and relax in a virtual Disneyland, then Disney Dreamlight Valley is for you.
Beacon Pines
Beacon Pines is an indie adventure game set in a storybook where you play as both the reader and the main character, Luka. One day while playing with his friends, Luka discovers something strange happening at an abandoned warehouse, and no one in their hometown other than his friends seems to notice. So, they decide to sneak in and investigate but little do these kids know that what they find will change their lives forever.
This game has fascinating gameplay mechanics where you, as the reader, can rewrite the story's outcome by filling in blank spaces with words that will determine where the narrative goes. And the story of Beacon Pines will tug at the heartstrings of older kids and teens as it is a coming-of-age tale that deals with heavy topics like the loss of family members and how to come to terms with it.
Let's Build a Zoo
Let's Build a Zoo is a theme park simulator game where you are put in charge of managing a zoo. Most management simulators can be complicated for beginners to learn but Let's Build a Zoo does a great job of simplifying the micromanaging so that it is more accessible for kids while still offering complex systems and options for fans of the genre.
In addition to micromanaging the staff, finances, and facilities, you will be importing, caring for, and breeding exotic animals to display to the general public. However, Let's Build a Zoo spices things up by employing morality choices that keep replay value and general gameplay fresh. You can be a moral, upstanding manager that cares about his animal exhibits or an evil manager that illegally employs scientists to combine the DNA of various animals to create brand-new mutant hybrids to shock and amaze your customers for a quick buck.
My Friend Peppa Pig
My Friend Peppa Pig is a narrative-focused adventure game based on the popular British TV show Peppa Pig. This game is an excellent title for little kids as it is filled with fun mini-games, and the player can walk around and interact with every character and the environment. In addition, the voice actors from the show reprise their roles for My Friend Peppa Pig to help immerse your kids and make them feel like they're taking part in an episode of the show.
Understanding ESRB labels
As you can see, there is a wide selection of games for all the family to enjoy on the Xbox One, Xbox Series X, and Xbox Series S. However. there is something important all parents should be aware of when purchasing games for their children – the ESRB labels. Created n September 16, 1997, by the Entertainment Software Rating Board organization, ESRB labels are part of an age rating system designed to help consumers determine what video games are age appropriate.
Depending on the content found within a game, there are five types of labels for different age groups:
'E' for Everyone: The 'E' label means the game is appropriate for everyone of all ages. The game's content may contain scenes of minimal or mild cartoon or/and fantasy violence. It may also contain infrequent use of mild language.
Everyone 10+:The 'E 10+' label means the game is appropriate for everyone 10 years old and over. The game's content may contain more instances of cartoon, fantasy, or mild violence. It may also contain mild language and/or minimal instances of suggestive themes.
Teen: The 'Teen' label means the game is suitable for people aged 13 years and above. The game's content may contain several instances of violence, suggestive themes, crude humor, minimal blood, simulated gambling, and/or infrequent use of strong language.
Mature 17+: The 'Mature 17+' label means the game is only suitable for people 17 years old and older. The game may contain intense scenes of violence, blood, and gore. It may also contain sexual content and frequent usage of strong language.
Adults Only +18: The 'Adults Only +18' label means the game is only suitable for adults aged 18 and up. The game may contain prolonged scenes of intense violence, blood, gore, sexual content, and/or gambling that requires using real-world currency.
There are two extra labels for games that have not been given an official age rating by the ESRB.
Rating Pending: The 'Rating Pending' label means the game has not yet received its final ESRB rating. This label appears on advertisements, promotional, and marketing material related to a physical copy of the game (e.g., the box the game comes in) that is expected to carry an ESRB label. Once the game's official ESRB label has been assigned and announced, this label will be removed and replaced.
Rating Pending - Likely Mature 17+: The 'Rating Pending – Likely Mature 17+' label means the game has not yet received its final ESRB rating but is likely expected to be rated Mature 17+. This label appears on advertisements, promotional, and marketing material related to a physical copy of the game (e.g., the box the game comes in) that is expected to carry an ESRB label. Once the game's official ESRB label has been assigned and announced, this label will be removed and replaced.
Understanding the ESRB labels will help you choose which games best suit your child. You can learn more information on the Entertainment Software Rating Board organization on the ESRB website.
Which Xbox games will you get for your kids?
As the days go by, more and more games aimed at children are being added to the Xbox's library of games. Many of these titles, like Minecraft, have become some of the best games the Xbox has to offer and are included in Xbox Game Pass Ultimate. This Netflix-style subscription service will allow the whole family to play their favorite titles across all Xbox consoles, PC via Windows, and mobile devices thanks to Xbox Cloud Gaming.
If you think there are other kids' games that should be added to this list, leave any suggestions you may have in our Windows Central Discord forum, and we will add them in the future.
Get the Windows Central Newsletter
All the latest news, reviews, and guides for Windows and Xbox diehards.
Alexander Cope is a gaming veteran of 30-plus years, primarily covering PC and Xbox games here on Windows Central. Gaming since the 8-bit era, Alexander's expertise revolves around gaming guides and news, with a particular focus on Japanese titles from the likes of Elden Ring to Final Fantasy. Alexander is always on deck to help our readers conquer the industry's most difficult games — when he can pry himself away from Monster Hunter that is!