These XGIMI projectors are at their lowest-ever price
We project some serious savings.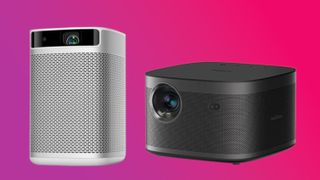 (Image credit: xgimi)
As Spring awakens, so too do the Amazon deals, and we've found two great projectors, one of which is at a 40% discount. Both deals end on April 9 so if you've been waiting to pull the trigger on this less obvious gaming accessory, don't wait any longer. These two projectors are in vastly different price ranges but are both at their cheapest ever making them an easy recommendation.

Projectors are an alternative to having a large screen in your home, and some can deliver picture quality that surpasses flat screen offerings. If you crave a large screen for TV or gaming and want a space-saving solution. A projector is your answer.

The XGIMI MoGo Pro Portable Projector is a smaller, portable solution for your media needs. It runs on Android TV OS so gives you access to over 5000 apps including Netflix and YouTube. Not only can you watch your favorite films and adjust the image size and shape to your preference, but its compact and lightweight design also makes it easy to carry and store.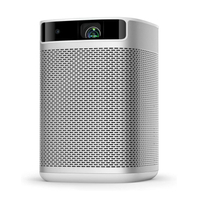 XGIMI MoGo Pro Portable Projector $499 $299 at Amazon
At 40% off, this is the lowest ever price we've seen for this projector which delivers stunning picture quality in a compact package. This device lets you enjoy your favorite movies, shows, games, and more on a big screen anywhere you go. Runs a native 1080p FHD resolution, 300 ANSI lumens brightness, and Android TV OS.
The XGIMI MoGo Pro Portable Projector also has plenty of features that make it suitable for gaming. The Xbox Series S is already so compact you can move it around the home with ease, but imagine being able to project your games from a portable projector to adjustable sizes. The XGIMI MoGo Pro Portable Projector supports video formats up to 4K Ultra HD, has a low input lag of 35ms and optimizes the brightness contrast and color of your picture for gaming. With its built-in Harman Kardon speakers, you'll be getting a cinematic sound experience too.
Whilst at a much higher price point, the XGIMI Horizon Pro 4K Projector offers a true 4K resolution, so up to 8.3 million pixels without any reconstruction or upscaling. This and other more premium specs make up the high price, but it's currently 25% off and also at its cheapest-ever listing.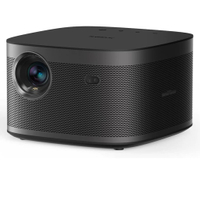 XGIMI Horizon Pro 4K Projector $1699 $1275 at Amazon
For a true home theatre experience for your games, movies and shows, the stunning picture quality of the XGIMI Horizon Pro 4K is rated amongst the best. With built-in Harman Kardon speakers, Android TV OS and immersive ISA technology to deliver the best image and transform your living room into a theatre.
The XGIMI Horizon Pro 4K Projector also works well regardless of the surrounding light, so you needn't use it in only a dim or dark room, the bright 220 ANSI lumens brightness means it can show a clear and crisp image no matter the conditions. This particular model also offers a huge projection size range, of anything from 40 to 300 inches in size.
What you are gaining in better image specs, you will be losing in portability as the Horizon Pro 4K weighs in at a chunky 2.9kg and doesn't have the built-in battery of its more portable sibling, if you're not planning on moving it around the house though, you may want more bang for your buck in the picture department and benefit from is more advanced Intelligent Screen Adaptation, which means it can automatically align, focus and adjust its image according to the projection surface and any obstacles.

Whether you're looking for a portable projector that can deliver stunning 1080p images and sound, or a more premium device for the true living room cinema experience, XGIMI is offering a crazy discount on both of these units and now would be your best chance to snap one up as these deals end on April 9.
Get the Windows Central Newsletter
All the latest news, reviews, and guides for Windows and Xbox diehards.
Jen is a News Writer for Windows Central, focused on all things gaming and Microsoft. Anything slaying monsters with magical weapons will get a thumbs up such as Dark Souls, Dragon Age, Diablo, and Monster Hunter. When not playing games, she'll be watching a horror or trash reality TV show, she hasn't decided which of those categories the Kardashians fit into. You can follow Jen on Twitter @Jenbox360 for more Diablo fangirling and general moaning about British weather.