This Lepow Portable Monitor is half the price of the G-STORY for Xbox for a few days only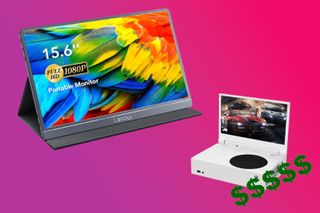 (Image credit: Future)
If you want a bigger screen for your devices on the go, or even if you have limited room on your desk and want another screen, the Lepow 15.6 Inch HD Portable Monitor is a great little solution and it's currently $40 off courtesy of a voucher that's live until April 30. The monitor can be used with your existing computer, phone, Xbox, Playstation or Switch and basically anything via USB-C, USB-A or HDMI port.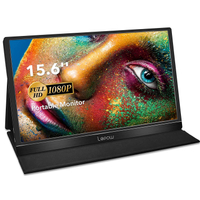 The Lepow HD Monitor is the same size as the G-Story monitor for Xbox Series S, and with the G-Story being $219.99 the Lepow comes in at half the cost with this $40 voucher. While the G-Story has some extra features, such as FreeSync tech, for a small screen you may just want to make the saving and buy the Lepow for casual gaming.
The portability of the Lepow monitor gives it a multitude of potential uses besides gaming.

Extend your laptop diplay and have more room for multitasking.
Have an extra screen purely for Discord, Whatsapp Web or other social apps when at your PC.
Watch movies on a larger screen connected to your smartphone or tablet.
Present work or ideas to a small audience without needing a projector.
One of the main advantages of this monitor is that it works with any device you own. The monitor supports three connection options though If you have an iPhone or an iPad, you will need the right adapter. Other than that, you are ready to go. Lepow also provides a USB-C to USB-C cable, a USB-A to USB-C cable, and an HDMI to Mini HDMI cable in the package for your convenience.
Besides the compatibility of the monitor, the image quality is also impressive. The images and videos on the screen are clear and sharp, and you're getting an overall resolution of 1920x1080. The brightness and color settings can be adjusted with a physical switch and customized to your preference. The screen has a good 300 nits of brightness and a matte surface, so it can handle sunlight well for outdoor use.
Finally, the monitor has a sleek metallic design with a light and thin body and very narrow bezels. It's actually quite a bit more compact than the comparable G-Story.
Monitor deals: Best Buy | Walmart | Dell | Lenovo | HP | Amazon | Newegg
In our review, we gave it a solid 4 out of 5 stars for its portability, versatility, and low price, and for now, it's a whole $40 cheaper.
Get the Windows Central Newsletter
All the latest news, reviews, and guides for Windows and Xbox diehards.
Jen is a News Writer for Windows Central, focused on all things gaming and Microsoft. Anything slaying monsters with magical weapons will get a thumbs up such as Dark Souls, Dragon Age, Diablo, and Monster Hunter. When not playing games, she'll be watching a horror or trash reality TV show, she hasn't decided which of those categories the Kardashians fit into. You can follow Jen on Twitter @Jenbox360 for more Diablo fangirling and general moaning about British weather.