In the saturated market of Xbox controllers, the HyperX Clutch Gladiate RGB faces stiff competition from brands like GameSir and PowerA. While it boasts additional features like trigger locks and remappable buttons, they aren't enough to elevate it above the rest. In a sea of choices, this controller struggles to make a lasting impression.
Pros
+

Extra features included like remappable buttons and trigger locks

+

Transparent design is eye-catching

+

HyperX is a reliable and reputable brand
Cons
-

The controls just don't feel satisfying with spongy feeling triggers

-

Trigger locks don't always work

-

The RGB lights feel over the top even with brightness turned down
Why you can trust Windows Central Our expert reviewers spend hours testing and comparing products and services so you can choose the best for you. Find out more about how we test.
The market for Xbox controllers is fierce, with huge choice at every price point. From official Xbox offerings to licensed accessories from third party manufacturers. I've tested a lot, so I'm always looking for what makes a controller really stand out in its respective price bracket against its competitors. The HyperX Clutch Gladiate RGB pits itself against controllers from GameSir and PowerA to name a few, and unfortunately it does nothing to blow my mind and make me want to pick it up over those other brands.

The extra features like trigger locks and remappable buttons are nice to have, but not enough to keep me using a controller that just doesn't feel satisfying to use. It's not bad, but it's not great and unfortunately for HyperX there are just other brands doing it better right now.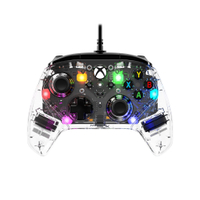 Disclaimer: This review was made possible by a review unit provided by HyperX. The company did not see the contents of the review before publishing.
Hyper X Clutch Gladiate RGB: Price, availability and specs
Image 1 of 3
The HyperX Clutch Gladiate RGB Controller is officially licensed for use with Xbox
The HyperX Clutch Gladiate RGB Controller is officially licensed for use with Xbox
The HyperX Clutch Gladiate RGB controller is packed with a USB-C to USB-A cable
The HyperX Clutch Gladiate RGB is priced $10 more than its non-RGB counterpart, and retails at $44.99. Availability is currently just limited to HyperX's own website, but like its other accessories will no doubt arrive at Amazon at some point. In the box, you get the HyperX Clutch Gladiate controller and the 3m USB Type-C to Type-A cable.
Swipe to scroll horizontally
HyperX Clutch Gladiate RGB

| | |
| --- | --- |
| Connectivity | Wired, USB Type-C to Type-A, 3 meters |
| Controls | ABXY face buttons |
| Row 2 - Cell 0 | Dual analog triggers, joysticks, and bumpers |
| Row 3 - Cell 0 | D-Pad |
| Row 4 - Cell 0 | Xbox, Share, View, and Menu buttons |
| Row 5 - Cell 0 | P1 profile button |
| Row 6 - Cell 0 | Remappable rear P2 and P3 buttons |
| Row 7 - Cell 0 | Dual trigger lock switches |
| Features | Dual rumble motors |
| Row 9 - Cell 0 | On-controller remapping |
| Audio | 3.5mm headphone jack |
| Platforms | Xbox Series X|S, Xbox One, & Windows PC |
| Weight | 280g |
Hyper X Clutch Gladiate RGB: What's good
Image 1 of 4
A closer look at the transparent design of the HyperX Clutch Gladiate RGB
The Hyper Clutch Gladiate RGB has serious millenial vibes
The HyperX Clutch Gladiate RGB has 6 intricately placed, customizable lights.
The rear of the controller features extra buttons and the P1 button for customization on the fly.
The HyperX Clutch Gladiate RGB is undeniably striking straight out of the box, whether the lights are ablaze or switched off. As someone who has a weakness for transparent accessories—going to the extent of disassembling official Xbox controllers for a transparent touch with shells from ExtremeRate—I'm undoubtedly the target audience for this retro-inspired design.

That does mean that I've explored various contenders in the same ring, like the GameSir T4 Kaleid, so expect frequent comparisons throughout this article.

RGB adds a splash of fun that I appreciate in my accessories when done well. When turning on the controller, I was genuinely impressed by the brilliance of the RGB lighting, although it can be dialed down to suit personal preferences. In fact, controlling the RGB is extremely easy. The ease of handling the RGB is commendable. A simple double-click of the rear P1 button grants access to color, pattern, and light settings, contrasting the slightly more complex setup in the PowerA Advantage with Lumectra. HyperX deserves applause for simplifying the customization aspect of its controller, making it intuitive and user-friendly. I only needed to look at the instructions once, as opposed to the multiple times I puzzled over PowerA's version.


In terms of design, the controller adheres to tradition, mirroring the standard Xbox controller's ergonomic excellence. The well-placed rear mappable buttons enhance the comfortable feel during extended use — a feature sorely missed when reverting to my OG Xbox Series S controller. I'm hopeful that Xbox will incorporate such design elements into future generations of its controllers. The joysticks, reminiscent of the original Xbox controller, offer a loose circularity. While some users might prefer more tension or adjustable sticks, these nuances aren't average expectations for a sub-$50 controller, making these sticks perfectly satisfactory for me.

The USB-C wire clicks into the controller snug with a nice lip around the top of the port, which takes away some tension from the wire, I appreciate small details like this as it reduces the chance you will damage the port on the controller over time.
Hyper X Clutch Gladiate RGB: What's not so good
Image 1 of 2
The Hyper X Clutch Gladiate RGB singular light design was very distracting, even turned down low.
The bumpers and triggers were spongy, and I just wouldn't recommend this controller for long term use.
While the HyperX Clutch Gladiate RGB excels in ergonomic comfort, the decision to prioritize the transparent design comes at a cost — the removal of the grip texture from the rear. In my view, this is a misstep, and it's challenging for me to revert to controllers lacking this standard feature now prevalent in the market. Notably, the GameSir T4 Kaleid, boasting a transparent design as well, retains this texture by employing frosted rear handles.

A significant stumbling block for the HyperX Clutch Gladiate RGB lies in its basic controls, arguably the most crucial aspect of any controller. The ABXY buttons lack the satisfying click I crave, feeling mushy when pressed. The triggers and bumpers, exhibit a spongy feel and even go as far as to squeak with repetitive use. Testing the controller extensively in games like Diablo 4, where repeated button pressing is the norm, highlighted these subpar controls. Even the dual rumble motors felt like they couldn't be bothered. The build quality shortcomings become apparent at this stage, and if a controller fails to deliver a satisfying feel, it inevitably means it's lost to the back of the accessory drawer over other options.
While I don't typically play games requiring trigger locks, I subjected them to a test in a few rounds of Overwatch 2. The physical switches on the back can adjust the triggers for a shorter press time, a feature handy for first-person shooters. However, echoing Zachary Boddy's concerns in the review of the original HyperX Clutch Gladiate, I found the trigger locks on the RGB edition to be unreliable. The inconsistency in their basic functionality makes me wonder why they were included. While trigger locks might not be an expected feature in a lower-priced controller, their inclusion warrants reliability when advertised.

My final criticism centers around the RGB execution, a feature I generally appreciate in accessories. However, on the HyperX Clutch Gladiate RGB controller, it falls short. Even with the lights dimmed to the lowest setting, they remain obtrusive and distracting. This issue, in my opinion, stems from the placement and size of the lights. In contrast, controllers like the GameSir T4 Kaleid and the PowerA Lumectra adopt a line design, creating a more visually pleasing effect that doesn't resemble fairy lights inside a controller. The colors blending in an ombre design is easier on my eyes and brain, contrasting with the somewhat overwhelming singular lights of the HyperX controller. I do accept that this preference is subjective, and others may find HyperX's approach more appealing.
Hyper X Clutch Gladiate RGB: The Competition
When I was offered the HyperX Clutch Gladiate RGB to review, I thought to myself, "Finally, I'll have a GameSir T4 Kaleid that works with my Xbox." Unfortunately, the GameSir T4 Kaleid's lack of compatibility with Xbox remains its sole drawback. Priced at $41.99, just slightly cheaper than the HyperX, it has secured its place as my favorite controller of the year. HyperX's offering falls short in challenging my allegiance to the GameSir T4 Kaleid, especially for PC gaming enthusiasts seeking a transparent RGB style—the GameSir T4 Kaleid stands out as the superior choice.

Where does it go so right though and the HyperX Clutch Gladiate RGB go wrong? Well, it's not just the more pleasing arrangement of lighting; the key distinction lies in the controls. GameSir understands that gamers prioritize a controller that feels exceptional to use, hence the inclusion of mechanical ABXY buttons and hall-effect sticks, all for the attractive price of $41.99. While I could go on singing praises for this controller, these points become moot if you're specifically in the market for an Xbox-compatible controller.

For Xbox users, there's still a better option available. Numerous third-party Xbox controllers offer excellent controls, with the GameSir G7 SE being a noteworthy mention. However, if RGB lighting is a non-negotiable, my testing of the PowerA Advantage with Lumectra, priced at the same $44.99 as the HyperX, reveals a beautiful controller with functional rear mappable buttons and trigger locks that actually work. For an additional $10, you can even throw in a bundled LED strip. While it lacks transparency, the PowerA Advantage with Lumectra provides a significantly more enjoyable experience than the HyperX, with buttons that, while not mechanical, deliver a satisfying feel.

Other RGB controllers like the Razer Wolverine V2 may be on the market, but their considerably higher price places them outside the fair comparison bracket. In essence, there are alternatives available at the same or lower price point than the HyperX Clutch Gladiate RGB that offer a more enjoyable experience.
Hyper X Clutch Gladiate RGB: Should you buy?
You should buy this if ...
You really want the retro transparent design on an Xbox-compatible controller.
Customizable RGB lighting is a significant appeal, and you enjoy the option to control colors, patterns, and light settings easily.
You shouldn't buy this if ...
Clicky, satisfying buttons and triggers are important to you.
You find RGB lights distracting and overstimulating.
You rely heavily on trigger locks for competitive gaming.
Despite my anticipation for the HyperX Clutch Gladiate RGB, my love for RGB and transparent designs couldn't overshadow its shortcomings. With a rating of 3, it falls short of greatness in a market flooded with compelling alternatives. While HyperX excels in budget headset options, they have a lot of room to improve in the competitive controller landscape.
HyperX Clutch Gladiate Wired Gaming RGB Controller for Xbox
While this latest offering from HyperX lands squarely in the average spectrum across various categories, it faces stiff competition from players like GameSir and PowerA. Unfortunately, the HyperX Clutch Gladiate RGB, despite its retro-inspired design and customizable RGB lighting, struggles to stand out against a backdrop of growing innovation in the gaming peripheral market.
Jen is a News Writer for Windows Central, focused on all things gaming and Microsoft. Anything slaying monsters with magical weapons will get a thumbs up such as Dark Souls, Dragon Age, Diablo, and Monster Hunter. When not playing games, she'll be watching a horror or trash reality TV show, she hasn't decided which of those categories the Kardashians fit into. You can follow Jen on Twitter @Jenbox360 for more Diablo fangirling and general moaning about British weather.